NHL 24: 2 New HUT Events & 87 Auston Are Coming
For the inaugural time, NHL 24 Hockey Ultimate Team is unveiling not one, but two thrilling events. Unveiled via an official Twitter announcement, this double delight has the gaming community buzzing. Among these, the highly-anticipated fantasy hockey event is believed to be making a comeback. For those new to HUT, this event can supercharge cards based on real-life player performances, making it a season highlight. From unique card art to standout players, let's delve into this week's HUT happenings.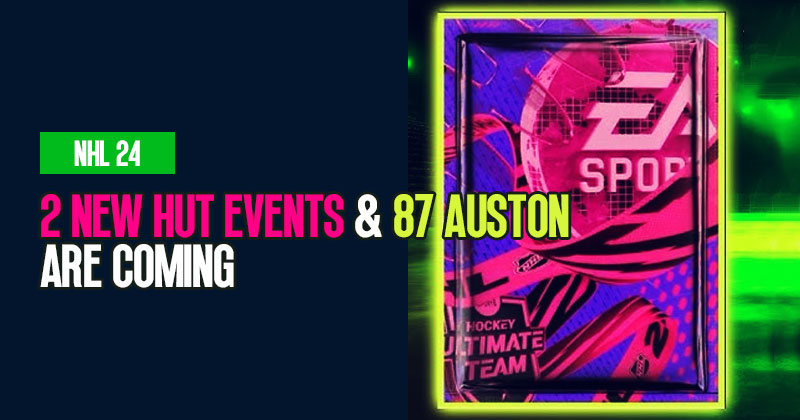 ↖ Fantasy Hockey Event
The Fantasy Hockey Event is a fan-favorite and is known for delivering some of the best cards in HUT. Here's how it works:
For every real-life goal a player scores, their Fantasy Hockey card receives an upgrade: +1 overall for forwards and +2 overall for defensemen. This dynamic feature makes these cards incredibly sought after.
↖ New Team of the Week
The latest Team of the Week includes some exciting players, but we'll focus on notable cards:
Brady Shay (81 Overall): A versatile 2-way defenseman with 87 speed and 86 acceleration, making him a valuable addition, especially for those starting their HUT journey.
Michael Jolly (81 Overall): A sniper forward with 87 speed, 87 agility, and a decent shot, Jolly can be a solid choice for left-wing positions.
Victor Hedman (85 Overall): The towering 6'7" defenseman offers great defensive capabilities with 85 speed and acceleration. He's a reliable presence on your blue line.
Jake Gensel (TBD Overall): Gensel, part of the Pittsburgh Penguins' "revenge tour," boasts 87 speed and acceleration. A strong choice for those looking to bolster their forward lines.
Elias Pettersson (TBD Overall): At 6'2" and 176 pounds, this 2-way forward can be a reliable center, but note that he might play a bit weak on the puck.
Jack Hughes (85 Overall): Hughes is a playmaking forward with exceptional speed and agility, making him a dynamic offensive threat. However, his defensive stats are lacking, so use him wisely.
Eeli Tolvanen (TBD Overall): At 6'3" and 195 pounds, this playmaking forward has silver elite edges, making him an intriguing option for your forward lines.
Leon Draisaitl (86 Overall): Draisaitl shines with 87 speed, 86 acceleration, and an excellent face-off rating. He's a highly effective center with the "Unstoppable Force" and "Close Quarters" abilities.
↖ Headliners Kale Makar (87 Overall)
For reaching 250 points, Makar receives an impressive Headliners card. This offensive defenseman offers incredible speed (94) and acceleration (94). With silver wheels and an offensive defense synergy, he's a top-tier choice to anchor your blue line.
↖ Live Moments
Several Live Moments cards have been released, including:
Carter Hart (82 Overall): A solid choice for Philadelphia Flyers fans, Hart comes with decent stats and size.
Zack Kassian (TBD Overall): Unfortunately, his skating is subpar, but he can be useful for those building an Oilers-themed team.
Kirill Kaprizov (85 Overall): With silver elite edges and the sniper forward synergy, Kaprizov boasts excellent speed and agility, making him a valuable addition to your squad.
Leon Draisaitl (86 Overall): Another version of Draisaitl, this card offers fantastic speed, making him an offensive powerhouse.
↖ Rivals Rewards Strategy
Since the change to include 85, 84, and 83 overall cards in the sets, untradeable rewards have gained more value. Here's why:
Untradeable cards can be used in sets to earn more Collectibles, which are crucial for improving your team.
For non-money spent players, collecting untradeable cards provides an opportunity to build a strong squad.
If you're grinding for rewards, go for untradeable rewards, as you'll receive a considerable number of cards.
While tradeable rewards might seem tempting, untradeable ones can often be more rewarding in the long run.
Conclusion:
With two new events, including the highly-anticipated Fantasy Hockey Event and an exciting Team of the Week, NHL 24 HUT is buzzing with fresh content. Be prepared for some thrilling upgrades to your HUT squad and make sure to stay tuned for pack openings when the new event drops. Enjoy building your ultimate team and maximizing your rewards with the strategies outlined in this guide. Have a great time in NHL 24 HUT!
Most Popular Posts
Popular Category Lists