Guild Wars 2 Professions Ranking: Tier List From Most Difficult to Least | 2023
The allure of exploring the vast open world of Guild Wars 2 solo is undeniable for many players. In this guide, We will rank the nine professions, with a focus on the core professions, We will Dive deep into the capabilities of each of the core professions, focusing on their suitability for solo casual gameplay. This ranking, while based on extensive experience, is subjective and is centered on a combination of sustainability, defenses, and damage capabilities in an open-world setting.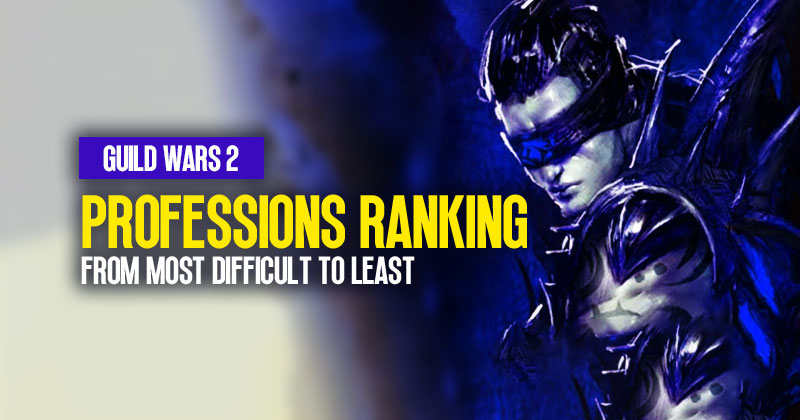 Note: Remember, with the right build and playstyle, any class can shine. This is just one perspective based on in-depth gameplay.
↖ 9. Guardian
Pros: Abundant boons, substantial healing, potent strike damage.
Cons: Lacks initial defenses like toughness and vitality, making it challenging against tougher mobs.
Specializations Tip: DragonHunters traps and Willbender's mobility can ease solo play challenges.
↖ 8. Revenant
Pros: Various trait lines like Salvation provide healing and condition cleansing.
Cons: Energy management can be taxing; lacks certain essentials in core spec.
Specializations Tip: Herald and Vindicator specs can significantly bolster the Revenant's capabilities.
↖ 7. Thief
Pros: High damage, stealth attacks, superior mobility.
Cons: Low defenses and vulnerability when caught.
Specializations Tip: Daredevil and Spectre offer more sustainable combat options.
↖ 6. Mesmer
Pros: Unique clone mechanic, potential for high burst damage.
Cons: Dependency on fragile clones for shatter skills.
Specializations Tip: Chronomancer and Mirage can frontload damage and conditions while evading.
↖ 5. Elementalist
Pros: Versatility in attacks, crowd control, and defenses.
Cons: Requires meticulous skill management; vulnerable to mistakes.
Specializations Tip: Catalyst offers more defenses and rounded stats for better sustain.
↖ 4. Engineer
Pros: High vitality, array of turrets, tool belt skills, and weapon kits.
Cons: Skill management can be demanding.
Specializations Tip: Mechanist's Mech summon greatly eases open world challenges.
↖ 3. Warrior
Pros: High base toughness and vitality, damage mitigation, and passive healing.
Cons: Mostly melee-based, requiring close combat.
Specializations Tip: Spellbreaker and Bladesworn can provide additional defenses and attacks.
↖ 2. Ranger
Pros: Stun breaks, high damage, pet tank, versatility in attacks.
Cons: Reliance on pet for maximum efficiency.
Specializations Tip: Untamed, Soulbeast, and Druid enhance sustainability and damage.
↖ 1. Necromancer
Pros: Enemy control, minion summons, Death Shroud providing an extra health pool.
Cons: Generally slower compared to some other classes.
Specializations Tip: Reaper spec enhances the Necromancer's open world capabilities.
Conclusion:
Every profession in Guild Wars 2 offers a unique solo experience. While this guide ranks them based on perceived ease and effectiveness, remember that the game's beauty lies in its flexibility. With the right setup, every class can thrive in the open world. Choose the one that aligns with your playstyle, and enjoy the world of Tyria!
Most Popular Posts
Popular Category Lists