Madden 24 Offense Tips: Overpowered Run Play | Achieving 10+ Yards Per Carry
In Madden 24, If you've been struggling to average more than 10 yards a carry or find yourself often on the losing end of your matches, this guide might just be your game-changer. We'll dive deep into an overpowered run play that has been creating waves in the Madden community. Moreover, we'll also unveil some explosive run plays, glitch routes, and strategies to score one-play touchdowns against almost every defense.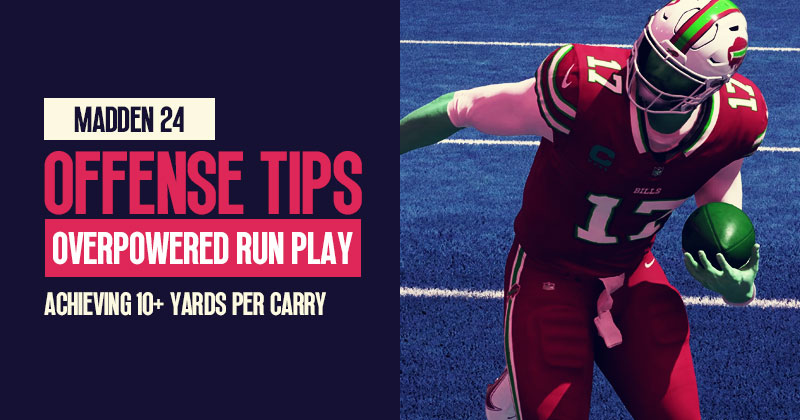 ↖ Setting Up
Formation: Utilize the I-form close. The post-October 4th patch makes this one of the most efficient offenses as it has made running the ball more practical.
Offensive Personnel: Your offensive setup should include 5 linemen and 2 tight ends. The fullback doubles up as a tight end in this context.
Audible Plays:

Double Outs: A guaranteed 8-10 yards against almost all defenses.
PA Deep Cross Go: This beats any defense in the game when you need a solid 15-20 yards.
PA Tight End Leak: Your ticket to one-play touchdowns against any defense.
Zone Weak & Halfback Stretch: Key running plays for the scheme.
↖ Reading the Defense
Always evaluate the defense's personnel. If they appear in a nickel package, it's likely they're not ready for your running plays. If the opposing defense gives outside leverage, go with the outside run. If they're more clustered and there's space in the middle, opt for an inside run.
↖ Execution
Inside Runs: When there are gaps in the defense and no outside leverage, opt for Zone Weak or Halfback ISO.
Outside Runs: When there's clear space or the opponent's defense has given outside leverage, use the Halfback Stretch or Halfback Toss'
Motioning in Halfback Stretch:

Motion across the B receiver.
If the cornerback doesn't follow, hike the ball before the receiver gets set. This ensures the cornerback can't impact the play, giving you a wall of blockers for a big run.
If facing cover 2, try the PA tight end leak. This is a one-play touchdown strategy. Simply put the fullback on a wheel route and motion him left.
↖ Defense
If the opponent is opting for a running strategy, it's imperative to shut it down early. This pushes them into a pass-first mode, letting you anticipate their plays. Use blitzes to create pressure. The Big Nickel Over G scheme is particularly effective.
Conclusion:
For guaranteed success, never repeat the same run play consecutively to keep the run plays fresh and avoid triggering the adaptive AI of Madden 24. If the defense is matching, remember it simply means more passing opportunities. Remember, practice makes perfect. Consistency and reading the defense correctly will be key to your success in Madden NFL 24.
Most Popular Posts
Popular Category Lists