FC 24 88 Trailblazer Cristiano Ronaldo: Is Worth the Investment?
Welcome to the review of the 88-rated Cristiano Ronaldo in FIFA 24 Ultimate Team. In this detailed guide, we'll dive deep into the world of this card, exploring its strengths, weaknesses, and how it compares to the standard gold version. We'll also discuss whether this upgraded card is worth the investment and offer valuable squad-building tips. Let's explore the world of Trailblazer Ronaldo and determine whether he truly lives up to the hype in the evolving world of EA FC 24 Ultimate Team.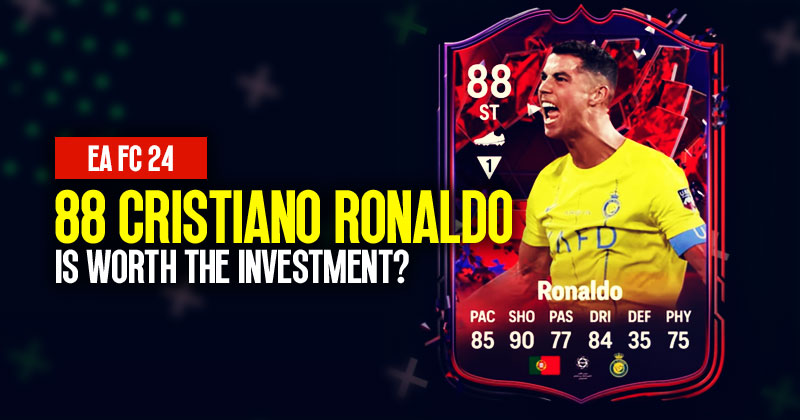 ↖ Card Overview
Card Rating: 88
PlayStyle: Trailblazers
Position: Striker
Preferred Foot: Right
Weak Foot: 4 stars
Skill Moves: 5 stars
Work Rates: High/Low
Height: 6'2"
↖ Player Stats
Before we jump into the review, let's take a closer look at Cristiano Ronaldo's key in-game stats:
Shooting: Cristiano Ronaldo boasts exceptional shooting abilities, making him a goal-scoring machine.
Passing: His passing stats are on the lower side for a forward, but not terrible.
Dribbling: Ronaldo's agility and balance may not be his strong suits, but his dribbling is still decent.
Physical: With high strength, jumping, and heading accuracy, Ronaldo can be a threat in the air.
PlayStyles: Ronaldo has the Power Shot, Incisive Pass, and Flare play styles, which are crucial for his gameplay.
Traits: He also has Aerial ability, which can make him deadly in the air.
↖ Chemistry Style
For the best results with Cristiano Ronaldo, we recommend applying the Hunter Chemistry Style. This will maximize his finishing and pace, two crucial attributes for a striker. With his high-low work rates and the TLLA (Trailblazers Low Lob Accuracy) play style, you want him to be as lethal as possible in front of the goal.
↖ Team Setup
For the best performance, consider using Ronaldo in a two-striker formation. This setup allows you to capitalize on his strengths, including his aerial prowess and finishing ability. Pairing him with another high-quality striker can create a dynamic attacking duo. Additionally, look for Portuguese players or an SBC card like Otavio to provide the desired chemistry links.
↖ Gameplay and Performance
To assess Ronaldo's performance, the reviewer used a 4-4-2 formation with Ronaldo as the right striker. Here are some key observations and tips for utilizing this card effectively:
Headers: Ronaldo excels at headers, thanks to his high jumping and heading accuracy. Utilize him for scoring from crosses and corner kicks, where he can shine with his aerial presence.
Power Shots: While the Power Shots attribute is absent from this card, the TLL play style can be highly effective when executed with the right mechanics, such as a ball roll before the TLL. This can result in powerful, accurate shots from just outside the 18-yard box.
Acrobatics: Ronaldo can perform acrobatic shots, but these are best suited for situations with minimal defensive pressure, as they can be challenging to execute consistently.
Skill Moves: Ronaldo's 5-star skill moves provide opportunities for flashy dribbling and creativity, making him a versatile attacker.
Crosses: Ronaldo can score from crosses, especially if you make well-timed runs and deliver the ball accurately. His heading ability is particularly valuable in these scenarios.
Passing: While his passing stats are not exceptional, Ronaldo can still provide serviceable passes, especially in a two-striker formation.
↖ Upgrades from the Gold Card
The most significant upgrade from Ronaldo's gold card to the Trailblazer version is his pace. Adding a Hunter chemistry style can boost his sprint speed to 96, making him much quicker and more agile on the field. Other attributes like long shots, shot power, and finishing are exceptional, which is crucial in the current FIFA 24 meta.
↖ PlayStyle Plus
Ronaldo's Trailblazer card comes with a unique Play Style Plus, which focuses on improving through passes, swerve passes, and precision. This is crucial when setting him up as a second striker in a two-striker formation, as it can compensate for his somewhat mediocre regular passing.
↖ Power Shot vs. Finesse Shot
Ronaldo still retains the Power Shot trait from his Gold Card, but the lack of Power Shot Plus is a bit of a nerf. If he had the Finesse Shot Play Style, he'd be even more formidable due to his excellent long shots and shot power.
↖ Long Shots and Finishing
With a Hunter chemistry style, Ronaldo's long shots, shot power, and finishing are remarkable. His right-footed shots have a high chance of beating the goalkeeper due to his 97 composure, making him one of the best finishers in the game.
↖ Jumping and Heading
If you like to score headers from corners, Ronaldo's jumping is exceptional, and he can execute both power headers and acrobatic headers. This makes him a versatile threat in the box, even though heading has been slightly nerfed in FIFA 24.
↖ Weaknesses
Two notable weaknesses in Ronaldo's Trailblazer card are his lackluster links and agility/balance stats. The Links issue can be mitigated with specific players and a little creativity in squad building. However, his agility and balance may make him feel less responsive compared to more agile players like Neymar or smaller forwards.
↖ Squad Building Tips
To maximize Ronaldo's potential, you can consider the following squad-building options:
Use players like Marquinhos and Neymar in a hybrid squad, ideally from the same league, to ensure Ronaldo gets three chemistry links.
Look for Saudi league players like Al-Shirani, who can be evolved into a strong link for Neymar.
Consider using an icon, like Blanc, to connect Ronaldo with your other players and achieve full chemistry.
↖ Value for Money
The big question is whether Ronaldo's Trailblazer card is worth the price tag, which often exceeds 1.4 million coins. While you can feel the difference in pace and shooting, the lack of Finesse Shot Play Style and the availability of similar players at a fraction of the cost may make the card seem overpriced. If the price drops to around 700k, it would represent a more reasonable value.
Conclusion:
In conclusion, Cristiano Ronaldo's Trailblazer card in FIFA 24 Ultimate Team offers significant upgrades in pace and shooting, making him a potent force on the pitch. However, his weak chemistry links and the absence of the Finesse Shot Play Style may deter some players. Whether he's worth the investment depends on your playstyle and squad building capabilities. If you can get him on full chemistry, he's a valuable addition, but if not, there are alternative options that might offer better value for your FC24 coins.
Most Popular Posts
Popular Category Lists