NHL 24 Free Prototype Master Set Player Guide: How to quickly get cards from HUT Eevent?
In NHL 24 HUT, there's a unique opportunity to acquire a free Prototype Master Set player card, which offer exciting new additions to your team. In this guide, we will walk you through the fastest and most efficient way to add these powerful cards to your lineup. These Prototype Master Set cards can significantly enhance your team, and we'll also provide insights into which players are worth pursuing.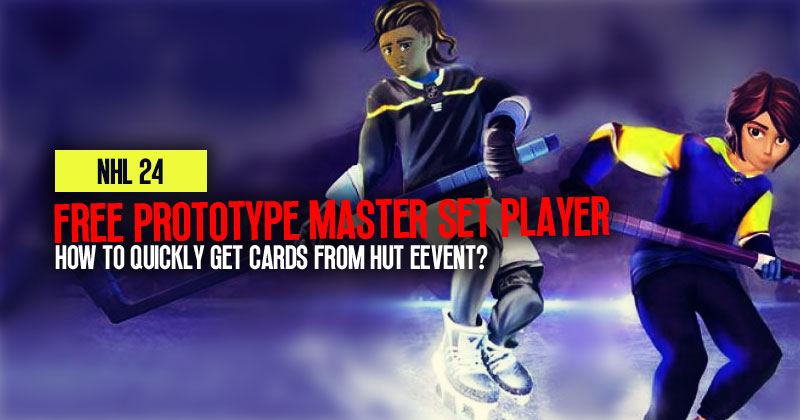 ↖ Prototype Master Set Players
Let's begin by taking a look at the Prototype Master Set Players, focusing on their attributes and the strategies to get them into your lineup.
Radco Gudas
At tier 5, Rakco Gudas boasts an 86 overall rating with Gold Truculence and Silver Bouncer abilities.
His standout feature is his incredible body checking (95) but watch out for penalties due to low discipline.
Gudas excels in the defensive end, making him valuable, especially for players in lower divisions.
Consider pairing him with fast defensemen to offset his sluggish skating.
Other Prototype Master Set Players
Let's compare the other four Prototype Master Set Players - Mitch Marner, Brady Tkachuk, Devon Taves, and Nico Hischier.
Mitch Marner: Impressive skating with 91 acceleration, 90 agility, and 89 speed. Excellent deking and an overall strong card.
Brady Tkachuk: Notable for his size (6'4") but slower skating at 86 overall. Effective when combined with fast linemates and useful if you can activate synergies like Power Forward and Checking Boost.
Devon Taves: Strong offensive defenseman with 88 speed and 87 acceleration. A reliable choice if you need an offensive-minded blueliner.
Nico Hischier: Balanced skating with 89 acceleration and speed. Key asset is his 89 Faceoff rating, making him an excellent choice for your center position.
↖ Abilities and Synergies
Understanding the players' abilities and synergies is essential for maximizing their potential. Here are some key points:
Mitch Marner excels with Elite Edges and Third Eye zone ability, focusing on his agility and puck-handling.
Brady Tkachuk's Gold Unstoppable Force and Silver Truculence abilities make him a powerful physical presence.
Nico Hischier's Silver Quick Draw is an affordable yet valuable ability for faceoffs.
Devon Taves offers versatility with Stick 'Em Up and an 88-speed rating.
↖ How to Get a Free Prototype Master Card?
Now, let's delve into the main topic: how to get a free Prototype Master Card as quickly as possible.
1. Prototype Objectives
Start by completing the Perform any deke with a prototype player item objective to earn a prototype collectible.
This collectible can be used to acquire an 82 overall Master Set player.
For the fastest results, complete this objective using Mitch Marner in HUT Moments. You need five assists on semi-pro difficulty.
2. Squad Battles
Play Squad Battles on rookie difficulty, enabling you to rack up hits by spamming L1 (total control) to perform checks. Stack your forward lines with prototype players to make hitting objectives faster.
3. Goals and Shots
Score goals by shooting low far side in Squad Battles on rookie difficulty. This will count toward your goals and shots objectives. Complete 60 goals to earn another prototype collectible.
4. Prototype Collectibles and Power-Up Collectibles
Use prototype collectibles to create more Master Set player items, adding them to your lineup. As your lineup grows, work towards the "play 50 games with prototype cards in your lineup" objective to earn a Power-Up collectible.
5. Exclusive Prototype Player Items
To make the process even faster, aim for the "get assists" objective. Completing it rewards you with an 84 exclusive prototype player item (Jerome Iginla).
6. Accumulating Coins
By completing objectives in both Prototype and Fantasy Hockey events, you can earn approximately 1.4 million coins.
7. Fantasy Hockey Event
While not providing a free card, the Fantasy Hockey event can help you reduce costs. Complete Fantasy Hockey objectives using your Prototype players to earn Fantasy Hockey Collectibles.
8. Buying Players
If you have enough capital, you can buy cheaper Prototype players and sell them back after completing objectives to save time.
Conclusion:
If you're interested in the Fantasy Hockey event, keep in mind that playing games and completing objectives with your Prototype players will also contribute to your progress in this event. This can significantly reduce the cost of obtaining Fantasy Hockey Master Set players.
By following these steps and strategies, you can obtain a free Prototype Master Card as efficiently as possible in NHL 24. Make sure to complete the objectives and utilize your prototype players effectively to unlock the full potential of your team. Enjoy your new additions to your lineup and dominate the ice!
Most Popular Posts
Popular Category Lists