Madden 24 Most Overpowered Blitz and Base Defense Guide
Are you looking to dominate your opponents in Madden NFL 24, shutting down both run and pass plays, and consistently getting interceptions? Look no further, as we reveal the most overpowered blitz and base defense that will elevate your game. This guide will break down the strategy, formation, adjustments, and key players to achieve success with this unstoppable defense.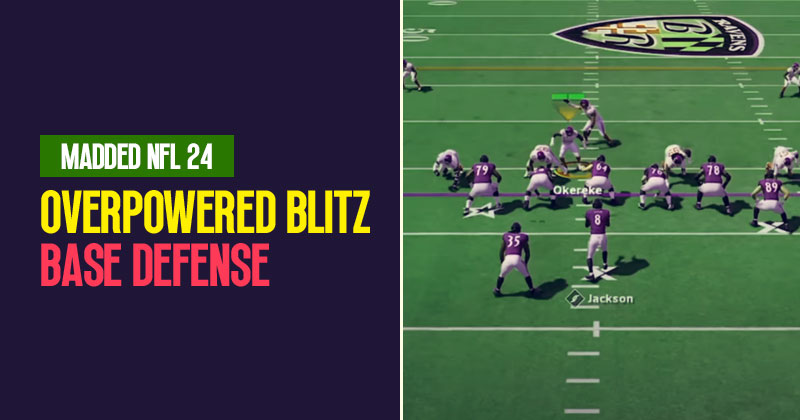 ↖ Team Choice: New York Giants
Our journey begins with the New York Giants, a team that is often considered one of the weaker squads in Madden NFL 24. But fear not, because we're about to prove that success in Madden isn't just about your team's overall rating; it's about your strategy and execution. We've chosen the Giants, and here's why:
Player Speed: Player speed is crucial, and the Giants boast an impressive roster with players like Saquon Barkley, Darius Slayton, Paris Campbell, and more, all with speed ratings above 93.
Defensive Speed: Key defensive players such as Isaiah Simmons, Bobo Carr, and Kavon Tibido provide a significant speed advantage, especially in pass-rushing situations.
Versatile Defense: The Giants' defense is loaded with speed in the secondary, with players like Adoree' Jackson, Deontay Banks, and Aaron Robinson, all boasting 93+ speed.
↖ Formation: Big Nickel Over G
The formation we'll be using for this overpowered defense is the Big Nickel Over G. This formation is ideal for both run and pass defense, and we'll show you how to get the most out of it.
Adjustments:
Fast Safety: Ensure that you have a fast safety playing in this formation. For instance, Aaron Robinson, with his 93-speed rating, makes an excellent choice.
Zone Coverage: Set your zone coverage to Match and leave the flats and curl flats on default. This enables the matching principles to take effect.
Auto Alignment: Set your auto alignment to Base so that all your defenses look the same before the snap, making it harder for your opponent to predict your strategy.
↖ Blitz Play: SS Linebacker Blitz
Now, let's delve into the SS Linebacker Blitz, one of our favorite blitz plays in the Big Nickel Over G formation.
Setup:
Blitz User: Blitz your user, usually the player covering the running back.
Hover the Center Gap: Pre-snap, hover over the center gap to ensure you can react quickly to different offensive plays.
The Results: The SS Linebacker Blitz is a formidable play that applies consistent pressure on the quarterback while maintaining effective coverage.
↖ Defensive Strategy
In this guide, we recommend three key defensive plays:
Cover 4 Palms: Ideal for run and pass defense, with safeties that play the run like linebackers.
Cover 6 Trap: The matching principles in this play lead to more interceptions and takeaways.
SS Blitz 3: A well-balanced mix of zone and blitzing that keeps your opponent guessing.
↖ Gameplay Highlights
Here's a sneak peek of the defensive dominance that this strategy can provide:
Instant Interception: We showcase how matching principles lead to quick interceptions on the very first play of the game.
Form Close Scheme: We use a powerful offensive scheme that exploits the run and motion plays effectively.
Dominant Run Game: Even with the Giants' weak offensive line, the ground game thrives with Saquon Barkley, showcasing that players matter more than the team's overall rating.
Speed Matters: We reiterate the importance of player speed, which can make up for other shortcomings on your team.
Versatility: The New York Giants may not be a top-tier team, but this guide proves that with the right strategy, any team can be competitive in Madden NFL 24.
Conclusion:
In Madden NFL 24, your team doesn't need to have the highest overall rating to dominate your opponents. By using the Big Nickel Over G formation and mastering the SS Linebacker Blitz, you can achieve an overpowered defense that stops both run and pass plays, getting interceptions consistently. Don't let team ratings hold you back; with the right strategy and execution, you can achieve greatness in Madden NFL 24. So, give it a try, and show your opponents who's boss on the field!
Most Popular Posts
Popular Category Lists