NHL 24 HUT New X-Factor Choice Pack Set and Heritage Classic Cards Guide
The NHL 24 Hockey Ultimate Team mode is buzzing with excitement as a fresh set of content arrives, featuring an exciting X-Factor Choice Pack set and the highly anticipated Heritage Classic cards. In this guide, we will break down all the latest content, offer recommendations, and provide insights on the X-Factor Choice Pack set and the Heritage Classic cards.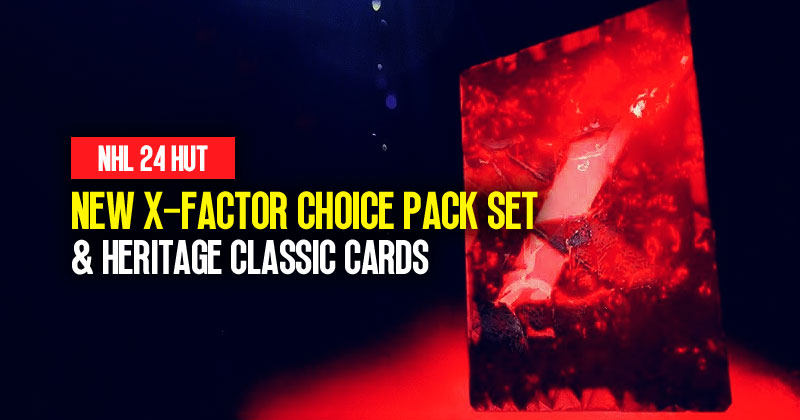 ↖ X-Factor Choice Pack Set
The new X-Factor Choice Pack set is the hottest addition to NHL 24's HUT mode. This choice pack is highly coveted, and we will discuss how to acquire it, who to choose, and when to make the most of it.
Quest for the Hut 99 Sets: The X-Factor Choice Pack is found within the Quest for the Hut 99 Sets. These sets are released every Tuesday at 5:00 p.m. and require eight XP Collectibles and 27 gold player items. It's essential to dive into this set, and here's why.
Fantasy Hockey Event Synergy: During the Fantasy Hockey event, X-Factor cards gain significant value. It's crucial to complete this set during the event. EA has confirmed that X-Factor cards will unlock their tiers as their corresponding Fantasy Hockey cards improve. For example, when a Fantasy Hockey player's overall rating increases, the associated X-Factor abilities also unlock.
The Abundance of PowerUp Collectibles: PowerUp Collectibles are more readily available than in the previous installment. You can earn them through various objective paths, trading in cards, and completing sets. This abundance makes upgrading X-Factor cards more accessible and cost-effective.
Selecting X-Factor Players: The top choices for X-Factor players include stars like Connor McDavid and Cale Makar. However, for the rest of the selections, it's advisable to pick X-Factor cards that have corresponding Fantasy Hockey Master set player items. Players such as Trevor Zis, Cole Caufield, Ryan Suzuki, and Tomas Hertl fall into this category. This allows you to upgrade the X-Factor cards more conveniently.
Stash Your X-Factor Choice Pack: For non-superstar players, it's a wise move to choose one of the Fantasy Hockey cards that align with X-Factor. This strategy provides a safety net, as even if the Fantasy card doesn't take off, these players will receive regular monthly updates through event cards and more. It's a secure investment for your team.
↖ Heritage Classic Cards
The Heritage Classic, a highly anticipated outdoor game between the Edmonton Oilers and the Calgary Flames, has generated a set of new cards. Let's take a closer look at these Heritage Classic cards.
Overall Boost: Winning the Heritage Classic grants a +1 overall boost to the player items of the victorious team. However, it's important to note that this boost doesn't affect skating attributes, as those have already received their +1 boost.
↖ Calgary Flames Heritage Classic Cards
Nikita Zadorov (79 OVR): A sturdy defenseman with 82-speed and acceleration but might be too slow for some players.
Noah Hanifin (79 OVR): A 6'3" defenseman with two-way defenseman synergy and 85-speed, making him a reasonable choice for your bottom pairing.
Nazem Kadri (79 OVR): A two-way forward with an 80 faceoff rating and decent attributes, although his size might be a concern.
Jacob Markstrom: Keep an eye on his performance. If he upgrades, he could become an attractive choice as a goalie.
Elias Lindholm: A playmaking forward with 87-speed and decent faceoff ratings. His agility and hand stats make him a decent choice.
Jonathan Huberdeau: With 89-speed and acceleration, he can be a valuable left-handed forward.
↖ Edmonton Oilers Heritage Classic Cards
Matias Ekholm (81 OVR): A 6'4" two-way defenseman, but his skating might be a concern.
Jack Campbell (81 OVR): A decent choice if you're looking for a goalie above 6'2".
Darnell Nurse (83 OVR): A solid defenseman with 85-speed and a large frame.
Zack Kassian (83 OVR): A two-way forward with average skating attributes.
Leon Draisaitl (87 OVR): A potentially dominant forward with a combination of sniper forward and shooting boost synergy.
Connor McDavid (87 OVR): The superstar, with incredible speed and acceleration, and strong synergy bonuses.
↖ Making Heritage Classic Cards
To create these cards, you need Hut 24 Collectibles. These collectibles can be acquired at around 3,500 HUT coins each. When considering which cards to make, keep an eye on the auction house as you might find these cards available for a better price.
↖ Live Moments Cards
Two Live Moments cards have been introduced in NHL 24. These cards add a new layer of excitement to the game, featuring boosted attributes.
Jack Hughes (86 OVR): With a combination of Gold Elite Edges and Silver Unstoppable Force, Hughes boasts an impressive 91 speed and 92 acceleration. A card that can potentially dominate the game.
Alex DeBrincat (85 OVR): With 91 speed and acceleration, DeBrincat is a fast winger. However, he lacks in balance and body checking, so use him strategically.
Conclusion:
With the new X-Factor Choice Pack set, Heritage Classic cards, and Live Moments cards, NHL 24's HUT mode is overflowing with excitement. Make the most of the opportunities, choose your players wisely, and enjoy the thrill of hockey's most competitive mode. Whether you're a seasoned veteran or a newcomer, these new additions offer fresh experiences and challenges that will keep you engaged in the game.
Most Popular Posts
Popular Category Lists