FFXIV Fanfest London 2023: What We Learned from the Press Conference Q&A?
Welcome to a detailed guide on the press conference that took place at FanFest London 2023. In this conference, Yoshi-P, the producer and director of Final Fantasy XIV, answered various questions from different publications. While some details about the upcoming expansion, Dawn Tril, were off-limits, there were still some interesting insights shared. In this article, we'll summarize the questions and Yoshi-P's responses.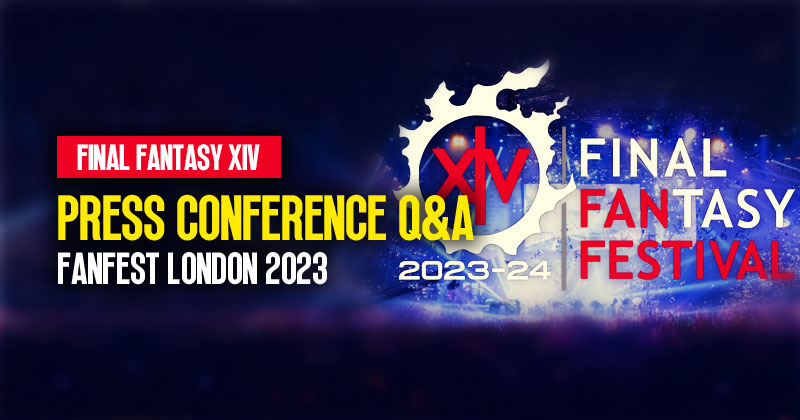 ↖ Q1: Drawing Inspiration from Past Games
Matt inquired about whether future FFXIV expansions would continue to draw inspiration from older Final Fantasy games, similar to how Endwalker drew from Final Fantasy 4. Yoshi-P confirmed that DawnTrail would indeed have strong references to previous installments, but didn't divulge specific details to maintain an element of surprise.
↖ Q2: Collaborative Outfits with Final Fantasy 16
Jeppi asked about the possibility of outfits portraying characters other than Clive in collaboration with Final Fantasy 16. Yoshi-P acknowledged the busy schedule of Final Fantasy 16's producer and mentioned that they are still focusing on the PC version. However, he hinted at the potential for more collaboration in the future, emphasizing the need to get the games out first.
↖ Q3: Hironobu Sakaguchi Playing FFXIV
Alan asked how Yoshi-P felt about Hironobu Sakaguchi, the creator of Final Fantasy, playing and enjoying FFXIV. Yoshi-P expressed his happiness and shared his amazement at Sakaguchi's willingness to engage with various in-game content, including the challenging ultimate content, which surprised Yoshi-P himself.
↖ Q4: Echoes of Vana'diel Raid
Akira asked about the decision behind choosing Final Fantasy 11 as the theme for the Echoes of Vana'diel raid. Yoshi-P mentioned that details of the content were still under development but hinted at concept art created by Mr. Amano for the 20th anniversary of Final Fantasy 11. He also suggested that the concept art would provide a glimpse into the upcoming raid.
↖ Q5: Xbox Players Joining FFXIV
Gary inquired about Yoshi-P's feelings regarding Xbox players finally being able to join FFXIV. Yoshi-P expressed his excitement as an avid Xbox gamer and noted that he and Phil Spencer were among the happiest about the game's release on the Xbox platform.
↖ Q6: Player Achievements
Sam mentioned a player who earned all the achievements in the game and asked if Yoshi-P expected it to take this long and if there were plans to make future achievements more difficult. Yoshi-P congratulated the player and noted that they would consider higher difficulty achievements if requested by the player community.
↖ Q7: Access to Time-Limited Event Items
Sam asked if new players would have the opportunity to access time-limited event items in the future. Yoshi-P inquired about the specific type of time-limited items, and after clarification, suggested that they were considering options to make items like those from the Yo-Kai Watch collaboration accessible if there's demand.
↖ Q8: Dream Collaboration
Federico asked about Yoshi-P's dream collaboration with a non Square Enix franchise. Yoshi-P expressed his desire for a collaboration with Blizzard's Diablo series, mentioning the challenge of adapting Diablo's distinct aesthetic to FFXIV while ensuring both fanbases are satisfied.
↖ Q9: Trust System for Side Dungeons
Ed inquired about the possibility of extending the Trust system to side dungeons like hard mode dungeons or other side content. Yoshi-P explained that they were focusing on implementing new NPCs and AI for DawnTrail and hinted at plans to use Scions for other types of content instead.
↖ Q10: Jumping Puzzles in Dawn Tril
Casim was interested in the possibility of new jumping challenges in DawnTrail. Yoshi-P hinted that players might find a jumping puzzle in the sky, suggesting they should keep an eye out while exploring.
↖ Q11: Questions Yoshi-P Hopes to Avoid
Myself H asked Yoshi-P about the questions he hopes to avoid in future interviews. Yoshi-P mentioned he didn't want to be asked about the main storyline or new jobs in 8.0 to avoid revealing spoilers. He also stated that he already had ideas for expansions beyond 9.0.
↖ Q12: Bringing Features from Other MMOs to FFXIV
Joshua inquired about a feature or mechanic from other MMOs that Yoshi-P would like to adapt into FFXIV or one that he believes would never work in the game. Yoshi-P mentioned the sense of chaos and freedom from early MMOs like Tibia Online but noted that such a concept might not be well-received in the modern gaming landscape.
↖ Q13: In-Game Calendar and App Features
Benjamin asked about the possibility of an in-game calendar linked to the phone app. Yoshi-P appreciated the idea and mentioned their ongoing efforts to optimize the app. He expressed interest in adding new features to improve player communication.
Conclusion:
The FanFest London 2023 press conference provided insights into the development and future plans for FFXIV, including potential collaborations, new content, and quality-of-life improvements. While some details remained confidential, fans can look forward to exciting expansions and features in the world of Eorzea. Keep an eye on official announcements from Square Enix for more information and updates on FFXIV.
Most Popular Posts
Popular Category Lists