FC 24 Centurions Promo Event Guide: Key Objectives and Rewards
If you've been following the latest updates and promotions in EAFC 24, you must have heard about Centurions. In this guide, we will delve into all aspects of Centurions, including Centurion Evolutions, objectives, SBCs, and player cards, offering valuable insights to help you maximize your gaming experience. Discover how to complete objectives, unlock remarkable player upgrades, and make strategic choices to bolster your squad.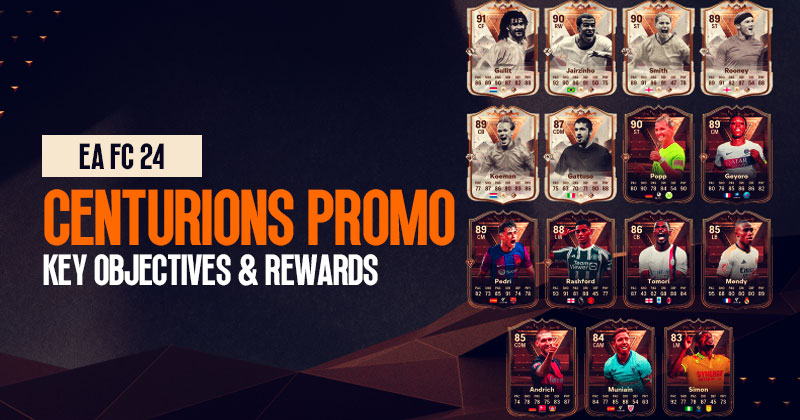 ↖ What Are Centurions?
Centurions is a special promotion in FC 24 that celebrates football in its purest form, highlighting players who have achieved incredible milestones in club football. Players who have reached a century of goals, games, assists, or clean sheets in their club careers are honored as Centurions. This promotion includes unique player cards and exciting objectives for you to complete.
↖ Centurion Evolutions
Centurion Evolutions are an integral part of this promotion, allowing you to elevate specific players in your club to Centurion status. These player evolutions offer significant improvements and a variety of new play styles. To unlock Centurion status for your players, you'll need to complete Evolution objectives.
Key Details about Centurion Evolutions:
New player cards with substantial upgrades are available.
Evolve your favorite players to Centurion status by meeting specific objectives.
Various play styles and attributes are enhanced, making these players even more formidable.
↖ Objectives
Centurions bring along a set of objectives that players can complete to earn exciting rewards. These objectives usually revolve around using specific players or achieving milestones in-game. In the latest Centurions promotion, players can earn valuable rewards by scoring goals with Portuguese players, assisting with League One players, and more.
Example:
Score six goals using Portuguese players.
Assist four goals using League One players.
Concede one or fewer goals in three games.
Win six games with three League One players in your squad.
Reward: Gold Players Pack and 8x2 XP
↖ SBCs
Squad Building Challenges are a regular part of the Centurions promotion. During this promo, you can expect to find various SBCs, including special player SBCs. These SBCs typically feature Centurion players with boosted attributes. Completing these challenges can earn you unique player cards, and they are often well-priced.
Example:
Martin Erard SBC (90-rated): Complete four segments with squad ratings of 84, 85, 86, and 87 to earn this exceptional player card.
↖ Player Cards
Centurions introduces a range of new player cards with impressive attributes and improvements. You can find these players in packs, and they often feature enhanced ratings and unique play styles.
Example:
Ferland Mendy: A standout defender with upgraded stats.
Marcus Rashford: Improved shooting stats and play styles.
Wayne Rooney: A well-rounded legend with impressive attributes.
↖ Smart Evolution Choices
When deciding which players to evolve, it's essential to be strategic. Look for players who are already in your squad, as you may have completed objectives with them. This can save you valuable time and effort. Additionally, consider your favorite players, play styles, and club loyalties when making your evolution choices.
Position: Determine the role you need in your squad, whether it's a defensive midfielder, central midfielder, or attacker.
Attributes: Focus on the key attributes that matter most for your selected position. For instance, if you're looking for a striker, prioritize attributes like finishing, composure, and shot power.
PlayStyle: Pay attention to the play style of the card. Some are better suited for specific roles due to their play styles.
Chemistry Style: Don't forget to apply a chemistry style that complements the player's strengths and shores up their weaknesses.
Team Chemistry: Consider how the player fits into your overall team chemistry. Some cards may be easier to link into your squad based on their league or nation.
Conclusion:
In total, Centurions is an exciting promotion in FIFA 24 that celebrates football milestones. It offers player Evolutions, special objectives, and SBCs, enabling players to enhance their squads with incredible cards. Evolution choices should be strategic, considering play styles and club loyalty. It is an opportunity to build a formidable team and celebrate football's greatest achievements in FIFA 24.
Most Popular Posts
Popular Category Lists