FFXIV Fall Guys Collaboration Event Guide: Details & Rewards
Final Fantasy XIV is about to get a whimsical twist as it collides with the chaotic universe of Fall Guys. This unprecedented collaboration event promises exciting gameplay and unique rewards for players to enjoy. In this guide, we'll explore all the aspects of the FFXIV & Fall Guys collaboration event, including how to participate, event details, and the tempting rewards that await.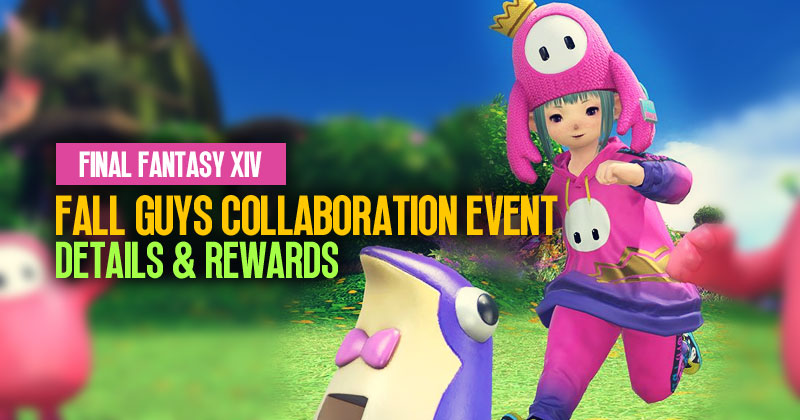 ↖ Event Details
Event Schedule: FFXIV & Fall Guys collaboration event is set to kick off on October 31 and will run until the end of this year, specifically December 31.
Participation Requirements: To partake in this zany crossover, you need to meet two prerequisites.
Firstly, you should be at least level 15 in FFXIV, which is an attainable level for even new players.
Secondly, you must complete the quest called It Could Happen to You. If you haven't already unlocked the Gold Saucer, you should do so before the event begins.
Acquiring Event Quest: Once you meet these requirements, visit the Gold Saucer and take the event quest from the Gold Saucer attendant.
Blunder Bille Shows: The event introduces Blunder Bille Shows. While details about these shows remain sparse, they are likely to be time-based activities, similar to Gold Saucer events. Specific mechanics and objectives will be revealed upon the event's launch.
Event Currency: By participating in Blunder Bille Shows, you'll earn a new event currency called Gold Saucer Fame. This currency will serve as your ticket to a treasure trove of unique rewards.
↖ Event Rewards
FFXIV & Fall Guys collaboration event offers a cornucopia of rewards that range from quirky to genuinely enticing. Here's a sneak peek at what you can expect to earn:
Burger King Crown for Mentors: Show off your mentor status with this shiny new crown, and revel in the envious glances of your fellow adventurers.
Glamour Items: The event introduces a selection of glamour items that will let you stand out with style in Eorzea.
New Emote: The event comes with a brand-new emote, allowing you to express yourself uniquely.
Housing Items: Decorate your in-game home with themed items, including a potential animated Hammer item that you can use to greet your friends in a playful manner.
Fall Guys Theme Orchestration Roll: Immerse yourself in the Fall Guys universe with the event's orchestration roll, providing a fun musical backdrop to your adventures.
Frame Kits: Customize your profile with unique frame kits, letting others know about your participation in this extraordinary event.
Dyes: A wide variety of dyes will be available as rewards, perfect for personalizing your gear and outfits.
↖ Important Note
The event currency, Gold Saucer Fame, will only be available during the event's duration. There's no guarantee that the event will return in the future, and even if it does, the currency may not carry over. To avoid any disappointment, make sure to claim your rewards early and make the most of this unique collaboration.
Conclusion:
FFXIV & Fall Guys collaboration event is a delightful crossover that promises to bring a dose of whimsy to the world of Eorzea. With a plethora of rewards and the potential for an exciting gameplay experience, this event is not to be missed. So, mark your calendars, level up, and prepare to immerse yourself in this extraordinary event. Don't forget to share your excitement with the FFXIV community, and stay tuned for more details as the event unfolds
Most Popular Posts
Popular Category Lists