How to Dealing With Cutbacks, Finesse Shots and Controlled Sprints in FC 24?
FC24 defending against common attacking strategies has become a top priority for players seeking success. Cutbacks, finesse shots, and controlled sprints are prevalent tactics used by opponents, and mastering the art of defense against these strategies can make all the difference in your matches. We'll break down the strategies, provide insights, and offer expert tips that will empower you to shut down your opponents effectively and regain control of the pitch.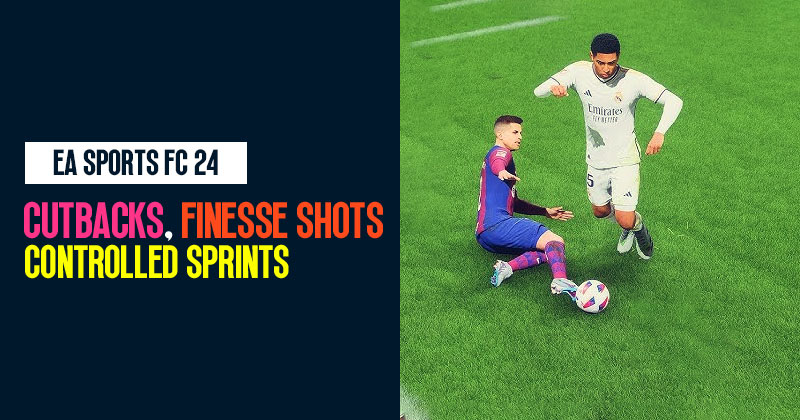 ↖ Defending Cutbacks
Cutbacks are a popular attacking strategy in FC24, but you can effectively defend against them with the right tactics. Here's how:
Positioning is Key:
Keep your fullbacks in position: Unlike previous years, it's essential not to push attackers towards the wing this season.
Don't pull your fullbacks too far out to press, and avoid getting baited to cover the inside.
Prioritize locking up the outside, preventing opponents from running down the wing.
Applying Pressure:
When defending against a cutback, putting pressure on the ball as early as possible is crucial.
Initially, focus on defending the obvious pass to the middle.
Approach the passer aggressively to tackle the ball away before they find an opening.
Use Partial Team Press:
While going for the ball, employ partial team press by tapping R1 (or SLRB) twice and holding it on the second tap.
This will cause two of your defenders to tightly mark attackers inside the box.
It makes it more challenging for the opponent to finish their attack successfully.
↖ Defending Finesse Shots
Finesse shots can be deadly, especially when executed by players like Benzema, Griezmann, or Salah. To defend against them:
Player Awareness:
Pay close attention to your opponent's team and playing style.
If you see these skilled players, anticipate finesse shots when they enter critical areas around your box.
Cover the Inside:
When you anticipate a finesse shot, grab the closest defender and cover the inside.
This prevents your opponent from getting the proper angle for a successful shot.
Keeper Positioning:
If you realize you won't be able to defend the shot in time or if there's no nearby defender, move your goalkeeper.
Use the right stick to move the keeper towards the far post, putting him in a better position to save the shot.
↖ Defending Controlled Sprints
Controlled sprints can be challenging to defend, but here's how to handle them effectively:
Switch Early:
Instead of chasing the attacker from behind, switch to a defender early.
Don't allow the opponent to penetrate the space in front too quickly.
Position Carefully:
Avoid aggressive, premature movements.
Let the opponent come to you, then close in when they have limited options.
Try to time your tackle before they take another touch.
Conclusion:
Defending against common attacking strategies like cutbacks, finesse shots, and controlled sprints in FC24 requires a combination of strategic positioning, awareness, and timing. By following the tips and techniques outlined in this guide, you can significantly improve your defensive skills and thwart your opponents effectively.
Most Popular Posts
Popular Category Lists