NHL 24 Halloween Fantasy Draft Guide: Spooky Team Building
Are you ready to embark on a spine-tingling journey through the NHL 24 like never before? In this Halloween Fantasy Draft, we're bringing you a chilling roster challenge inspired by the eerie characters that roam the night during the spookiest time of the year. In this guide, we'll walk you through the rules and strategies for building a Halloween-themed roster, limited to players from six select teams.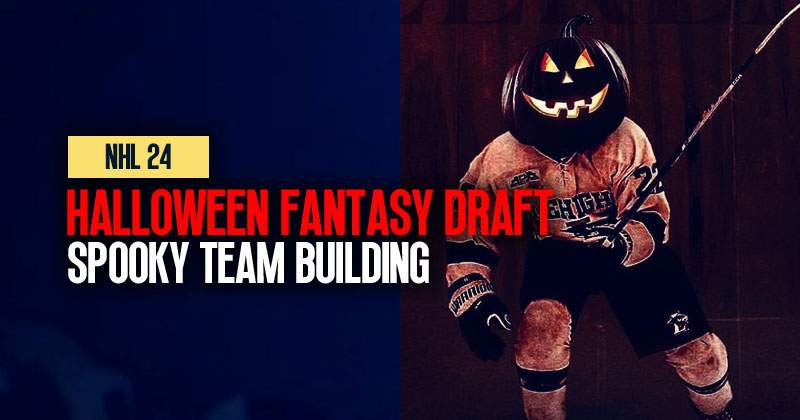 ↖ Hauntingly Themed Teams
In this Halloween-themed fantasy draft, your goal is to assemble a team using players exclusively from six designated teams. The teams you can choose from are the New Jersey Devils, New York Islanders, Philadelphia Flyers, Calgary Flames, Seattle Kraken, and Anaheim Ducks. Here's how we've associated these teams with the Halloween theme:
New Jersey Devils: The Devils have a Halloween-inspired name, making them a perfect choice for this spooky draft.
New York Islanders: The black and orange jersey colors of the Islanders align with Halloween aesthetics.
Philadelphia Flyers: Similar to the Islanders, the Flyers' black and orange jerseys make them a suitable pick for your Halloween roster.
Calgary Flames: Jack-o'-lanterns often have flames inside them, and the Flames' red and yellow jerseys align with Halloween colors.
Seattle Kraken: Monsters and sea creatures are popular Halloween themes, making the Kraken a great choice for this draft.
Anaheim Ducks: The Ducks also feature black and orange jerseys, contributing to the Halloween atmosphere.
↖ Player Selection Rules
Now, it's time to choose your ghoulish roster. You can draft players who are currently on these teams or have played for them in the past. This flexibility allows for a more strategic and balanced approach to building your team. Here are the rules you must follow for this Halloween Fantasy Draft:
You can only draft players who are currently on one of the six selected teams or have played for these teams in the past.
Players from teams in the Atlantic and Central divisions are off-limits.
You can draft players from the Pacific division, but only if they are on the Anaheim Ducks or the Calgary Flames.
↖ Building Your Nightmare Roster
Let's dive into the spine-tingling draft. Imagine you're the GM of a sinister squad ready to dominate the NHL. Keep these guidelines in mind:
Draft Position: Randomize your draft position, ensuring a fair start. Where will your dark journey begin?
First Pick: The cornerstone of your Halloween Fantasy Draft team. A no-brainer for the New Jersey Devils theme, choose the current star of the Devils, Jack Hughes. He's tearing up the NHL, and his jersey is a perfect fit.
Selecting Your Defense: For your first defender, consider Mark Giordano, who has played for the Calgary Flames. Since you can only draft players from the selected teams, Giordano fits the criteria. Or, opt for Dougie Hamilton, another former Flame.
Completing the Top Line: Continue building your forward group by adding Johnny Gaudreau from the Calgary Flames. His fire-themed play style aligns perfectly with the Halloween theme.
Second-Line Strength: For your second forward line, choose Nino Niederreiter from the Carolina Hurricanes, who has also played for the New York Islanders. His versatile play will be a valuable asset.
Balanced Forward Group: Adding Claude Giroux, who has played for the Philadelphia Flyers, Chicago Blackhawks, and Columbus Blue Jackets, will give your team experience and depth.
Dominating Defense: Solidify your defense with Josh Manson, who has experience with the Anaheim Ducks. A perfect addition to your defensive core.
Special Teams Ace: On your power play, insert Oliver Bjorkstrand, a player currently on the Columbus Blue Jackets but previously on the Calgary Flames.
Complementary Forwards: Add Blake Coleman to your third line, who's played for the New Jersey Devils and currently plays for the Calgary Flames. His two-way play will be invaluable.
Final Defenseman: Secure your fourth defenseman by picking up John Klingberg, a player from the Dallas Stars. His offensive skills will make your blue line a force to be reckoned with.
Closing Out the Roster: Complete your forward group with Kieffer Bellows, a current New York Islanders player, who has also been with the New Jersey Devils. He'll be an excellent addition to your bottom six.
Between the Pipes: Don't forget your backup goalie! Select Anton Khudobin, who has experience with the Anaheim Ducks. He'll provide support for your starting netminder.
↖ Drafting Example
Here's a sample draft strategy:
First Pick: Jack Hughes (New Jersey Devils) - A star forward to lead your team.
Second Pick: Dougie Hamilton (Calgary Flames) - Secure a top defenseman to anchor your blue line.
Third Pick: Huo (Philadelphia Flyers) - Strengthen your forward group with an effective scorer.
Fourth Pick: John Tavares (New York Islanders) - Add a veteran presence and offensive talent.
Fifth Pick: Travis Sanheim (Philadelphia Flyers) - Solidify your defensive corps.
Sixth Pick: Josh Manson (Anaheim Ducks) - A physical defenseman to complement your defense.
Seventh Pick: Craig Smith (Seattle Kraken) - Add depth to your forward lines.
Eighth Pick: Adam Henrique (Anaheim Ducks) - Strengthen your forward depth.
Ninth Pick: Mark Giordano (Calgary Flames) - A veteran defenseman for your blue line.
Tenth Pick: Philip Grubauer (Seattle Kraken) - Secure a capable goaltender.
↖ Team Lineup and Chemistry
Once you've drafted your players, it's time to set up your team's lineup and optimize chemistry. Ensure your lines are balanced, and your power play and penalty kill units are efficient. Pay attention to chemistry bonuses to enhance your team's performance.
↖ Season Simulation
Simulate your season and see how your Halloween-themed team fares in the NHL 24. Analyze your player statistics, wins, and losses to gauge your team's performance and make necessary adjustments.
Conclusion:
As you embark on this Halloween Fantasy Draft adventure, remember that team chemistry, special teams, and solid defensive pairings will be the keys to success. Be ready to face otherworldly challenges in the league, and don't forget to summon the spirit of Halloween to inspire your players. It's a chilling journey through the NHL, but with the right strategy, your team can rise to the occasion and make the playoffs, maybe even win the Stanley Cup.
Most Popular Posts
Popular Category Lists