FFXIV Patch 6.51 Update: Explore the Latest Features, Mounts, and More
With an official release date of October 31st, patch 6.51 promises to be a game-changer, introducing captivating locations, challenging content, and intriguing collaborations. The FFXIV community is abuzz with excitement as the Special Site unveils a treasure trove of new features, including enchanting mounts, expressive emotes, and much more. In this guide, we'll delve into the heart of Patch 6.51, offering an in-depth look at the key additions and what adventurers can anticipate in this thrilling update.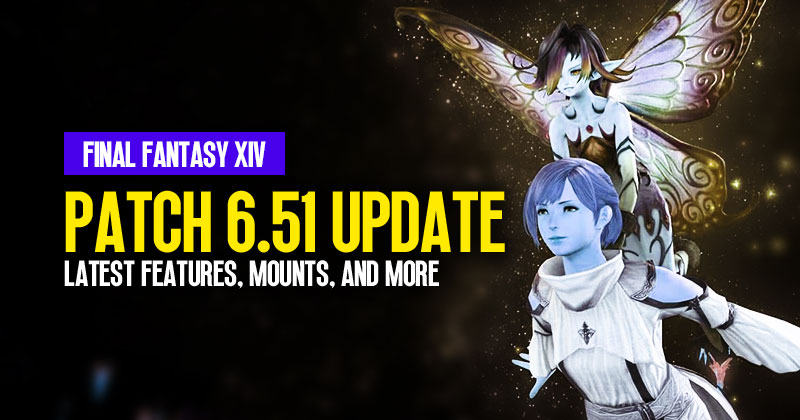 ↖ Release Date & Fall Guys Crossover
Patch 6.51 is set to launch on the 31st of October, and it brings with it a slew of enticing content. Notably, it coincides with the eagerly anticipated Fall Guys crossover. The patch's special site showcases a variety of enticing images and information.
↖ New Location
In the South Seas, you'll find the enchanting Lower Lo Island. This serene location boasts lush flora and abundant fauna. While it may appear idyllic, a dark secret lurks beneath the surface. The special site offers three captivating images, giving players a glimpse of this tropical paradise. One of these images features a shipwrecked cove, providing insight into the exotic locales that await players in the Dawntrail expansion.
↖ Pixie-Themed Variant Mode
This new update hints at a Pixie-themed variant mode, which promises to be a delightful challenge. To unlock a unique mount, players must collect all 12 roots hidden within this mysterious domain. Keep an eye out for a video guide on how to complete these objectives and secure the elusive mount.
↖ Criterion Dungeon
Another exciting addition is the Criterion dungeon, located on another Alo Lower Island. This dungeon offers a significant challenge for a party of four, and players must gather their mightiest allies to restore harmony to the isle's shores. A screenshot showcases an epic battle against a mysterious fairy king, and the reward for conquering this dungeon is an awe-inspiring mount. This mount resembles a fusion of a tiki mask and a lion, making it a unique and desirable addition to any adventurer's collection.
↖ Splendorous Tools Update
The Splendorous Tools update is also set to release on October 31st. This update introduces a captivating storyline centered around Gran's quest for perfection and a final proposal to Menen. The intriguing image on the special site leaves players eager to learn more about this mysterious journey.
↖ Fall Guys Collaboration
The Fall Guys collaboration is another highlight of Patch 6.51. This crossover brings the excitement of a party royale to the world of FFXIV. Players can tackle a variety of mini-games, obstacle courses, and team-based challenges. Collect as many crystals as possible to triumph over your opponents. Rewards for participating in this event include individual outfits, a new emote, a mount in the form of an inflatable rhosus, and two adorable minions: the bean minion and the peglin minion.
↖ Chrysalis Conflict Arena
The patch also includes the Red Sands map in the Chrysalis Conflict Arena. This map is replete with sand worms, cact tws, and sabot tenders lurking beneath the sands. Oasis buffs scattered throughout the map can provide healing to players, adding a unique twist to PVP gameplay. Additionally, the new season of ranked PVP promises to bring fresh challenges and rewards to competitive players.
↖ Final Fantasy 16 Crossover
While the Final Fantasy 16 crossover post has been released, the release date remains uncertain, with a placeholder of "6.5X". This collaboration hints at a tale of two stars and their impossible conjunction, promising revelations and enticing rewards. Stay tuned for more details on this exciting event.
↖ Xbox Series X & S Open Bet
The Xbox Series X and S open beta is still on the horizon, though an exact schedule has yet to be revealed. Keep an eye out for more information, which is expected to drop in November.
↖ New Emote and Parasol
Lastly, the patch introduces a brand new emote and parasol. While the source of these items remains a mystery, players can expect to find them as rewards in the variant mode, much like other treasure chest loot. The emote appears to be a thoughtful, chin-stroking gesture, while the parasol takes on the form of a leaf, offering a unique and nature-inspired aesthetic.
The special site is a treasure trove of exciting information, and players have much to look forward to in Patch 6.51. From tropical paradises and Pixie-themed challenges to vibrant collaborations and enticing rewards, FFXIV continues to deliver a wealth of content to keep adventurers engaged for months to come.
Most Popular Posts
Popular Category Lists