How Can You Get the Free NHL 24 HUT Halloween Giroux Card?
NHL 24 Hockey Ultimate Team has unleashed its spine-chilling Halloween content, and the standout feature is a remarkable free Halloween flashback card of Claude Giroux. This guide takes you through the steps to acquire this special card, along with an in-depth look at the other thrilling additions in NHL 24 HUT.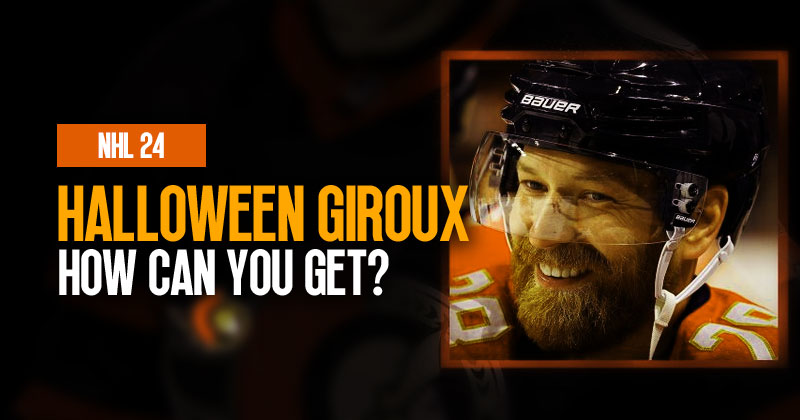 ↖ Halloween Giroux Card
Claude Giroux Halloween-themed card in NHL 24 HUT is a significant addition to your team. Despite not being the largest player on the ice, Giroux possesses valuable abilities that make him a standout choice. With Silver Quick Draw, Giroux excels in faceoffs, a crucial aspect of the game, especially when you're in Superstar mode. Silver Quick Draw allows you to win more faceoffs by snapping back the puck faster.
Furthermore, Giroux comes with the Born Leader ability, which gets a substantial boost in NHL 24. This ability provides an energy boost for big hits and blocked shots. Given the revamped hitting mechanics in NHL 24, Born Leader can be a game-changer. Combine this with Giroux's 90-speed acceleration, agility, high-80 shot, 90 hand stat, and a whopping 90 on faceoffs, and you've got one of the top centermen in the game.
↖ Getting Halloween Giroux
One of the most exciting aspects of this Halloween content update is the opportunity to get a free Halloween Giroux card. Here's how to do it:
1. Visit the Moments Section
Head over to the Moments section in NHL 24 HUT to find the Hut 22 flashback and 3 Halloween moments.
2. Complete the Halloween Moments
To acquire Giroux, you must complete the three Halloween moments. Each moment has specific objectives:
Moment
Objectives
Reward
Moment 1

Get an assist with Claude Giroux.
Make a few passes.
Score a goal with any player.

10 Halloween Collectibles
Moment 2

Score a one-time goal with Claude Giroux.
Get an assist with Huberto.
Score a goal with any player (x4).

Halloween Collectibles
Moment 3

Score three bottom left corner goals with Claude Giroux.
Get shoulder checks.
Score any goal with other players.

Halloween Collectibles
If you find Moment 3 particularly challenging, consider an alternative approach to save time.
3. Complete the Halloween Flashback Event Set
To obtain Giroux, you need 45 Halloween Collectibles. You can craft Halloween Collectibles using various methods, such as trading in gold players or an 85 overall player. However, it's advised not to spend resources on creating these Collectibles until you've finished your Fantasy Hockey event requirements.
↖ New Contents
Milestone Cards: There are three new milestone cards, including Joe Thornton. These cards are acquired through packs.
Zack Kassian (82 Overall): Suitable for themed teams but not competitive in most lineups.
Thomas Tatar (82 Overall): Ideal for free-to-play players, with great faceoffs.
Joe Thornton (86 Overall): A fun card with impressive size and good all-around stats.
Live Moment Cards: NHL 24 introduces several new live moment cards with various abilities and stats.
Mika Zibanejad (84 Overall): A strong all-around card, especially if you play him on the wing.
Artturi Lehkonen (84 Overall): Agile and skilled, but can be easily knocked off the puck.
Cole Caufield (85 Overall): Offers impressive speed, acceleration, and a deadly shot.
David Pastrnak (86 Overall): A versatile forward with a powerful one-timer.
Elias Pettersson (86 Overall): Solid stats, good faceoffs, and great agility.
Game Day Cards: Cards for this weekend's matchups, with the winning teams' players receiving a +1 overall boost.
Jason Robertson (86 Overall): A significant upgrade to his skating abilities.
Elias Pettersson (87 Overall): With improved edges, he remains a strong Center option.
Tim Stutzle (88 Overall): Important for Fantasy Hockey players as it can unlock his X-Factor's next tier.
Brandon Hagel (86 Overall): An average card suitable for team-themed lineups.
Owen Power (84 Overall): Offers solid defensive attributes with a massive frame.
John Tavares (84 Overall): A great Center with reliable faceoff abilities.
Storage Set: A new addition in NHL 24, the Storage Set allows you to store cards you don't want to use in your lineup. This is useful for fantasy managers and for searching the auction house for specific cards.
Conclusion:
The latest NHL 24 HUT update brings exciting Halloween content, with Claude Giroux's card being the highlight. By completing Halloween moments challenges, you can obtain this valuable card for free. Additionally, explore the various other additions and events in the game, such as Milestone cards, Live Moment cards, and the Storage Set. Make the most of these opportunities to enhance your HUT experience and build a formidable team.
Most Popular Posts
Popular Category Lists