How Can I Improve FC 24 Gameplay by Reducing Delay and Lag, and Optimizing Internet Settings?
Are you suffering from stutters, delays, and lag that affect FC 24 experience? Do you want to improve your gaming performance and reduce server-related issues? In this guide, we will walk you through various steps to enhance your FC 24 experience, focusing on settings within the game, network optimization, and hardware adjustments.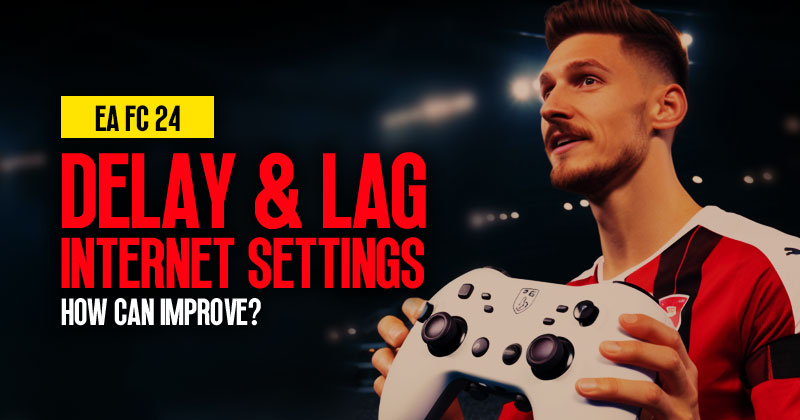 ↖ In-Game Settings
Go to Settings within FC 24.
Navigate to Online Settings > Matchmaking Options.
Ensure that Location Matchmaking is turned on. This option uses your IP address to match you with players near your location, reducing latency.
Enable Crossplay if you're on a console but consider turning it off on PC to avoid potential hackers.
↖ Visual Settings (PC)
Disable "Play Style Plus Overhead Indicators" to reduce stuttering issues.
Turn off "H Promotion Insight Overlays" to improve performance, especially on older graphics cards or consoles.
↖ Console Settings
If you're playing on a PlayStation, switch to Performance mode to prioritize smoother gameplay. This option can be found in the Settings menu.
↖ Internet Optimization
Use an Ethernet Cable: Connect your console or PC to the router using an Ethernet cable. This provides a more stable and faster connection compared to Wi-Fi.
Powerline Ethernet Adapter: If running a cable is not feasible, consider using a Powerline Ethernet adapter. This device allows you to use your home's electrical wiring to transmit Ethernet signals, offering a wired-like connection.
Ensure a Quality Ethernet Cable: Invest in a high-quality Ethernet cable for the best performance.
↖ Monitor Settings
Choose a monitor with a low response time (1ms or lower) for reduced input lag.
Adjust your monitor settings to Game Mode to minimize display-related delays.
Select the appropriate screen zoom or camera angle based on your viewing distance from the screen.
↖ PC Settings
Set your PC to High-Performance Mode to allocate more resources to your game.
Adjust CPU Priority: In the Task Manager, set FC 24's priority to High or Real-time for improved performance.
Check RAM Speed: Ensure that your RAM operates at a high speed, especially if you have a Ryzen CPU.
↖ Test Your Internet Connection
Periodically check your internet connection to ensure you're getting the best possible experience.
Opt for gameplay sessions with low ping (ms) whenever possible, as lower ping values are associated with smoother gameplay.
Conclusion:
By following these steps, you can significantly reduce delays, lag, and other gameplay issues in FC 24. Whether you're playing on a console or PC, optimizing your settings and internet connection can make a noticeable difference in your gaming experience. Enjoy improved gameplay and lead your team to victory with minimal disruptions.
Most Popular Posts
Popular Category Lists