Madden 24 Update | November 2nd: Gameplay, Franchise Mode, and Ultimate Team Changes
Madden NFL 24 has received a significant update on November 2nd, 2023, addressing various aspects of the game, including gameplay, franchise mode, Ultimate Team, and more. In this detailed guide, we will break down all the important changes and improvements made in this update. This update primarily focuses on gameplay adjustments, addressing dropped passes, and some changes in other game modes.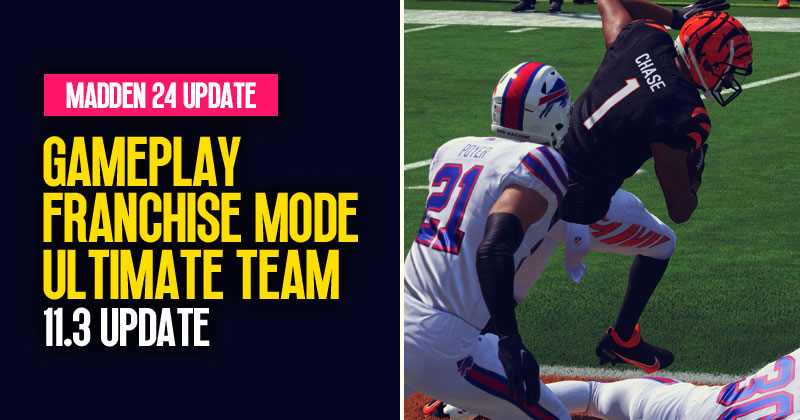 ↖ Gameplay Changes
Dropped Passes: The primary focus of this update is to reduce dropped passes on both offense and defense. To improve your chances of making successful catches, repeatedly tap the catch button, regardless of the catch style (e.g., rack catch, interception). This will help minimize drop penalties.
Defensive Interceptions: The update lowers the ratings threshold for catching interceptions on a competitive game style, making it easier for defensive players to make interceptions, especially on open catches. However, physical contact with players or the ball can still lead to knockouts.
Offensive Passes: An issue causing undesired catch drops on offense when the quarterback gets hit during or shortly after throwing the ball has been fixed. This issue was introduced in a previous update and has now been resolved, allowing receivers to catch the ball more reliably.
Passing Accuracy Meter: The passing accuracy meter's size has been increased, making it easier to make precise throws. This will improve the accuracy of passes, especially on touch passes.
Defensive Fixes: Several minor defensive fixes have been implemented, such as alignment issues in specific defensive plays and assignments for safeties and quarterbacks covering offensive formations with three tight ends.
Fumbling: The update has increased the risk of fumbling when ball carriers dive into traffic. Be cautious when attempting to dive into a crowd, especially around the goal line.
Pass Protection: In empty formations, check and release blockers should now engage defenders before releasing into the flat. This improves pass protection in specific situations.
↖ Franchise Mode Changes
New Stadium: A new stadium, Deutsche Bank Park in Frankfurt, Germany, has been added to support NFL games scheduled to be played in Germany. This is a notable addition to the franchise mode.
Weekly Strategy Selection: An issue that caused the weekly strategy selection to reset to default after completing a mini-game with a focus player has been fixed.
↖ Ultimate Team Changes
UI Transitions: The update focuses on prioritizing UI transitions in high-traffic areas of the game, such as MUT, Ultimate Team, Superstar, and franchise mode. This should result in a quicker and smoother experience when navigating screens.
Random Errors: Numerous fixes have been implemented to address random error messages that players encounter while navigating MUT screens.
↖ Player Additions
Face Scans: Several players, including Sam Howell, Devon Achane, Isaiah Pacho, Trent Simpson, and Cam Smith, have received face scans, improving their in-game appearance.
Hair Update: AJ Brown's hair has been updated to reflect his current look in real life.
Future Updates: The developers have indicated that player ratings may be updated in the near future, so stay tuned for the next player ratings update.
Conclusion:
The Madden NFL 24 November 2nd update brings various important changes to gameplay, franchise mode, and Ultimate Team. The focus on reducing dropped passes and improving user interface transitions is a step towards providing a smoother and more enjoyable gaming experience. Be sure to take advantage of these changes and stay tuned for further updates as the game continues to evolve. Enjoy your gaming experience with the latest improvements!
Most Popular Posts
Popular Category Lists