NHL 24 Ultimate Coins Making Guide: Expert Strategies Revealed
If you're a die-hard Hockey Ultimate Team fan looking to boost your NHL 24 coins collection, you've come to the right place. This requires a combination of strategy, market awareness, and patience. In this guide, from understanding the basics of the EA tax to mastering the art of the 59-minute method, flipping strategies, and making informed investments in high-value cards, we'll take you through every step of the coin-making journey.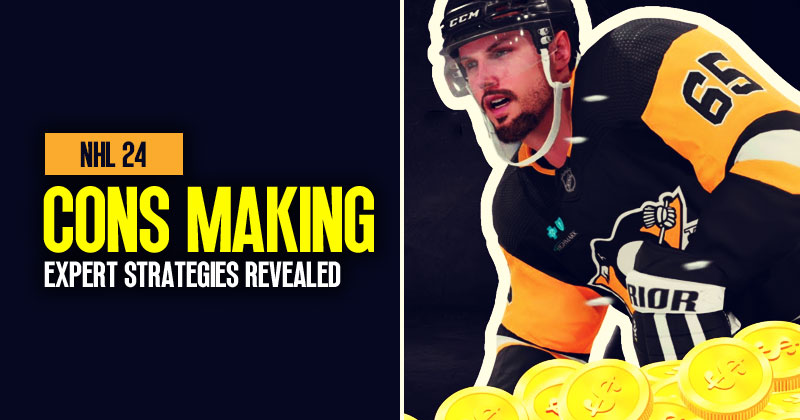 ↖ Understanding the Basics
Before we jump into advanced coin-making methods, let's get a firm grasp of the basics.
EA Tax: The EA tax is a 5% fee imposed on all transactions in the Auction House. For example, if you buy an item for 500 coins and sell it for 1,000 coins, you'll receive 950 coins after the 5% EA tax is deducted. Keep this in mind when calculating profits.
Desirable Items: Items that are desirable to you are likely in demand by other players too. These could be cards required for sets or high-quality players to boost your lineup. These are excellent starting points for flipping.
↖ 59 Minute Method
The 59 minute method is a popular technique for flipping items in the Auction House quickly. Here's how to use it effectively:
Scoping the Market: Players often list items for sale with the goal of selling them fast. This makes the 59-minute mark an ideal spot to find quick deals. While you can also check the 3, 6, 12-hour, or 1-3 day marks, the best deals typically pop up at the 59-minute mark.
Using Compare Price: To streamline your search for specific cards, use the "Compare Price" feature. This allows you to filter and focus on the exact card you want to flip, rather than sifting through the entire market.
↖ Cards Investment
As your coin stack grows, you can advance from flipping lower-rated cards to higher-value players. Let's explore how to level up your coin-making game:
Gold Jerseys: Start with the cheapest flip, which involves gold jerseys. Look for unique or rare jerseys, like reverse retros, to maximize profits. You can also explore the Gold Jersey set to save on Premium Packs.
Team Builders: Team Builder sets have become more flexible. Collect players from specific teams to complete sets efficiently. You can monitor the 59-minute mark or snipe players to complete your collection and possibly flip them for a profit.
Sniping 82+ Players: Keep an eye out for 82+ rated players that are undervalued in the market. You can either flip them for a profit or use them to fill your team roster or complete sets.
↖ X Factors and Risk Management
When dealing with high-value cards (X Factors), you must be cautious. Here's how to approach these investments:
Don't rush into buying the cheapest X Factor card you see. Take the time to research the market and understand the price trends for specific players. Patience is key to avoid making costly mistakes.
↖ Investing in 83, 84, and 85 Overalls
While not a get-rich-quick method, investing in 83, 84, and 85 overall players can pay off over time. Here's how to do it:
Currently, 83 overalls are selling for around 3,000 coins, while 84s go for approximately 7,500 coins. Consider stacking up on these cards at low prices. Historically, EA tends to increase set values as the game progresses, making these cards more valuable over time.
Conclusion:
There you have it, the ultimate coin-making guide for NHL 24's Hockey Ultimate Team. With these strategies in your arsenal, you'll be well on your way to becoming a HUTR pro. Keep an eye on the market, stay patient, and watch your coin stack grow. If you found this guide helpful, be sure to subscribe, like, and drop your feedback in the comments below. Stay tuned for more NHL 24 content, and until next time, happy gaming!
Most Popular Posts
Popular Category Lists