NHL 24 Gallery of Greats Event Guide: Upgrade Master Set Players & Complete Objectives
The Gallery of Greats event in NHL 24's Hockey Ultimate Team is here, featuring legendary players and exciting new Master Set cards. Upgrading these Master Set players and completing objectives, can help you earn free Master Set players and other valuable rewards. In this comprehensive guide, we'll delve into the event's key features, including the new Master Set players, objectives, and valuable tips.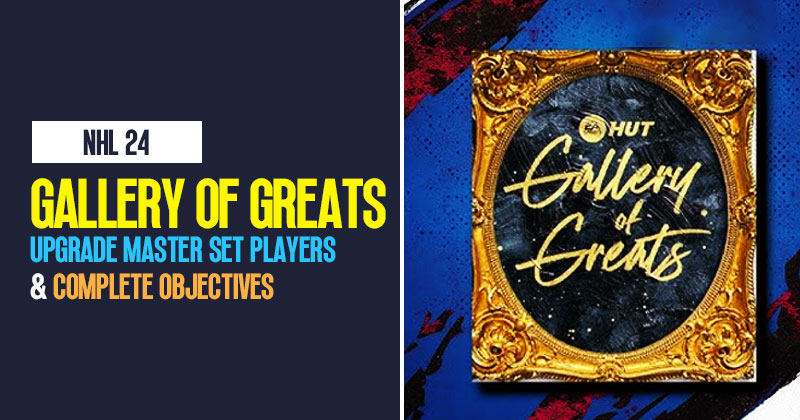 ↖ Master Set Players
87 Phil Esposito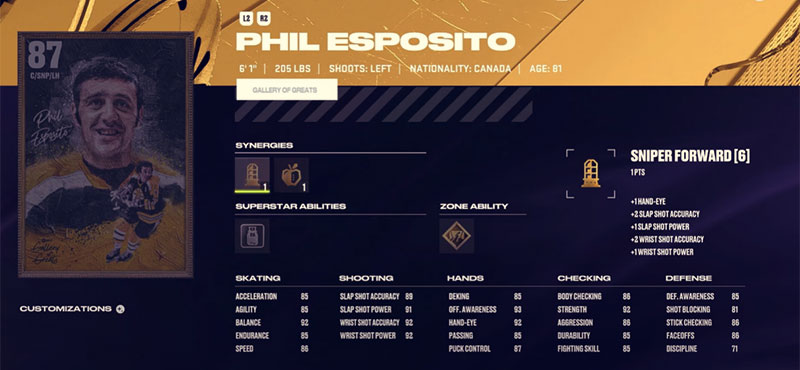 Position: Center
Attributes: 87 overall rating
Synergies: Sniper forward and playmaking boost
Notable Features:

Silver Big Tipper and Gold Close Quarters boosts.
Decent speed and acceleration at 86.
Good shooting and hand stats.
86 body checking and an okay faceoff rating at 86.
While not the most sought-after attributes, Phil Esposito is a cool addition to your team, especially if you're a fan of his.
87 Patrick Roy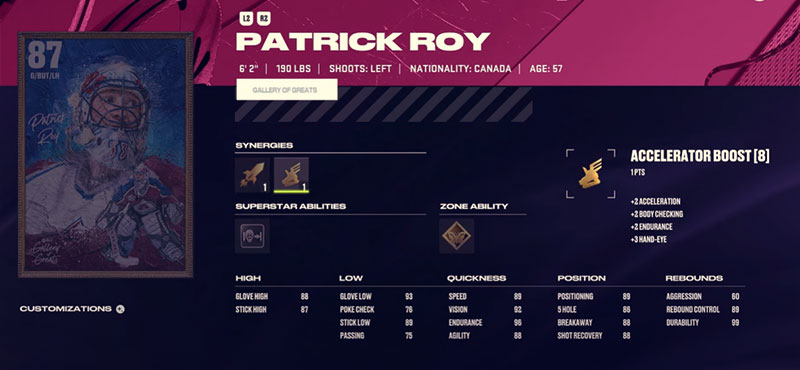 Position: Goaltender
Attributes: 87 overall rating
Synergies: Speed boost, accelerator, gold butterfly effect, and silver postop boost
Note:

It's generally not recommended to use abilities on goaltenders.
Roy's 89 aggression stat is low (60), making him stay further back in the net to stop the meta shots.
Consider base goalies like Marc-Andre Fleury, who have been performing well without abilities.
87 Sergei Gonchar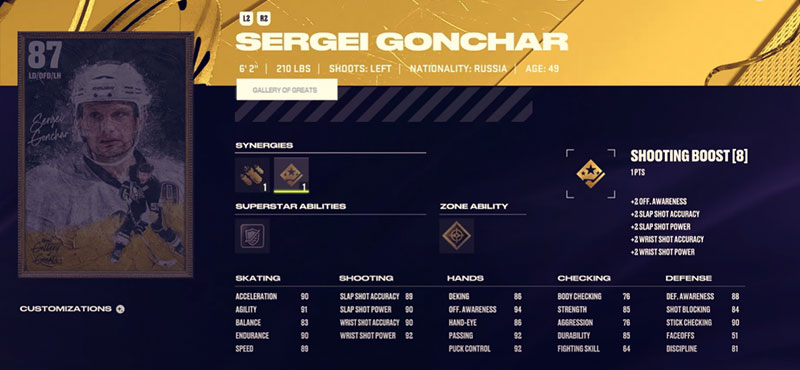 Position: Left-Handed Defenseman
Attributes: 87 overall rating
Notable Features:

89 speed, 90 acceleration, and 91 agility.
Good shot and hand stats.
Lower body checking at 76 but high defensive awareness and stick checking.
Consider using his stick check instead of body checking.
Gold Seeing Eye synergy can be effective.
↖ 87 Megan Keller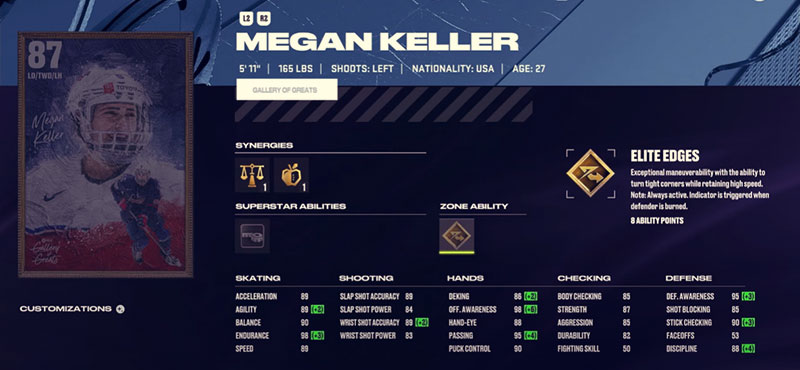 Position: Defenseman
Attributes: 87 overall rating
Notable Features:

Good speed, agility, and shot stats.
High offensive and defensive awareness.
A solid all-around card for those looking to diversify their lineup.
87 Alex Ovechkin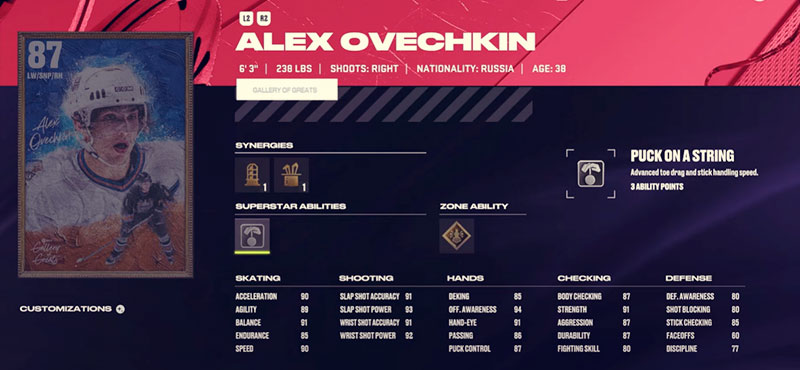 Position: Right Winger
Attributes: 87 overall rating
Synergies: Sniper forward and agile dangler boost
Notable Features:

Impressive speed, acceleration, agility, and balance.
Elite shot and hand stats.
6'3", 238 lbs with gold Unstoppable Force synergy.
One of the best right-handed wingers.
↖ Upgrading Master Set Players
With the Gallery of Greats event, there's an additional tier added to the Master Set players, allowing you to upgrade them further. Here's how the upgrading works:
To upgrade Alex Ovechkin (or any Master Set player) to their max potential, it will cost you:
10,000 coins.

1 PowerUp collectible.

To reach tier 4, 5, and 6, you'll need two Power Up collectibles for each tier. This means you'll spend a total of 6 Power Up collectibles to fully upgrade your player.
Please note that this is a costly process as Power Up collectibles are valued at around 16,000 to 20,000 coins each. Keep this in mind when deciding to upgrade your Master Set players.
↖ Event Structure
For those who played NHL 23, the Hut Millennium event's structure has made a return. It requires you to collect all Master Set players at 82 overall. Once you collect the first five in week one and then the next five in week two, you'll receive an ultimate PowerUp player, which will be revealed on November 9th.
Here's how to get the event collectibles:
Head over to the "Sets" section in the Gallery of Greats and exchange a Gallery of Greats collectible for your choice of Master Set player.
You can do this set more than once, allowing you to work toward building multiple Master Set players to complete your objectives. Each Gallery of Greats collectible should cost you around 7,000 to 8,000 coins at the time of current.
↖ Free Master Set Player
As a free-to-play player, acquiring at least one Master Set player for free is crucial. To do this, complete the Gallery of Greats objectives, including the new Gallery of Greats objective tier list. These objectives offer various rewards, including different event cards, elite packs, and PowerUp collectibles.
The objective list includes milestones for completing games, taking shots with Gallery of Great players, and more. Completing these objectives can help you get free Master Set players and other rewards.
↖ Gallery of Greats Moments
The Gallery of Greats Moments, found under H Moments, offers challenges for each Master Set player. Completing these challenges will reward you with various items, including NHL 24 coins and small packs. For the Alex Ovechkin challenge, you'll receive a Gallery of Greats collectible.
↖ Hut Rush
Participating in Hut Rush can also be rewarding. When you reach tier 16 and 17, you'll receive event items, including a Gallery of Greats collectible, helping you progress toward building Master Set players. The Hut Rush event runs until November 17th.
↖ Ability Points Increase
With the new event, the ability point (AP) limit has been increased to 55. This allows you to activate more abilities for your players, enhancing your team's performance.
Conclusion:
The Gallery of Greats NHL 24 HUT event offers exciting opportunities to collect legendary players and earn valuable rewards. By following this guide, you can make the most of the event, obtain Master Set players, complete objectives, and enhance your team's performance. With extended ability points and new opportunities, this event is a great chance to bolster your HUT team with iconic players from the world of hockey.
Most Popular Posts
Popular Category Lists