How to Build the Best 1 Million Coins Team in FC 24?
Welcome to our guide on creating the ultimate 1 million coins team in FIFA 24. In this guide, we'll break down the team composition, player choices, custom tactics, and more to help you build a squad that can compete at the highest level. The team we discuss here is designed to be both competitive and cost-effective, making it accessible to a wide range of players.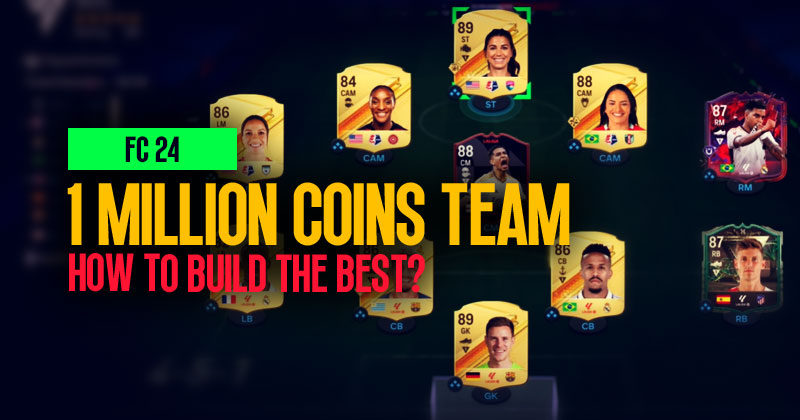 ↖ Overview
The team we're discussing in this guide is designed to be a solid and competitive choice for FIFA 24. It is a 1 million coin squad that can be customized based on your preferences and the players you already have in your collection. We'll go over the player positions, tactics, and important aspects to consider when building this team.
↖ Goalkeeper
In the goalkeeper position, we recommend using Édouard Mendy, who offers excellent shot-stopping abilities. His presence between the posts can provide you with a strong defensive foundation.
↖ Defense
Left Back: Ferland Mendy is a great choice for the left-back position. He is known for his defensive prowess and ability to disrupt opponents.
Right Back: Instead of the costly option of Llorente, you can opt for a more affordable right back, which will still be effective.
Center Backs: Two strong options for center-backs are Matheus Cunha and a trialblazer Raphaël Varane, who provide a solid partnership in the heart of your defense.
↖ Midfield
Central Midfielders: Fede Valverde or Jude Bellingham can anchor your midfield. They offer a good blend of defensive and offensive qualities.
Left Midfield: Alex Morgan is a powerful winger who can provide width and pace to your team. She is also an effective scorer.
Center Attacking Midfielder: Dele Alli, with his excellent dribbling, can create opportunities and provide that vital link between midfield and attack.
Right Midfield: Rodrigo can be your versatile right midfielder, offering both attacking and defensive support.
↖ Attack
In the attack, you have the freedom to choose players who suit your playing style. You can experiment with different players in the attack and adapt based on your preferences.
↖ Custom Tactics
Here are the recommended custom tactics for this team:
Formation: 4-2-3-1

Defensive Style:
Balanced

Width: 5
Depth: 4
Offensive Style:
Balanced

Width: 6
Players in Box: 5
Corners: 2
Free Kicks: 2
↖ Player Instructions
Forwards: Drift wide, getting behind, stay forward
Central Attacking Midfielder (CAM): Stay forward
Central Defensive Midfielders (CDMs): Stay back while attacking, cover center
Left Back and Right Back: Overlap
Conclusion:
With the right players and tactics, your 1 million coin FIFA 24 team can be a force to be reckoned with on the virtual pitch. This guide provides you with a strong foundation to start building your ultimate squad. Remember that you can make adjustments based on your preferences, playing style, and the players you already have. Whether you're participating in competitive modes or just enjoying casual gameplay, this team can help you reach new heights in FIFA 24. Good luck, and may your virtual football journey be filled with success and victories!
Most Popular Posts
Popular Category Lists