How to Efficiently Upgrade Power-Up Players & Gather Power-Up Collectibles in NHL 24 HUT?
In NHL 24 HUT, upgrading your Power-Up players is essential for success, and this guide provides the best strategies to do so. We explore three primary methods for acquiring Power-Up Collectibles: completing objectives, selecting untradeable Rivals rewards, and participating in Hut Champs. Objectives offer a straightforward way to earn Collectibles, while untradeable Rivals rewards provide valuable Gold Collectibles.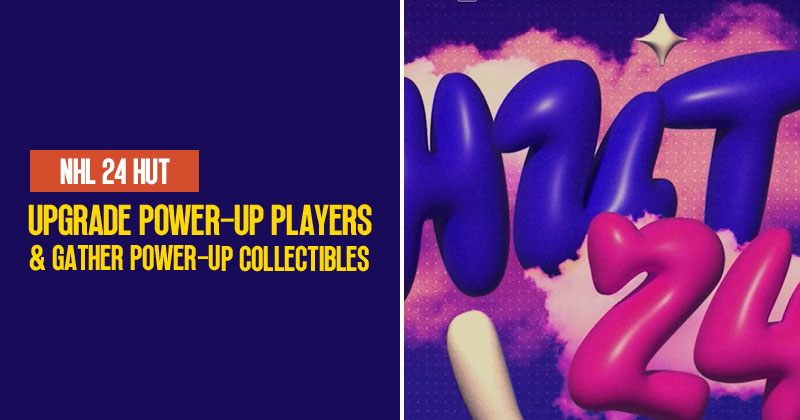 ↖ Completing Objectives
Power-Up Collectibles can be obtained through various in-game objectives. We'll highlight two key sets of objectives that can help you gather these valuable items: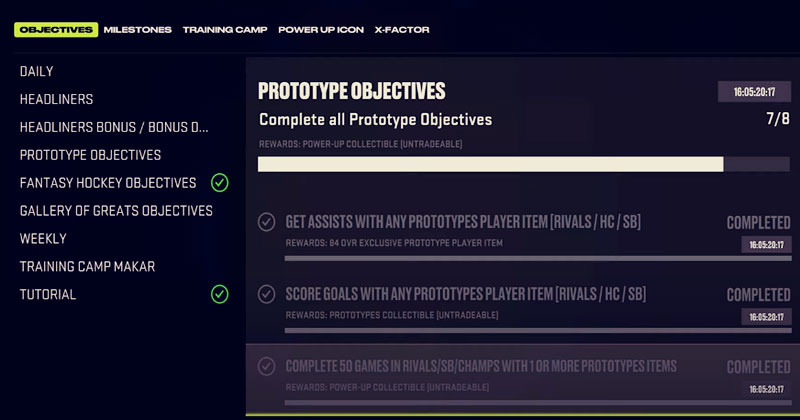 Prototype Objectives:
These objectives are relatively easy to complete, and they offer a total of 4 Power-Up Collectibles. Here's an example of some of the objectives and the corresponding rewards:
Complete 50 games in Rivals, Squad Battles, or Champs with one or more prototype items: 1 Power-Up Collectible.
Complete 160 games: 1 Power-Up Collectible.
Complete 200 games: 1 Power-Up Collectible.
Total: 4 Power-Up Collectibles
These objectives also provide you with prototype items to aid your progress. By fulfilling these objectives, you can efficiently upgrade your MSPs for a minimal cost.
Gallery of Great Objectives:
Another set of objectives to consider is the Gallery of Great Objectives. Completing these objectives will yield a Power-Up Collectible among other rewards. The key objectives are similar to the Prototype Objectives:
Complete 160 games: 1 Power-Up Collectible.
Complete 200 games: 1 Power-Up Collectible.
Open nine daily reward packs: 1 Power-Up Collectible.
Total: 4 Power-Up Collectibles
While this set doesn't fully max out an MSP, it's still a valuable way to acquire Power-Up Collectibles. Consider focusing on these objectives to strengthen your team.
↖ Rivals Rewards
Rivals mode can also provide you with Power-Up Collectibles, but it requires a specific approach. Opt for untradeable Rivals rewards, as these will give you more gold cards, which you can turn into Power-Up Collectibles. Untradeable rewards are the way to go as they can help you gather the necessary items efficiently. You can acquire 80+ players and Gold Collectibles, which are crucial for upgrading your players.
Hut Champs:
Hut Champs is one of the most rewarding modes for Power-Up Collectibles. Qualifying for Hut Champs allows you to play 20 games and accumulate Champs Collectibles for wins. Here's a breakdown of the Champs Collectibles you can earn: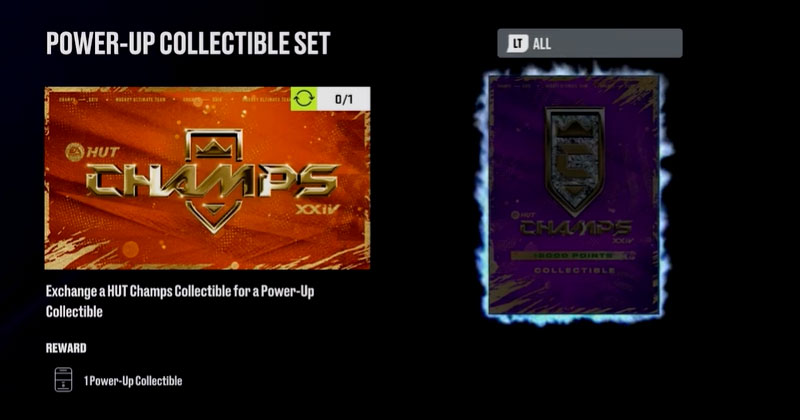 1 win: 1 Hut Champs Collectible.
3 wins: 2 Hut Champs Collectibles.
5 wins: 3 Hut Champs Collectibles.
7 wins: 4 Hut Champs Collectibles.
And so on, with the maximum being 12 Hut Champs Collectibles for the top 50 players.
These Champs Collectibles can be exchanged for Power-Up Collectibles through the sets section. By focusing on Hut Champs, even with an average record, you can quickly accumulate enough Collectibles to max out an MSP or upgrade an X-Factor player.
↖ Pot Raj Tier 20
Lastly, there's an option to acquire a Power-Up Collectible at Tier 20 in the Pot Raj progression. This is a long-term goal, but it's worth noting for those who enjoy the grind. Completing this tier will grant you a free Power-Up Collectible.
Conclusion:
In summary, upgrading your Power-Up players in NHL 24 HUT is not only achievable but also cost-effective, especially for F2P players. By completing various objectives, opting for untradeable Rivals rewards, participating in Hut Champs, and progressing in Pot Raj, you can acquire Power-Up Collectibles efficiently. Maximize your team's potential and make strategic choices when it comes to trading in collectibles for MSPs, X-Factors, or Icon cards. With these tips, you'll be well on your way to dominating the competition. Enjoy the game, and keep improving your squad!
Most Popular Posts
Popular Category Lists