How Can You Master Defensive Player Switching in NHL 24?
Welcome to this essential guide on improving your defense in NHL 24. This guide will walk you through the steps to manually control your defenders, ensure you always have the last man back, and maintain control of the player in front of the net. Suitable for both Skill Stick and Total Control Hybrid users, our tips are compatible with PlayStation and Xbox consoles.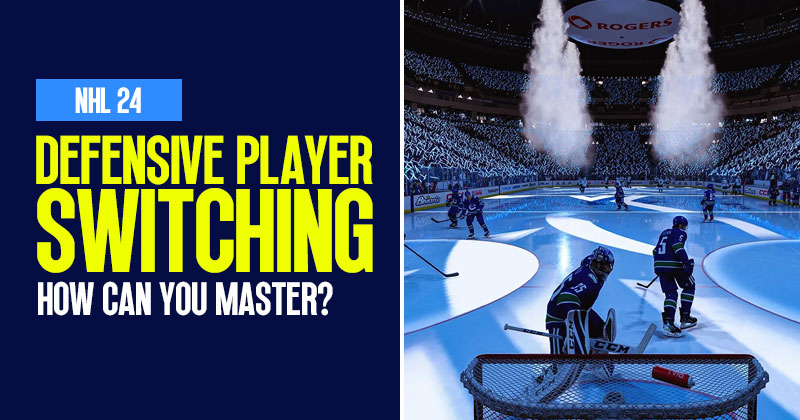 ↖ Manual Player Switching
PlayStation Controls:
Let's start with PlayStation controls. To manually switch to the player closest to the net, follow these steps:
Hold R2 to initiate player switching.

While holding R2, press in R3. This will always get you the player positioned in front of the net.

Xbox Controls:
For Xbox players, here's how you can manually switch to the player in front of the net:
Hold the right trigger (R2 equivalent for Xbox) to start player switching.

While holding the right trigger, click in the right stick (R3 equivalent for Xbox).

This technique works for both the Skill Stick and Total Control control schemes.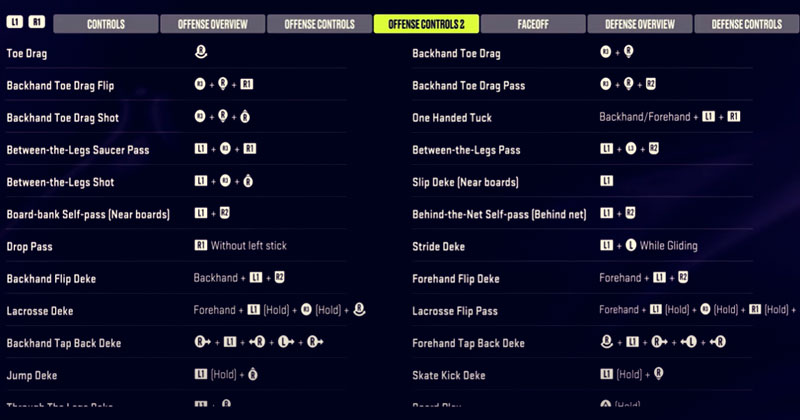 ↖ Advanced Manual Player Switching
Once you've mastered the basic manual player switching technique, you can take it a step further. You can quickly switch between multiple players in just a few seconds. Here's how:
Quick Switching: While holding R2 (RT on Xbox), flick the Right Stick towards the player you want to control. This allows for rapid changes in control, enabling you to react to the flow of the game instantly.
Strategic Positioning: By manually selecting the last man back or the player in front of the net, you can shut down cross-creases and block shots, crucial for stopping the opposition's offense.
This advanced skill allows you to switch to the player that best suits your defensive needs in any given moment. Practice this technique to become more versatile and strategic in your defensive plays.
↖ Manual Player Switching for Hybrid Controls
If you are using a hybrid control scheme that involves both passing (X) and player switching (R2), the process is slightly different. While it may not be as effective as the pure manual switching method, you can still use R2 to switch players. Keep in mind that you'll need to release the left stick to switch players effectively.
↖ Additional Tips
Explore the Controls: One important aspect of improving your skills in NHL 24 is to explore the control settings. As the game doesn't offer a comprehensive tutorial, understanding the control options is crucial. In the controller settings, you can find various useful features, such as the Tie Up the Stick button, which can help you defend against oncoming attacks and cross-crease plays.
Experiment and Practice: The key to becoming a better player is practice. Experiment with the techniques mentioned above in various game situations, and you'll see a significant improvement in your defensive abilities.
Seek Help and Ask Questions: Don't hesitate to ask questions or seek assistance when needed. If you have any doubts or if there are specific aspects of the game you'd like to learn more about, reach out to the gaming community or consult online resources for additional tips and tricks.
Conclusion:
Mastering manual player switching is a crucial skill for improving your defensive game in NHL 24. Whether you play on PlayStation or Xbox, understanding these techniques can give you an edge over your opponents. Take the time to practice and explore all the control settings to maximize your defensive capabilities. With dedication and practice, you can become a more formidable force on the ice. Good luck, and enjoy your journey to becoming a better NHL 24 player!
Most Popular Posts
Popular Category Lists