How to instantly improve your finishing ability in EA FC 24 matches?
Are you frustrated by missing simple goals in FC 24? Don't worry, we'll walk you through a range of finishing techniques, including a secret favorite method. From mastering Precision Shooting to perfecting the finesse shot, outside foot shots, and power shots, we've got you covered. Plus, we'll delve into the art of the chip shot and introduce you to the high-risk, high-reward world of time finishing.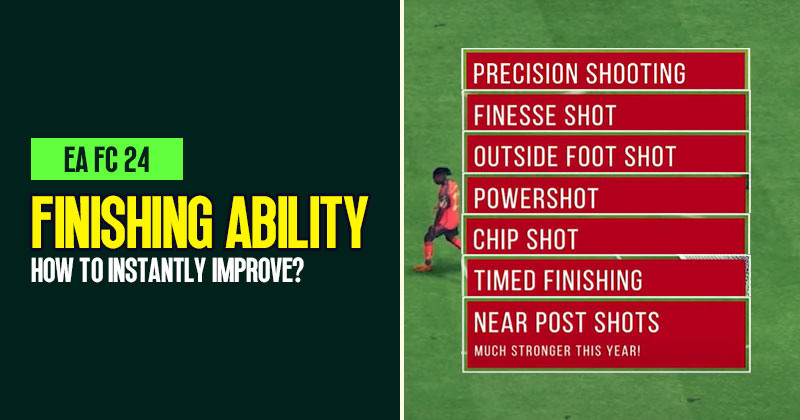 ↖ Precision Shooting

Before we explore specific finishing techniques, let's discuss a game-changing feature: Precision Shooting. Some players find assisted shooting frustrating, but fear not – Precision Shooting is here to save the day. This mechanic allows you to sharpen your aim and increase shot power for more accurate and faster shots.
To enable Precision Shooting, head to the settings menu, find the gameplay settings option, and look for the shoot assistance setting. Switch it to Precision from default. Keep in mind that Precision Shooting requires precise aim with your left analog stick while shooting. It's a game-changer if you're willing to put in the time to master it.
↖ Finesse Shot

The finesse shot is a versatile technique that adds a finesse curve to your shot, making it challenging for keepers to catch. To perform a finesse shot, hold the R1/RB button and power up your shot. Aim for an angle between 30 and 45 degrees toward the goal for the perfect finesse path. This method works wonders in one-on-one situations and from a distance.
Remember, finesse shots are even more effective with players who have the finesse play style. Look for the finesse icon above players' heads and unleash your finesse shots strategically.
↖ Outside Foot Shot

When getting the ball to your strong foot is a challenge, the outside foot shot comes to the rescue. Hold the L2/LT button and power up your shot while the ball is close to your weak foot. Aim a bit further away from the far post, and the natural curve of the shot will do the rest. This technique is as strong and reliable as finesse shots.
Players with the playstyle trivela enhance the outside foot shot with better curve and accuracy. Experiment with this method, especially when your player's weak foot is in play.
↖ Power Shot

There are times when you need sheer power to beat the keeper. Enter the power shot – hold both L1/R1 or LB/RB buttons together while shooting. Aim carefully with your left stick, as power shots are manually aimed. Be cautious, though; your player needs time to prepare the shot, making them vulnerable to tackles.
Players with the power shot plus play style significantly reduce the time penalty, allowing for rapid and powerful shots. While not the primary focus, power shots can be effective in certain situations.
↖ Chip Shot

The chip shot is a situational method that can be effective when the keeper overcommits. Hold the L1/LB button while shooting to chip the ball over the keeper. However, use this sparingly, as it's easy to fail if the conditions aren't ideal. Only attempt a chip shot when the keeper completely overcommits and aim towards the far post for optimal results.
↖ Timed Finishing

To take your finishing to the next level, embrace time finishing. This high-risk, high-reward mechanic requires you to press the shooting button a second time as your player is about to hit the ball. If timed correctly, the cursor above your player's head glows green, enhancing accuracy and speed.
Practice time finishing in offline matches before testing it against real players in online games. It can be applied to various finishing techniques, boosting the success rate of your shots.
↖ Near Post Shot

Finally, my favorite finishing method this season is the near post shot. With near post shots becoming stronger than ever, especially when combined with green time finishing, they offer a consistent way to score. Players tend to move their keepers towards the far post, leaving the near post open. Take advantage of this by aiming for the near post and watch the ball hit the back of the net.
Conclusion:
In total, mastering these finishing techniques and understanding when to use them can significantly improve your goal-scoring capabilities. Whether you prefer finesse, power, or chip shots, practice makes perfect. Experiment with different methods and find what works best for your playstyle. Happy scoring!
Most Popular Posts
Popular Category Lists