NBA 2K24 Builder Guide: How to Maximizing Your Player's Potential?
NBA 2K24 Builder offers players an enhanced player creation experience with a revamped system and updated badge mechanics. In this guide, we will walk you through the key features of the builder and provide tips on how to create a My Player that suits your play style. Whether you're a seasoned player or new to the game, understanding the builder and utilizing its features will help you maximize your performance on the court.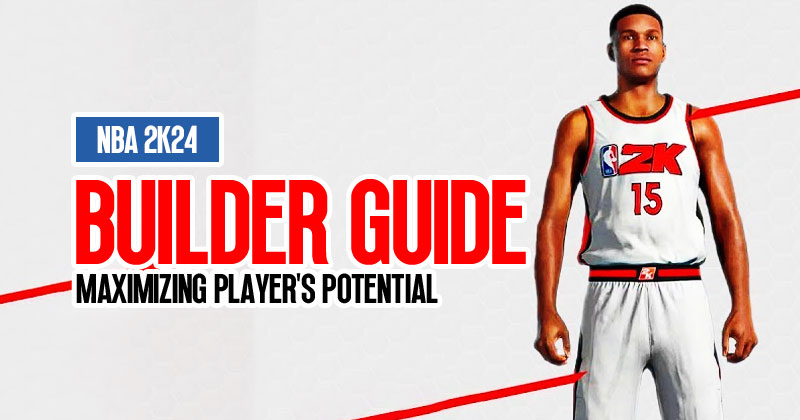 ↖ Revamped Player Builder
NBA 2K24 Builder introduces significant changes to the player creation process. Here are some important points to consider:
| | | |
| --- | --- | --- |
| Point 1 | Attributes Matter | In the new builder, every attribute has a significant impact on your player's performance. Whether it's a standing dunk or speed with the ball, each attribute plays a crucial role in determining your player's abilities. |
| Point 2 | Skillset and Strengths | The builder allows you to customize your player based on your preferred play style and skill set. Focus on selecting attributes that align with your strengths, whether it's shooting, dribbling, or defense. |
| Point 3 | Badge System | The updated badge system in NBA 2K24 enhances player abilities and offers more flexibility. Make sure to select badges that complement your play style and maximize your strengths on the court. |
↖ New Badge Progression System
The badge progression system in NBA 2K24 introduces some exciting changes. Badges are now divided into four tiers: S, A, B, and C tier badges. The progression of badges is determined by their usage and performance in games and drills. Here's what you need to know:
Successfully using a badge in games and drills will raise or maintain its level.
Failing to use a badge will cause its level to drop over time, but no badge will drop below the bronze level.
Badge progression is tied to usage and success. Badges with high usage and success will trend towards higher levels.
Badge progression can be worked on in team practices, the Gatorade training facility, and Chris Brickley's gym.
There are badge perks that can be applied to your badges to accelerate progression or prevent regression.
↖ Badge Perks
Badge perks are additional enhancements that can be applied to your badges. They provide benefits to multiple badges at once. Here are the available badge perks:
Overdrive: Increases badge level progression in games when finished with a high teammate grade.
Immunity: Slows down badge level regression in games.
Drill Sav: Increases badge level progression in team practice.
Scholar: Offers a significant increase in badge level progression for PVP games (multiplayer) but requires a high teammate grade for successful progression.
Winner Takes All: Provides a boost in badge level progression for PVP games, resulting in wins, but does not offer progression for losses.
High Risk: Accelerates badge level progression for PVP games with badge usage, but regression is accelerated with lack of usage.
↖ Floor Setters
Floor Setters are earned via season XP and are included in the free base pass each season. They prevent badges from dropping below a certain level and can even auto-progress a badge to the desired level if it has yet to reach it. Once applied, Floor Setters are permanent and cannot be changed.
↖ Badge Tiering and Player Customization
The new badge tiering system assigns badges to specific tiers based on their power and effectiveness. Badge tiers are determined by your player's height, which also influences your archetype and attributes. Attribute caps have been improved for various sizes and combinations.
Player customization allows you to choose between creating a custom My Player or selecting an NBA player template, which offers a variety of player types to choose from. The templates can be customized to your liking, or you can start with an NBA player's template as is.
↖ Badge Performance Multipliers
Performance multipliers are prizes earned by meeting specific challenges in different modes (NBA, City, Rec, and Pro-Am). They provide boosts to all equipped badges based on different criteria:
A Grade A Student: Accelerates badge level progression for all-equipped badges when finishing a game with a high teammate grade.
Winner Takes All: Offers increased badge level progression for all-equipped badges when winning a game.
Up for the Challenge: Accelerates badge level progression for all-equipped badges when playing against tough opponents.
Conclusion:
The NBA 2K24 Builder brings an enhanced player creation experience with revamped mechanics and an updated badge system. By understanding the intricacies of the builder, creating a player that aligns with your play style, and staying informed about the latest updates, you can make the most of your NBA 2K24 experience. Take advantage of the new features, compete in cross-platform play, and strive for greatness on the virtual court.
Most Popular Posts
Popular Category Lists