NBA 2K24 Gameplay Update: Adrenaline Feature, Community Reactions and New Features
2K community is abuzz with excitement as leaked gameplay details of the highly anticipated NBA 2K24 have surfaced. Influencers who had the privilege of playing the game early are sharing their thoughts, giving us a glimpse into what to expect. In this article, we will explore the leaked gameplay information, focusing on the controversial return of the adrenaline feature. Additionally, we will delve into the community's reactions to these revelations and discuss the overall expectations for NBA 2K24.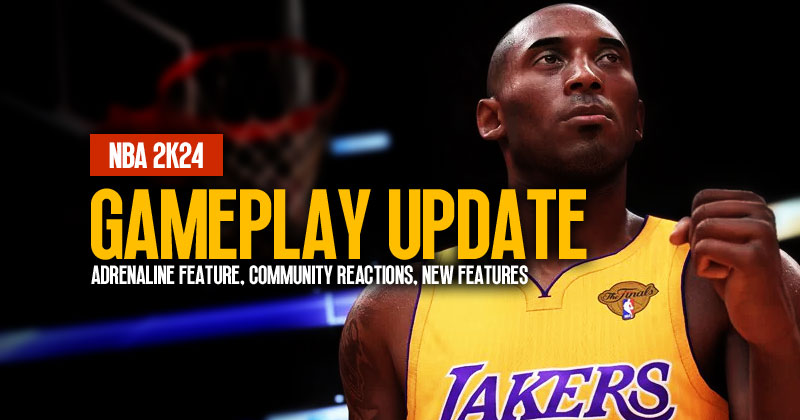 ↖ Adrenaline Feature: A Divisive Return
One of the headline features unveiled through leaks is the return of the adrenaline feature in NBA 2K24. This feature, while praised by some players for its balancing effects, has raised concerns within the community. Influential figures like Duke Dennis, a respected member of the 2K community, have voiced worries about its potential impact on gameplay.
Dennis pointed out that while certain players appreciate the adrenaline feature, it can prove limiting for those who specialize in dribbling and creativity. His sentiment echoes that of many who hope for adjustments or even the removal of the adrenaline bars to foster greater freedom of expression on the court. The contentious history of the adrenaline feature showcases a polarizing divide: some players value its role in maintaining gameplay equilibrium, while others view it as a hindrance to authentic and innovative playstyles.
↖ Community Call for Demo Access and Cover Reveals
Prominent figures in the community, such as Duke Dennis and Kai, have raised valid questions regarding the unavailability of the demo version they experienced. They argue that making the demo accessible to the wider player base would empower them to form independent opinions and offer constructive feedback to the developers.
The absence of a demo has sparked debates among fans who desire a taste of the game ahead of its full release. In addition to gameplay leaks, NBA 2K24 has unveiled its cover athletes, with Sabrina Ionescu gracing the WNBA cover and Kobe Bryant featuring on the Legend Edition cover. The endorsement of the Legend Edition cover by rapper Quavo adds to the growing excitement surrounding the game's impending launch.
↖ Community Reactions and Expectations
As expected, the NBA 2K community's reaction to the leaked details has been a mixture of enthusiasm and skepticism. While some players are thrilled about the return of the adrenaline feature, others remain cautious. The community's fervour, often reflected in discussions within Ronnie 2K comment section, highlights its passionate yet divided nature. Interestingly, despite criticisms voiced online, a significant number of players who express reservations about the game ultimately end up purchasing it.
↖ Gameplay Insights and New Features
In the lead-up to NBA 2K24's release, enthusiasts eagerly anticipate official gameplay trailers and more insights from the game's developers. Duke Dennis predicts that more details about crucial components like MyTeam and MyGM modes will be disclosed in the approaching weeks. He also anticipates that information regarding the park mode will be revealed later in the development process. Fans can look forward to gaining a more comprehensive understanding of the game's overall features and enhancements in the near future.
While influencers like Duke Dennis have noted that the general gameplay experience in NBA 2K24 resembles that of its predecessors, it's essential to remember that influencers played only a limited demo version. This demo might only partially represent the final product, particularly considering the absence of modes like My Career and online play, where distinctive manoeuvres and strategies often emerge.
↖ Top 30 New Features Revealed
| Feature | Details |
| --- | --- |
| Cover Athlete | Kobe Bryant will be the sole cover athlete for NBA 2K24, in both regular and special editions. |
| 75th Anniversary Cover | NBA 2K24 will feature a special 75th-anniversary cover. |
| Price Points | Three price points: Standard Edition ($60), Black Mamba Edition ($100), 25th Anniversary Edition ($150). |
| Release Date | Game's launch on September 8th. |
| Mamba Moments Mode | Introduces a mode showcasing Kobe Bryant's iconic career moments. |
| Early Access | No early access for NBA 2K24. |
| Cross-Play | PlayStation and Xbox players can compete against each other. |
| Cross-Platform Communication | PS5 and Xbox players can communicate through in-game chat. |
| Shared Virtual Currency (VC) | VC earned on one console will carry over to the other console. |
| Cross-Generation Limitations | No cross-generation play between PS4 and PS5. |
| Previous Generation | Features a neighbourhood called Paradise and current player builder system. |
| Build Details | New build details for old and current generation versions to be revealed in August. |
| Next-Gen City | Next-gen version introduces a new city with a tropical beach theme. |
| Optional Side Quests | Side quests are optional and not central to the game's narrative. |
| XP Tokens | XP tokens return with the reintroduction of seasons. |
| WNBA Story Mode | Allows players to begin their careers in college or overseas. |
| Gameplay Improvements | Improved interior defense and dribble combo mechanics. |
| Release Timing | Release timing feature removed from NBA 2K24. |
| Improved Kobe Bryant Model | Younger version of Kobe Bryant features a more accurate and realistic representation. |
| NBA Finals Patch | NBA Finals patch on Kobe Bryant's jersey hints at the addition of the 2010 Lakers team or a new LeBron-era team. |
| Simple Errors Mode | Introduces a simplified version of existing errors. |
| Influencer Feedback | Influencers provided feedback after playing NBA 2K24. |
| New Play Now Screen | Features a new Play Now screen with the Celtics and Suns. |
| Updated Scoreboard | Redesigned scoreboard enhances the visual experience. |
| Porzingis in Celtics Uniform | Preview of Kristaps Porzingis in a Celtics uniform. |
| Shot Feedback Placement | Shot feedback is displayed at the bottom left of the screen. |
| Enhanced Rim Attack Options | More ways to attack the rim, including new layup and floater animations. |
| Jet Packs | Jet packs return as a reward in NBA 2K24. |
| Gameplay Update | Expanded rim attack options and reintroduction of adrenaline bars and boosts, polarizing the community. |
↖ Conclusion: Anticipation and Potential
Leaked gameplay details have ignited intense discussions and excitement within the gaming community. The revival of the adrenaline feature has triggered divergent opinions, exemplifying the challenges of balancing competitive gameplay and artistic expression. The success of NBA 2K24 hinges on its ability to accommodate community feedback and meet the lofty expectations of its devoted fan base. With the game's release drawing nearer, basketball gaming enthusiasts are counting down the days until they can immerse themselves in NBA 2K24 and explore the myriad features it promises to offer.
Most Popular Posts
Popular Category Lists