FC 24 Career Mode Total Management System: Integrating Coaches with Tactical Visions
Welcome to the FC 24 Career Mode Tactical Visions Guide! In this edition of FC 24, a thrilling new feature called Tactical Visions takes center stage in the career mode. In this exclusive article, we will delve into the seven diverse Tactical Visions available in the game and explore how they influence gameplay. Moreover, we'll uncover the advantages of hiring coaches and customizing your Tactical Vision to elevate your team's performance and player development.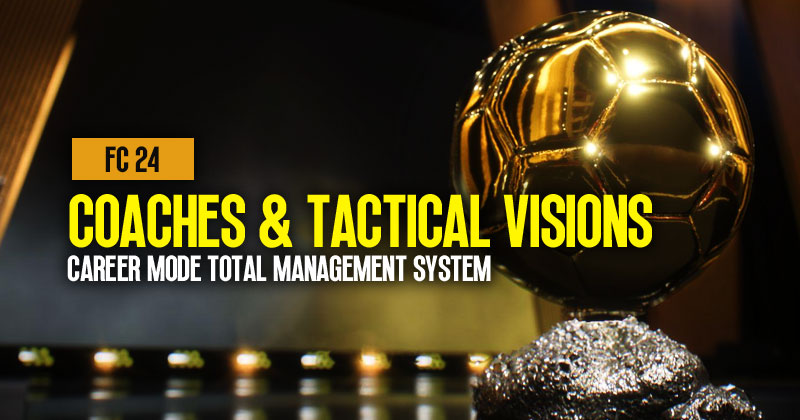 ↖ Tactical Vision Overview
Tactical Visions in FC 24 represent specific playing styles or strategies that your team can adopt during matches. Tactical Vision allows you, as a manager, to leave your mark on the team and its football philosophy. They range from Tiki Taka, Gegenpress, Counter-Attack, Standard, Wing Play, Kick and Rush to the classic Park the Bus. Each Tactical Vision comes with its own set of attributes, strengths, and weaknesses, allowing you to tailor your gameplay to your preferences and your team's strengths.
There are 7 different Tactical Visions to choose from, each representing a real-world football philosophy. These Tactical Visions are:
| | |
| --- | --- |
| Standard | A balanced approach, focusing on solid defense and attacking threats. |
| Wing Play | Utilize the width of the pitch and utilize overlapping full-backs for increased attacking threats. |
| Tiki-Taka | A possession-based style with short passing and rotations, waiting for attacking opportunities. |
| Counter-Attack | A low-risk style focused on quick transitions and exploiting spaces behind the opposition's defense. |
| Gegenpressing | A high-pressing strategy to win the ball back in the opponent's third and create scoring opportunities. |
| Kick & Rush | A direct playstyle that bypasses the midfield to exploit spaces behind defenders. |
| Park the Bus | Emphasize solid and disciplined defending with a very low block to stifle opponent attacks. |
↖ Customizing Tactical Vision
One of the standout features of the new Tactical Visions system is the ability to customize your preferred playing style. While each Tactical Vision has its pre-defined parameters, you can make slight adjustments to suit your unique strategy. For example, you can select Tiki Taka as your base vision but modify it to be more wing-dominant to accommodate your team's attacking wingers.
↖ Tactical Vision Scouting
With the revamped Scouting system, you can now recruit players who are a perfect fit for your tactical system. In addition to traditional filters like position, age, and contract status, you now have access to new filters:
Tactical Fit: Each Tactical Vision is associated with specific key attributes for each position. Your scouts will identify players who excel in these areas, making it easier to find the right players for your preferred playstyle.
Overall Condition: Filter players based on their quality, ranging from Backup to World Class.
PlayStyles: Find players with specific PlayStyles that align with your Tactical Vision.
↖ Coaches and Impact
The Total Management System brings together two new elements - Tactical Visions and Coaches. As the manager, you can be involved in all major club decisions, either implementing changes yourself or delegating to your coaching staff. The appointment of a new manager can significantly transform the club and its football philosophy.
In FC 24, coaches play a crucial role in developing your players and optimizing your Tactical Vision. When you hire coaches, they bring specific strengths and tactical knowledge, which can boost certain aspects of your team's play. For instance, if your Tactical Vision is focused on Tiki Taka, hiring a coach with expertise in this area will further improve passing and ball control for your players.
↖ Player Development and Coaching Efficiency
By staying within the boundaries of your chosen Tactical Vision and aligning coaches with that Vision, you can expedite player development. Players under a Tactical Vision and coaching that aligns with their strengths will progress faster, enhancing your team's overall performance on the field.
↖ Custom Tactics and Negative Effects
While customization is a significant aspect of Tactical Visions, there is a caveat to consider. If you push your customized Tactical Vision too far outside the predefined boundaries, you may face negative consequences. Coaches' efficiency may decrease, and players might take longer to develop, ultimately affecting your team's progress.
↖ Scouting Players to Fit Your Tactical Vision
Another exciting feature is the ability to scout players who fit your preferred Tactical Vision. When searching for new talent, you can specify the playing style you desire, making it easier to find players that complement your team's strategy and improve overall chemistry.
Conclusion:
FC 24's Career Mode Tactical Visions add depth and complexity to the gameplay, allowing you to experiment with different playing styles, coaches, and strategies. Customizing your Tactical Vision and hiring coaches strategically can significantly impact player development and team performance. Embrace the opportunity to create a unique and dynamic career mode experience by choosing the perfect Tactical Vision for your team's success. Happy gaming!
Most Popular Posts
Popular Category Lists