EA SPORTS FC 24 Ultimate Team Heroes: Stats & Ratings
Welcome to the unveiling of the first official EA FC 24 Heroes card! In this guide, we delve into the exciting world of football's new cult favourites and Champions League heroes. From the versatile Alex Scott to the dynamic Carlos Tevez, we'll dissect their initial face card stats and discuss their potential impact on the Ultimate Team. Insights into these reimagined players and explore how EA is shaking up the game with a new cohort of Heroes. Let's jump into the details and uncover the future of FC 24!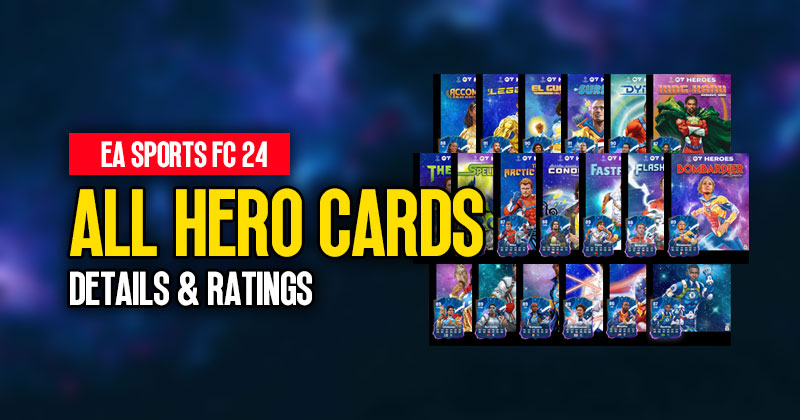 ↖ New Cohort of Cult Favorites
EA Sports FC 24 has introduced 19 new Heroes to the Ultimate Team lineup. These Heroes are inspired by Champions and Pioneers from women's football, joining the already star-studded cast of Heroes. Marvel has reimagined these players as Comic Book Heroes and heroines, adding an exciting twist to the pitch. Each Hero will have both a base version and a Champions League or Champions League Women's version to commemorate their performance both domestically and continentally.
↖ Alex Scott - The Fullback Hero
Alex Scott's Hero card boasts impressive stats:
89 Pace
73 Shooting
83 Passing
82 Dribbling
87 Defending
83 Physical
Her versatility and strong stats make her an excellent choice, especially when equipped with chem styles like Shadow or Anchor.
↖ Gianluca Vialli - Striker Extraordinaire
Gianluca Vialli's Hero card is a striking force:
90 Pace
91 Shooting
74 Passing
85 Dribbling
44 Defending
82 Physical
His potent pace and shooting attributes make him a standout choice for leading the attack.
↖ Carlos Tevez - Premier League Powerhouse
Carlos Tevez's Hero card shines with exceptional attributes:
90 Pace
91 Shooting
89 Dribbling
91 Physical
83 Passing
His well-rounded stats and Premier League affiliation make him a top-tier choice for your squad.
↖ Sure Shot Wesley Sneijder
Wesley Sneijder's Hero card boasts these stats:
85 Pace
87 Shooting
93 Passing
89 Dribbling
56 Defending
80 Physical
His abilities make him a versatile and effective midfielder, and chem styles like Hawk or Hunter could enhance his strengths.
↖ Bixente Lizarazu - Speedy Fullback
Bixente Lizarazu's Hero card features:
90 Pace
85 Defending
84 Physical
85 Dribbling
83 Passing
His balanced attributes make him a formidable presence on the wing, capable of contributing both offensively and defensively.
↖ Nwankwo Kanu - The Enigmatic Hero
Although Kanu's stats weren't revealed, it's suggested that he might have exceptional attributes like 99 Pace, 99 Shooting, 99 Passing, 99 Dribbling, 99 Physical, and 60 Defending. This outstanding card promises incredible versatility, marked by a five-star skill rating and a five-star weak foot.
↖ Nadine Kessler - Midfield Dynamo
Nadine Kessler's Hero card boasts the following stats:
84 Pace
87 Shooting
90 Passing
88 Dribbling
80 Defending
80 Physical
Her balanced attributes suggest she could excel in various midfield roles, providing both creativity and defensive stability.
↖ Giuly - Right Midfield Gem
Giuly's Hero card features:
90 Pace
88 Dribbling
85 Shooting
85 Passing
51 Defending
60 Physical
His agility and attacking attributes position him as a promising option on the right flank.
↖ John Arne Riise - Powerful Midfield Presenc
John Arne Riise's Hero card offers:
85 Pace
82 Shooting
82 Passing
83 Dribbling
83 Defending
87 Physical
His robust stats and diverse skill set make him a potential centerpiece in midfield.
↖ Tomas Rosicky - The Conductor
Tomas Rosicky's Hero card features:
85 Pace
83 Shooting
88 Passing
90 Dribbling
60 Defending
73 Physical
His well-rounded attributes and five-star weak foot make him a valuable asset in various midfield roles.
↖ Paulo Futre - Speed and Dribbling Master
Paulo Futre's Hero card boasts:
94 Pace
94 Dribbling
83 Shooting
82 Passing
60 Physical
His lightning-fast pace and dribbling ability position him as a dynamic attacking option.
↖ Dimitar Berbatov - Graceful Striker
Dimitar Berbatov's Hero card presents the following stats:
83 Pace
87 Shooting
88 Dribbling
35 Defending
75 Physical
81 Passing
Berbatov's card embodies his unique playing style, with a focus on finesse and elegance on the pitch.
↖ Sonia Bompastor - Overpowered Fullback
Sonia Bonpastor's Hero card features:
90 Pace
89 Dribbling
85 Defending
88 Passing
85 Shooting
77 Physical
Her outstanding attributes, particularly her pace, dribbling, and shooting, make her an early-game standout.
↖ Jari Litmanen and Rui Costa
Jari Litmanen's Hero card includes balanced attributes, making him a decent option for various roles. Rui Costa's Hero card offers:
85 Pace
89 Passing
87 Dribbling
80 Physical
82 Shooting
His versatility and well-rounded stats position him as a valuable addition to your squad.
↖ Vincent Kompany - Defensive Leader
Vincent Kompany's Hero card showcases these stats:
81 Pace
91 Defending
87 Physical
Reasonable Passing and Dribbling
His leadership qualities and solid defensive stats make him a reliable center-back option.
↖ Steve McManaman - Skilled Playmaker
Steve McManaman's Hero card features:
91 Pace
89 Dribbling
86 Passing
80 Shooting
80 Physical
His well-balanced attributes and La Liga affiliation make him a versatile and creative option in midfield.
↖ Demarcus Beasley - Dynamic Left Midfielder
Demarcus Beasley's Hero card showcases:
93 Pace
87 Dribbling
80 Passing
78 Shooting
75 Defending
75 Physical
His balanced stats make him a versatile choice for the left midfield position.
↖ Ramires - Unstoppable Midfielder
Ramires's Hero card offers impressive attributes:
89 Pace
85 Defending
85 Physical
81 Shooting
82 Passing
80 Dribbling
His well-rounded stats and previous iconic status in the game make him a formidable midfielder.
Conclusion:
And there you have it, a detailed breakdown of the first batch of EAFC 24 Hero cards revealed. Each card brings unique strengths to the table, and as we look forward to the upcoming release, consider which Heroes you're most excited to add to your squad. EA is aiming for a balanced power curve and engaging evolution mechanics, promising an exciting experience in the upcoming FC 24 instalment. Thank you for tuning in, and I'll catch you next time. Peace out!
Most Popular Posts
Popular Category Lists