EA FC 24 Ultimate Team Guide: How to Get a Perfect Start?
Welcome to a comprehensive guide that will help you kick off EA Sports FC 24 with a bang. As a long-time Ultimate Team content creator, We'll be walking you through every aspect of preparing for EAFC 24, ensuring you have every advantage, pack, and strategy to dominate from day one. Follow these steps to give yourself the ultimate head start in Ultimate Team.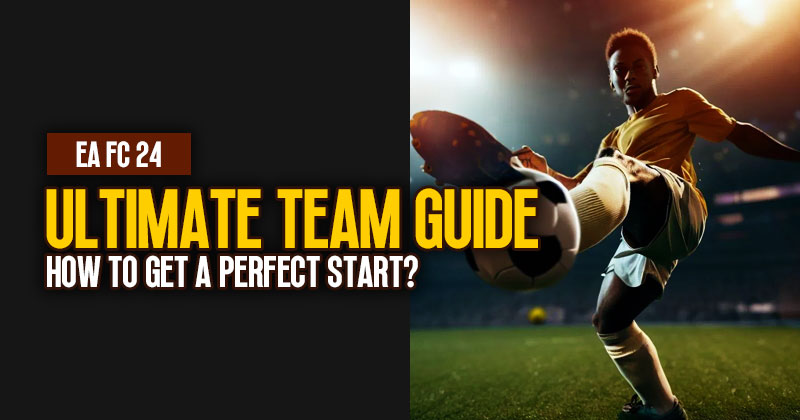 ↖ Choosing the Right Edition
The game's edition you choose can greatly impact your early experience. The Ultimate Edition offers a significant advantage by providing early access, valuable packs, and bonus FIFA points. While the Standard Edition is cheaper, investing in the Ultimate Edition can pay off with the extras it offers.
Ultimate Edition: While pricier, this edition offers early access (7 days ahead), bonus packs, and FIFA points.
Standard Edition: More affordable but lacks the extra perks of the Ultimate Edition.
↖ Optimizing Your Purchase
Consider various factors when purchasing the game to maximize your value.
Regional Pricing: Check for regional price variations and exchange rates to get the best deal.
Discounted Gift Cards: Look for discounted gift cards on platforms like GGHEY to save on your purchase.
Value of Ultimate Edition: If you play extensively early in the cycle, the Ultimate Edition's bonuses, including FIFA points, early access, and packs, might be worth the extra cost.
↖ Utilizing Pre-Season Content
Take advantage of pre-season content to boost your start. While you may only receive some rewards immediately, they will significantly benefit you in the long run.
Welcome Backpack: Although rewards may not arrive immediately, these packs can be valuable in the first few weeks.
Pre-Season Objectives: Complete objectives in FIFA 24 that offer rewards applicable to EAFC 24, giving you a head start.
Kickstarter Packs: Look out for special packs that offer valuable player items to strengthen your squad.
↖ Effective Trading Methods
Mastering trading techniques can quickly boost your FC 24 coins and improve your team.
One Two Three Method: Search for cards listed at 1k, 2k, and 3k coins and place bids to secure potential bargains.
Invest in Meta Cards: Identify players likely to be in demand and invest in their cards early.
Friday Trading Method: Capitalize on the release of new promos like Ones to Watch by buying low and selling high overnight.
↖ Focus on the Ones to Watch
Ones to Watch (OTW) cards are a fantastic investment due to their dynamic nature. These cards receive upgrades based on players' real-world performances, making them valuable in the long run.
OTW Players: Invest in promising OTW cards that you believe will have a strong season.
Monitor Real-World Performance: Keep an eye on the performance of your chosen OTW players and anticipate their in-game upgrades.
↖ Position Change Cards
Understand the changes in position change cards, as EA has altered this aspect for EAFC 24.
Automatic Position Change: Players' alternate positions will be automatically applied based on their real-life versatility.
No More Position Change Cards: Traditional position change cards that modify positions are no longer applicable.
↖ Overnight Flips
Leverage the market fluctuations that occur overnight, especially during the early days of the game.
Market Behavior: Understand how the market behaves during different hours and capitalize on price changes.
Friday to Saturday Night Flip: Buy cards at their lowest point on Friday and sell them at a higher price on Saturday night.
Conclusion:
By following these strategies and methods, you'll be well-equipped to make a powerful start in EAFC 24. From selecting the right edition of the game to mastering trading techniques, you'll be setting yourself up for success from day one. Remember, the key is to stay informed, adapt to market changes, and make smart investment decisions. Good luck on your journey to Ultimate Team greatness in EAFC 24!
Most Popular Posts
Popular Category Lists