NHL 24: All Team Tier List and Ranking 2024
Welcome to our NHL 24 all-team ranking guide for the 2024 season! In this guide, we'll delve into an in-depth analysis of all 32 NHL teams, organizing them into 5 tiers: Stanley Cup Contenders, Playoff Teams, Wild Card Teams, Mediocre Teams, and Basement Dwellers. From recent performance to offseason changes, we'll evaluate each team's strengths, weaknesses, and prospects for the upcoming season.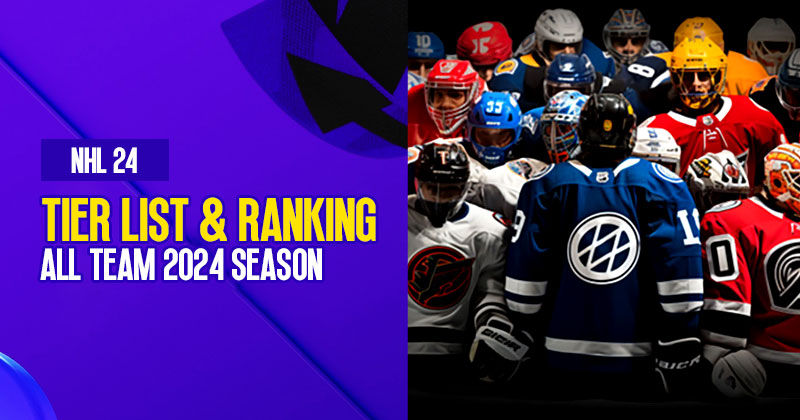 ↖ Tier 1. Stanley Cup Contenders
Carolina Hurricanes: Coming off a strong season, the Hurricanes have bolstered their roster and are expected to be a dominant force in the Eastern Conference. Their offseason acquisitions and returning stars make them a top contender.
New Jersey Devils: With a breakout season and smart offseason moves, the Devils have solidified their position as one of the rising powerhouses in the league. They have a young core and promising prospects that could drive them to success.
Edmonton Oilers: Despite changes, the Oilers remain strong with star power and solid goaltending. Their talent-packed roster puts them in contention for a deep playoff run.
Vegas Golden Knights: As reigning Stanley Cup champions, the Golden Knights boast a proven lineup and have maintained their competitiveness through offseason moves. They are a major threat to defending their title.
↖ Tier 2. Playoff Teams
Toronto Maple Leafs: While facing some changes, the Maple Leafs are still expected to secure a playoff spot with their revamped lineup and a top-tier offensive unit.
Boston Bruins: Although the Bruins have experienced departures, they remain competitive and should secure a playoff berth. Their experience and determination will play a crucial role.
Winnipeg Jets: The Jets, despite a few changes, still have a strong core and will be in the mix for a playoff position. Their solid goaltending and offensive firepower make them a playoff contender.
Dallas Stars: A consistent playoff team, the Stars will likely secure another postseason appearance. Their well-rounded roster and recent signings should keep them competitive.
New York Islanders: Despite facing challenges, the Islanders have a reliable structure and goaltending that will help them contend for a playoff spot in a competitive Eastern Conference.
Minnesota Wild: With a mix of veterans and promising young players, the Wild should remain a competitive team and fight for a playoff position in the challenging Central Division.
Los Angeles Kings: The Kings' recent success and improved lineup make them a strong candidate for a playoff berth. They'll rely on their established core to lead the way.
↖ Tier 3. Wild Card Teams
Seattle Kraken: Following a strong inaugural season, the Kraken will look to secure a wild card spot again with a balanced lineup and the experience gained in their first year.
Buffalo Sabres: After a near-miss last season, the Sabres have improved and are poised to compete for a wild card spot. Their young talent and rising prospects give them reason for optimism.
Calgary Flames: Despite a disappointing season, the Flames have made moves to strengthen their roster. They're aiming to bounce back and contend for a wild card spot.
Philadelphia Flyers: Undergoing a rebuild, the Flyers will face challenges but have taken steps towards a brighter future. While they may not make the playoffs this year, they're on the right track.
↖ Tier 4. Mediocre Teams
Nashville Predators: After missing the playoffs, the Predators have retooled and aim to be competitive. Their moves suggest a push for a postseason return, but it will be a challenging task.
Detroit Red Wings: Showing progress, the Red Wings are heading in the right direction. While not a playoff lock yet, they are gradually building a team that can compete in the near future.
Ottawa Senators: The Senators have promising young talent but may still be a year or two away from serious playoff contention. They'll likely show improvement but remain in the middle tier.
Florida Panthers: Despite a strong playoff run last season, the Panthers face some challenges in the competitive Eastern Conference. They'll need to work hard to secure a playoff spot.
Colorado Avalanche: After a surprising early exit last season, the Avalanche remain talented but may need more depth. Their playoff position isn't guaranteed, but they still have potential.
Montreal Canadiens: The Canadiens are still in the early stages of rebuilding, and while they may show some improvement, they're likely to wait to make the playoffs.
↖ Tier 5. Basement Teams
Pittsburgh Penguins: Facing changes and challenges, the Penguins' playoff chances are still being determined. They'll rely on their core stars to keep them competitive, but a postseason appearance isn't guaranteed.
Chicago Blackhawks: In the midst of a rebuild, the Blackhawks are expected to miss the playoffs. They'll focus on developing young talent and building for the future.
San Jose Sharks: With a challenging outlook and a need for significant improvement, the Sharks are likely to remain in the lower tier as they continue their rebuilding process.
Arizona Coyotes: Despite some improvements, the Coyotes are still a work in progress and are likely to remain outside the playoff picture as they focus on long-term development.
Columbus Blue Jackets: Coming off a disappointing season, the Blue Jackets have made changes but may wait to return to playoff contention. Their rebuild is still ongoing.
Anaheim Ducks: Facing challenges in a competitive Western Conference, the Ducks are not expected to make the playoffs. They're focusing on developing their young talent for the future.
Vancouver Canucks: While showing promise, the Canucks may still be a step away from playoff contention. Their young core and improving roster suggest future success.
St. Louis Blues: After a mediocre season, the Blues have made changes but may still struggle to secure a playoff spot. They'll need to work hard to compete in a tough division.
Washington Capitals: With changes in the offseason, the Capitals' chances of making the playoffs are still being determined. They'll need to adapt and find consistency to secure a postseason berth.
New York Rangers: Facing competition in a stacked Metropolitan Division, the Rangers may need help to secure a playoff spot. They'll rely on their young stars to lead the way.
Tampa Bay Lightning: Coming off a challenging season, the Lightning's rebuilding process is ongoing. They may not be immediate contenders, but their future is promising.
Conclusion:
There you have it—a comprehensive breakdown of all 32 NHL teams, organized into five tiers based on their projected performance for the 2023-24 season. Keep in mind that predictions can change as the season unfolds, and surprises are part of what makes hockey so exhilarating. Whether you agree or disagree with these rankings, one thing is certain: the upcoming NHL season promises plenty of excitement, competition, and unforgettable moments on the ice. Enjoy the action, and may the best teams rise to the challenge!
Most Popular Posts
Popular Category Lists