EA SPORTS FC 24: All New Features and Career Mode Changes Detailed Guide
Welcome to the ultimate guide to EA SPORTS FC 24, where we'll be delving deep into all the exciting new features coming to this highly anticipated game. From groundbreaking HyperMotion Volumetric Technology to enhanced player abilities and revamped career mode, this guide will explore every facet of the game, ensuring you're prepared to dominate the pitch like never before. Whether you're playing on the PS5, Xbox Series X|S, or PC, you're in for a treat. However, do note that some features may not be available on the PS4, Xbox One, or Nintendo Switch.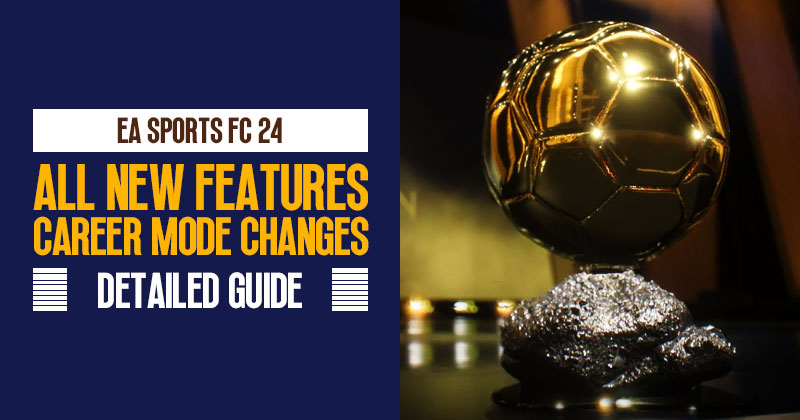 ↖ Gameplay Features
| Feature | Description |
| --- | --- |
| Hypermotion Volumetric Technology | Revolutionary technology with over 180 top-tier matches' animations integrated for unmatched authenticity and realism. |
| PlayStyles | Athletes have unique abilities affecting gameplay based on real-world data. |
| PlayStyles Plus | Exclusive abilities for top players, taking special skills to a spectacular level. |
| Upgraded Frostbite Engine | Realistic player models, lifelike kit movements, improved ball physics using AI studied real-world actions. |
| AI Hands | High-tech gloves capture natural hand movements, enhancing player motion realism. |
| Passing Mechanics | New tools like Precision passing, Swerve on Demand, and Headers on Demand for greater passing control. |
| Effort Dribble Touch | Precise ball control in any direction for outmaneuvering opponents. |
| Controlled Sprint | Faster dribbling speed option between jog and sprint, maintaining ball control. |
| Headers on Demand | Request headers on demand for shots. |
| New Skill Moves | Introduction of Ball Roll Drag, Drag Back Turn, Flare Nutmegs, and Flare Rainbow skill moves. |
| Goalkeeper Improvements | Enhanced goalkeeper mechanics with push deflects, tip-overs, and improved lobbed shot detection. |
| Penalty Kicks | Increased save zones for goalkeepers, allowing more authentic penalty kick decision-making. |
| Better Tackle Detection | Improved physics system enhances tackle detection and foul calls. |
| Injury Animations | Players exhibit new upper body injury animations for added realism. |
| Board Collisions | Realistic player reactions when colliding with ad boards. |
| New Stats Scene | Broadcast includes additional stats like wind probability prediction, contested possession, ball recovery time, and line breaks. |
↖ Manager Career
Total Management System: Define your tactical vision, expand your coaching staff, and utilize pre-match reports to exploit your opponent's weaknesses.
Training Control: Manage training plans for individual players and the team to keep everyone fit and sharp.
Tactical View Camera Angles: Monitor the game without controlling the team, getting a more comprehensive view of the stadium and field.
Touchline Cam: Experience matches from the manager's perspective with this new camera angle.
Manager Customization: Dress your manager in various items like hoodies, tracksuits, sweater-shirt combos, and glasses.
Kit Templates: Explore different chest sponsor options for your Creator Club.
Improved AI Logic: AI now considers buy clauses and Youth Development priorities when making decisions.
↖ Player Career
Player Agent: Receive recommendations and advice to help you transfer to your favourite clubs.
Playstyles: As you progress, define and refine your playstyle for a unique on-pitch presence.
Play as Player Cam: Focus on important moments in the game with this player-centric camera.
Dynamic Moments: Experience bus parades, Ballon d'Or ceremonies, and tattoos for your player.
Training Enhancements: Participate in training sessions ahead of each match and earn personality points for your development.
↖ Match Day Experience
New Halftime Menus: Enjoy immersive halftime cutscenes with various options.
First-Person Referee Cam: Witness referee decisions from the first-person perspective, adding realism to card issuances and free kicks.
Dynamic Match Intros: These intros build upon last year's features for a more engaging match experience.
Enhanced Audio: Louder chants, bigger reactions, drums, horns, and more authentic audio elements.
Default Camera Angle: A new camera angle that balances tactical view and stadium atmosphere.
Feature Lighting: Improved highlights and lighting for a more realistic visual experience.
Inside Overlays: On-field overlays display stats like fatigue, shots on target, and contested possession.
↖ Ultimate Team Features
Evolutions: Improve player skills, playstyles, and overalls.
Women's Football: Build squads with both men and women, featuring women's icons and heroes.
New Player Item Designs: Get key player information at a glance with new designs.
Two-Player Walkout Animation: Witness a unique animation when packing two excellent players.
Quality of Life Improvements: Claim all objectives rewards at once, change player positions without a modifier, and navigate menus more seamlessly.
Squad Battles Changes: Reduced match length and hidden lone players for better squad building.
Position Searches: Enhanced position search options for more efficient squad building.
Customization Items: Manually equip customization items and swap untradable duplicates with tradable versions.
Acceleration Types: Easier identification of player attributes in the player bio.
↖ Clubs
Cross-Play: Play with friends on the same generation of consoles.
Season Format: A fresh competition format with leagues, promotions, and playoffs.
Club Growth: Gain fans, reputation, and unique Club League trophies to enhance your club.
↖ Extras
Reinvented Home Menu: A more streamlined and user-friendly menu system.
Learn to Play Mode: A comprehensive toolset for improving your skills and knowledge.
New Faces: Over 200 new and updated player faces for a more realistic experience.
Signature Penalty Run-Ups: Certain players will feature their signature penalty run-ups.
New Stadiums: Including Lil's Stadium, Alfredo de Stefano Stadium, Wolfsburg Women's Stadium, and possibly more.
New Leagues: Women's Bundesliga, Liga F (Women), and potentially the K League 2.
New Celebrations: A range of new player celebrations, adding more flair to the game.
New Women's Teams: Zurich, Benfica, Ajax, Rosengard, Go City, Slavia Praha, and more.
New Men's Teams: From the Egyptian Premier League, including Al Ahly.
Practice Arena: Introducing scenarios mode, practice match mode, and a jumping barrier prop.
With these New Features and Career Mode Changes, EA SPORTS FC 24 promises an unparalleled gaming experience. Get ready to immerse yourself in the world of football like never before!
Most Popular Posts
Popular Category Lists