2023-2024 NHL Season Team Rankings: A Detailed Assessment of All 32 Teams
Hey there, hockey fans! The 2023-24 NHL season is upon us, and it's time to dive into the rankings and expectations for all 32 teams. In this comprehensive guide, we'll break down each team's prospects, strengths, and weaknesses, and categorize them into tiers: Cup Contenders, Playoff Locks, Bubble Teams, Rebuilding Teams, and Tanking Teams.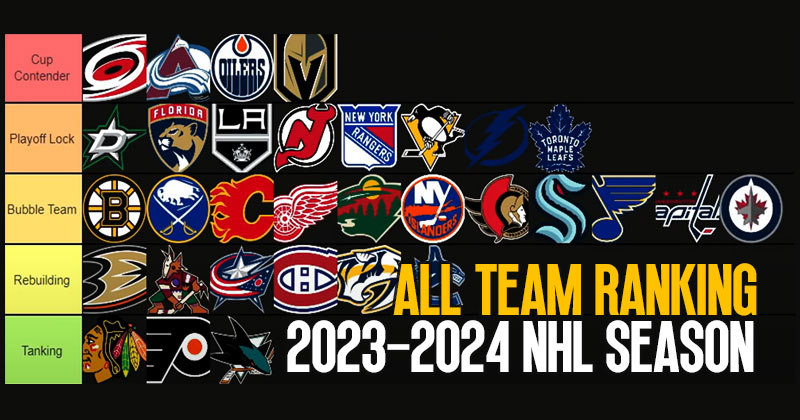 ↖ Cup Contenders
Carolina Hurricanes: With a powerhouse defensive core, a strong forward group, and excellent goaltending, the Hurricanes are genuine Cup contenders. Their defense, featuring the likes of Burns and Slavin, is arguably the best in the league.
Vegas Golden Knights: Fresh off a Cup win, the Golden Knights still boast a formidable roster. Losing Riley Smith stings, but their first line and goaltending remain strong. Don't be surprised if they make another deep playoff run.
↖ Playoff Locks
Boston Bruins: The Bruins lost some key players but still have a solid core. Their defense is impressive, led by McAvoy, and they have reliable goaltending. They should comfortably make the playoffs.
Dallas Stars: With a talented offense, a solid defense featuring Heiskanen, and dependable goaltending from Oettinger, the Stars are a lock for the playoffs.
Toronto Maple Leafs: Despite past disappointments, the Leafs have a strong top six and have shored up their defense with Clayburg. They should make the playoffs, but the Cup remains elusive.
Washington Capitals: Ovechkin and Backstrom lead the way, and the Caps made a solid defensive trade with Sandin. With Kuemper in goal, they should be in playoff contention.
New Jersey Devils: The young and talented Devils, led by Mercer and Toffoli, are playoff-bound. Their defense is solid with Hamilton, and they have reliable goaltending.
New York Rangers: The Rangers have elite goaltending in Durkin and a more balanced defense. Their offensive firepower secures them a playoff spot.
↖ Bubble Teams
Minnesota Wild: Caprizov, Zuccarello, and Boldy provide offense, but their defense could be better. They're a bubble team with a chance to make the playoffs.
Winnipeg Jets: With a strong first line, decent defense, and Hellebuyck in goal, the Jets are a bubble team with playoff potential.
↖ Rebuilding Teams
Ottawa Senators: The Sens are on the rise with key additions like Norris and Tkachuk. Chychrun bolsters their defense. They're in the playoff mix but still rebuilding.
Montreal Canadiens: Suzuki, Caufield, and Lane Hudson provide promise, but their defense is a weak spot. They're actively trying to improve but are rebuilding.
Columbus Blue Jackets: A young roster and fierce Eastern Conference competition make the Blue Jackets a rebuilding team.
Seattle Kraken: The Kraken had a decent inaugural season, but repeating that success is challenging. They're not a surefire playoff team.
Nashville Predators: Many veteran players have departed, and a young core is emerging. Forsberg is their lone star, and they're rebuilding.
↖ Tanking Teams
Chicago Blackhawks: The Hawks desperately need Conor McDart, and their roster is not competitive in the current NHL landscape. They're tanking.
Arizona Coyotes: Their roster lacks depth, and they're in a tougher division. They're also in a rebuilding phase but lean closer to tanking.
Anaheim Ducks: In a highly competitive Pacific Division, the Ducks lack the firepower to compete. They're closer to tanking than rebuilding.
Buffalo Sabres: Despite improvements, they face fierce competition in the East. They're a bubble team at best but closer to rebuilding.
Calgary Flames: The Flames missed the playoffs last year and face a tough Western Conference. They're a bubble team but could miss again.
Detroit Red Wings: Despite some moves, the Wings are uncertain playoff contenders. They're a bubble team with an uncertain playoff fate.
Florida Panthers: Injuries weaken their defense, and their success from last year may not be replicable. They might make the playoffs but aren't Cup contenders.
Los Angeles Kings: The Kings are a solid team in the weaker Pacific Division. They should secure a playoff spot.
San Jose Sharks: The Sharks are in rebuilding mode, with a roster that lacks depth and defensive strength.
St. Louis Blues: The Blues are in a transitional phase, neither a lock nor a bubble team. Their performance will determine their playoff fate.
Philadelphia Flyers: The Flyers are clearly in rebuilding mode, with a young roster and a focus on long-term development.
Pittsburgh Penguins: The Penguins are playoff contenders with the addition of Erik Karlsson, maintaining a strong roster.
Tampa Bay Lightning: The Lightning remain a formidable team, though not as dominant. They're a lock for the playoffs but face questions about Cup contention.
Edmonton Oilers: With McDavid and Draisaitl, the Oilers are Cup contenders. They have improved their top six but need better defense.
Vancouver Canucks: The Canucks have potential in their young core but should consider getting younger and rebuilding.
Colorado Avalanche: The Avs remain a strong team despite some changes. They're likely a playoff lock, with Cup aspirations.
Cleveland Monsters: The Monsters are on the rise, with a bright future ahead. They're currently a rebuilding team but could make noise in the future.
And there you have it, a detailed guide to ranking all 32 NHL teams for the 2023-24 season. Keep an eye on these teams as they battle it out on the ice, and let's see who emerges as the Stanley Cup champion this year!
Most Popular Posts
Popular Category Lists