What Are the Best Evolution Cards to Choose in EAFC24?
Evolutions are one of the most exciting features EA has introduced in a long time, allowing you to upgrade players by completing objectives and obtaining higher-rated versions of their cards. In EAFC24, you can select a player from your club and embark on an Evolution journey to enhance their stats. However, keep in mind that once you start an Evolution, it's irreversible, and the player becomes untradable. In this detailed guide, we'll explore the best Evolution card options in EAFC24.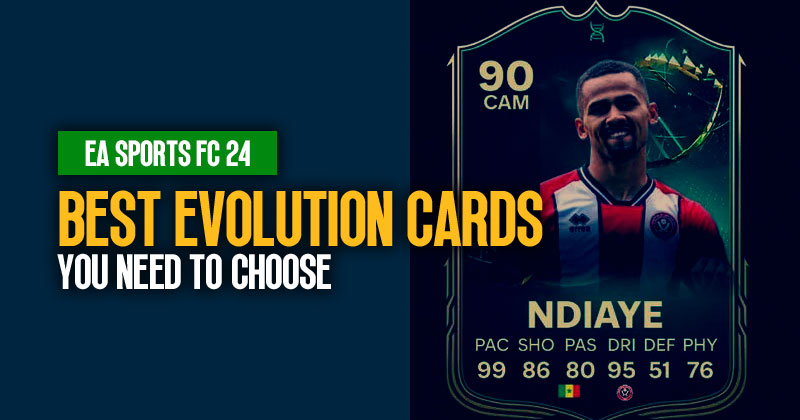 ↖ How Evolution Cards Work?
At the beginning of the game, you have the option to choose from multiple Evolution players. Once you select one, you must complete their Evolution objectives before moving on to another player. Most Evolution cards are free, with the exception of one that requires a payment. To initiate an Evolution, you select the player from your club and click on Start Evolution.
↖ Top Evolution Card Options
Founder Evolution:
Founder Evolution cards are fantastic options to upgrade your strikers and center-backs for free. Here are some notable choices:
Villaovic: With the potential to reach 85 overall, Villaovic boasts 83 Pace, 82 Dribbling, 88 Shooting, and 85 Physical. A monstrous card!
Darwin Nunez: A popular choice, Nunez offers excellent stats. However, be cautious of his potential price inflation due to his popularity.
Boadu: This Eredivisie striker with Serie A links offers versatility as both a striker and center forward.
Danjuma: With 89 Pace, 84 Shooting, 86 Dribbling, 70 Physical, 4-star skills, and a 5-star weak foot, Danjuma is a solid option.
Anderson Talisca: A versatile choice with 82 Pace, 87 Shooting, 84 Dribbling, and 76 Physical. Consider him, especially if you have Saudi League players.
Aubameyang: Despite his downgrade, the 82-rated Evolution card provides 86 Pace, 84 Shooting, and a 4-star weak foot.
Gonçalo Guedes: A hidden gem with 89 Pace, 84 Shooting, 85 Dribbling, and 73 Physical. He links well with Rafa.
Pacey Protector:
Pacey Protector cards offer center-backs a substantial Pace boost. Choose center-backs with good defending stats for maximum impact:
Koulibaly: Although tricky to link, his 79 Pace and 84 Defending make him an attractive option.
Victor Lindelof: A good passer with 74 Pace, 79 Passing, and 81 Physical. Offers Premier League links.
Joel Matip: 76 Pace, 82 Physical, and 84 Defending make Matip an appealing choice for Premier League squads.
Samuel Umtiti: A French option with 77 Pace, 74 Passing, 83 Defending, and 80 Physical.
Milinkovic-Savic: A Serie A choice with 79 Pace, 82 Defending, 88 Physical, and 68 Passing.
Ben White: A Premier League alternative with 80 Pace, 72 Passing, 82 Defending, and 84 Physical.
Dodi Lukebakio: A Bundesliga selection with 84 Pace, 77 Defending, 82 Physical, and 79 Passing.
Relentless Winger:
This Evolution category focuses on upgrading left-wingers. However, be cautious as it requires a significant investment of 50k coins or 1000 FIFA points. Consider whether the upgrades are worth it:
Ryan Kent: Used as an example, but weigh the cost versus the upgrade before proceeding.
↖ Golden Globe and Golden Glow Up Part Two
This exciting category allows you to transform bronze players into gold. It's essential to wait until you've built your foundation squad before choosing a player. Look for bronzes with decent stats or those from your favorite team:
Kobe Mawene: If he has a center-mid alternate position, he could be an excellent choice for Manchester United fans.
Hi: With high-high work rates and the name "Hi," this bronze player could become a well-rounded gold card.
Demarai Gray: Another promising option for this category.
Choose Based on Your Squad: It's advisable to select a bronze player who fits your squad or is a favorite from your lower league team.
Conclusion:
Evolution cards are a game-changer in EAFC24, offering the opportunity to upgrade your favorite players for free. Whether you're looking for a lethal striker, a pacey center-back, or to transform bronze players into gold, there are exciting options to explore. Be strategic in your choices, and consider your squad needs before embarking on Evolution journeys. EA has introduced a dynamic feature that promises to make FIFA 24 more enjoyable than ever before. Enjoy the game!
Most Popular Posts
Popular Category Lists