NHL 24 Guide: Rivals Rewards, Hut Game Day Cards and More
NHL 24 offers players an array of thrilling changes to Rivals rewards and exciting additions. These updates promise to keep the game dynamic and engaging, offering hockey fans new opportunities to customize their in-game experiences and enhance their teams. In this guide, we'll walk you through the new Rivals rewards system, Hut Game Day cards, transaction cards, and other updates to keep you informed and prepared for the latest NHL game.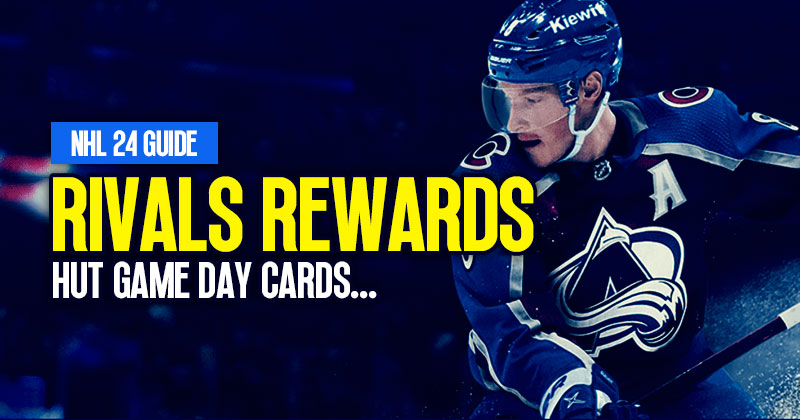 ↖ Rivals Rewards Changes
One of the most notable changes in NHL 24 is the revamped Rivals rewards system. Here's what you need to know about the alterations:
Rivals Modes Rotation: NHL 24 features rotating Rivals modes, with different rule sets and variations. The previous week was Rivals Classic, and this week it's Rivals Burst, a faster-paced game with shorter periods.
Collectibles as Rewards: Rivals now grants Gold Collectibles or Rivals Collectibles as rewards. These collectibles are essential for acquiring the items you desire.
Customizable Rewards: With these collectibles, you can choose your preferred rewards. This customizable aspect is an appealing concept.
Reward Value Reduction: However, the drawback is that the value of Rivals rewards has been significantly reduced compared to previous years. Even the rewards you can choose with Gold Collectibles are less valuable, which has raised concerns among players.
↖ Rivals Rewards Redemption
Here's how you can redeem your Rivals rewards in NHL 24:
Rivals rewards are distributed at 5:00 p.m. Eastern Time on Wednesdays, a day after Rivals mode resets on Tuesdays at the same time.
To redeem your rewards, go to the "Sets" tab, then navigate to "Rival Sets."
Depending on your division and performance, you'll receive Gold Collectibles that you can use to claim various rewards.
↖ Hut Game Day Cards
NHL 24 introduces Hut Game Day cards, which receive a +1 overall boost when the respective team wins a game. However, it's important to note that these cards already have a +1 to their base versions. Let's explore some of the notable Hut Game Day cards:
John Klingberg (Dallas Stars): A 6'3" 190 defenseman with excellent speed and agility. His body checking is decent, but his defensive awareness is lacking.
Yuri Sivokovski (Montreal Canadiens): A physically imposing 6'3" 238 forward with a power forward synergy. He may struggle with speed but can be effective with the right linemates.
Andrei Kuzmenko (Vancouver Canucks): A 5'11" 194 sniper forward with a focus on shooting. His endurance and balance may limit his effectiveness.
Ryan Nugent-Hopkins (Edmonton Oilers): A two-way forward with solid skating and defensive attributes. His faceoff rating reaches 81 with the synergy activated.
↖ How to Acquire Hut Game Day Cards?
To obtain these Game Day cards, you'll need Hut 24 Collectibles, and the costs can vary:
Consider trading in 82-overall and above cards to obtain Hut 24 Collectibles efficiently.
Keep in mind that some of these cards can be obtained for free if you've been grinding the Headliner event objectives.
↖ Transaction Cards
NHL 24 also features transaction cards, which provide player upgrades based on real-life contract extensions. Here are some transaction cards worth considering:
Connor Hellebuyck (Winnipeg Jets): A strong goaltender with speed boost synergy.
Mark Scheifele (Winnipeg Jets): A versatile forward with excellent speed, shooting, and playmaking abilities.
Rasmus Dahlin (Buffalo Sabres): A two-way defenseman with the Elite Edges synergy and playmaking boost.
Ryan Hartman (Minnesota Wild): A two-way forward with decent attributes, especially in body checking.
↖ Hut Moments & Historic Moments
NHL 24 includes Hut Moments and Historic Moments, where you can earn various rewards. These moments often relate to specific player performances or events. Collectibles are required to participate in these sets, but the rewards are typically valuable and can enhance your team.
Conclusion:
NHL 24 has brought exciting changes to Rivals rewards, introduced Hut Game Day cards, and added transaction cards, making it an eventful and dynamic experience for hockey fans. Keep an eye on the in-game content, complete objectives, and choose your strategies wisely to maximize your progress and enjoyment in the game. Stay tuned for regular updates and be prepared for new content drops in NHL 24.
Most Popular Posts
Popular Category Lists