FC 24 Anders Vejrgang 4321 Custom Tactics & Instructions Guide
In FIFA, custom tactics and instructions can make a significant difference in your gameplay. Recent Pro Anders Vejrgang's 4321 custom tactics have been making waves in the FIFA community, it has gained popularity for its dynamic style of play. In this guide, we'll break down Anders' tactics and instructions, analyze their effectiveness, and provide suggestions for the average player to implement this formation successfully.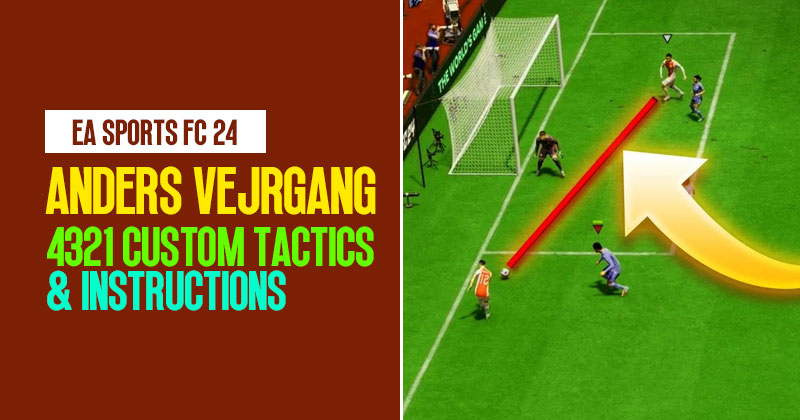 ↖ Custom Tactics
Anders Vejrgang's custom tactics for the 4321 formation are as follows:
Defensive Style

Offensive Style

Balanced: 50
Width: 70
Depth: 30

Balanced: 6
Players in Box: 6
↖ Instructions
| Position | Instructions |
| --- | --- |
| Goalkeeper | Comes for crosses |
| Left Back | Stay Back (default) |
| Center Backs | Balanced |
| Right Back | Balanced (or Stay Forward) |
| Right Center Mid | Stay Back, Cover Center |
| Center Mid | Stay Back, Cover Center |
| Left Center Mid | Cover Wing |
| Right Forward | Come Back on Defense |
| Main Striker | Stay Central |
| Left Forward | Stay Central, Stay Forward |
↖ Formation
Anders' tactics create a dynamic 4321 formation that can transform into a 442 defensively. Here are some key aspects to consider when using this formation:
Aggressive Defense: The balanced defensive style with 70 width encourages your team to press aggressively. The 30 depth ensures your defenders maintain a relatively high line.
Defensive Transition: Be aware that when transitioning from a 442 to 4321, there's a risk of losing possession. Patience is essential during this phase.
Attacking Style: This formation is naturally designed for a quick transition to offense, utilizing your right-back as an outlet player. Utilize the right-back's forward runs to create overloads on the right-hand side.
Vulnerabilities: When your left-back pushes forward, be cautious about leaving only two center-backs at the back. Losing the ball with a forward like Lorente can lead to counterattacks due to his slow pace.
Pressing: If you're struggling with a press, the right-back can serve as an outlet player to help relieve pressure. Use 'Hug Sidelines' for a wider attack to take advantage of your players' positions.
↖ Adjustments for the Average Player
To make this formation work for the average player, consider the following adjustments:
Defensive Style: Lower the depth to around 50 for a more controlled transition from defense to offense.
Left Center Mid: Choose a winger with good pace and a strong passing ability to be more effective on both ends of the pitch.
Center Mid: Opt for a defensive midfielder (CDM) with high pace, good defensive skills, and the 'Jockey' play style for added defensive stability.
Right-Back: Ensure your right-back has high pace, agility, and balance to support your attacks effectively.
Right Center Forward: Set 'Get in Behind' instruction for both the right and left center forwards to exploit the opposition's defense.
Main Striker: Keep the main striker's instructions on 'Stay Central' to maintain a strong presence in the box.
Left Forward: Maintain the left forward's instructions on 'Stay Central' and 'Stay Forward' for effective attacking positioning.
Conclusion:
Anders Vejrgang's 4321 formation is a dynamic and aggressive style that can yield excellent results if used effectively. By making some adjustments to suit your playstyle and skill level, this formation can work for the average player. Remember to choose the right players with pace and defensive capabilities in key positions to maximize your performance. Mastering this formation will undoubtedly elevate your FIFA gameplay. Good luck on the virtual pitch!
Most Popular Posts
Popular Category Lists