NBA 2K24 Pre-Order Guide: How to Choose the Best Value For Your Money?
NBA 2K24 pre-orders are finally here, and it's time to analyze the available options to help you make an informed decision. In this guide, we will break down the different editions and their contents, providing insights on the best value for your money. Whether you're a dedicated NBA 2K player or a casual fan, this article will help you choose the pre-order package that suits your preferences and budget.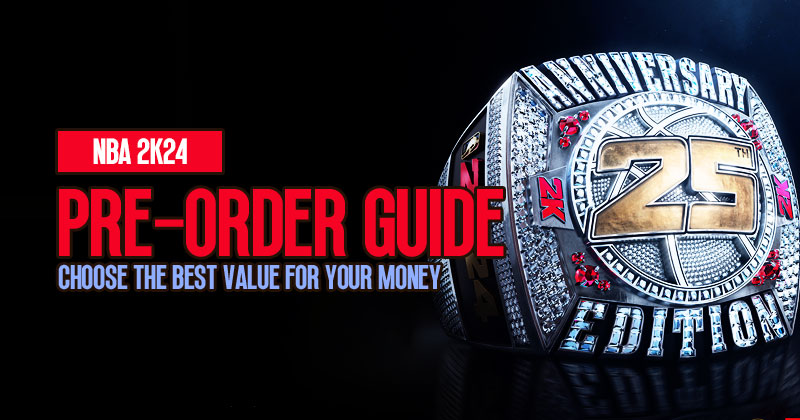 ↖ NBA 2K24: Pre-Order Editions
1. Kobe Bryant Edition (Basic) - $59.99
Includes 5,000 VC (Virtual Currency) for MyTeam content.
10 promo packs delivered one per week.
95-rated Kobe Bryant free agent card.
Buy 5 skill boosts for MyCareer.
3 Gatorade boosts for MyCareer.
2. Black Mamba Edition - $99.99
Includes all the content from the Kobe Bryant Edition.
Additional content:

100,000 VC.
15,000 MyTeam points.
2K24 Starting Five Draft Box.
Exclusive cover star cards.
2-hour double XP coin.
MyCareer boosts and Gatorade boosts.
Exclusive apparel items.
3. 25th Anniversary Edition - Price TBA
Similar content to the Black Mamba Edition.
Includes a league pass subscription (NBA 2K League).
Additional boosts and exclusive items.
↖ NBA 2K24: Launch Date
NBA 2K24 is set to release on September 8th.
↖ How to Choose the Best Value of NBA 2K24 Pre-Order Editions?
For Players Focused on NBA:
The Kobe Bryant Edition offers a good value at $59.99.
Consider purchasing additional VC separately for a better experience.
For Enthusiasts and Content Creators:
The Black Mamba Edition provides added bonuses at $99.99.
Exclusive content, boosts, and apparel items enhance your gameplay and content creation.
25th Anniversary Edition:
The most comprehensive edition with exclusive content and a league pass subscription.
Price to be announced.
↖ Additional Considerations
WNBA Version: Basic edition for WNBA fans, available as a physical copy.
Next-Gen Availability: Some editions are exclusive to next-gen consoles (PS5, Xbox Series X).
Delaying Pre-Orders: Holding off on pre-orders may result in more information and potential bonuses from the developers.
Note: The information in this article is based on the available pre-order details at the time of writing. Prices and content may be subject to change.
Conclusion:
Choosing the right NBA 2K24 pre-order package requires considering your preferences and budget. Whether you're focused on the NBA, interested in exclusive content, or a content creator, there's an edition that suits your needs. Keep an eye on future announcements and gameplay trailers before making your final decision. Stay tuned for more updates, and enjoy your NBA 2K24 experience!
Most Popular Posts
Popular Category Lists