NBA 2K24 News: Exciting Features and Gamplays Elements
NBA 2K24 promises to deliver an exceptional gaming experience with its next-level gameplay and lifelike visuals, and the Pre-Order has also been released. As players compete with their favorite NBA and WNBA teams, they will have access to an expanded arsenal of moves, revamped interior defense, and improved dribble combo controls. This guide will explore the exciting features and gameplay elements that make NBA 2K24 a must-play for basketball enthusiasts.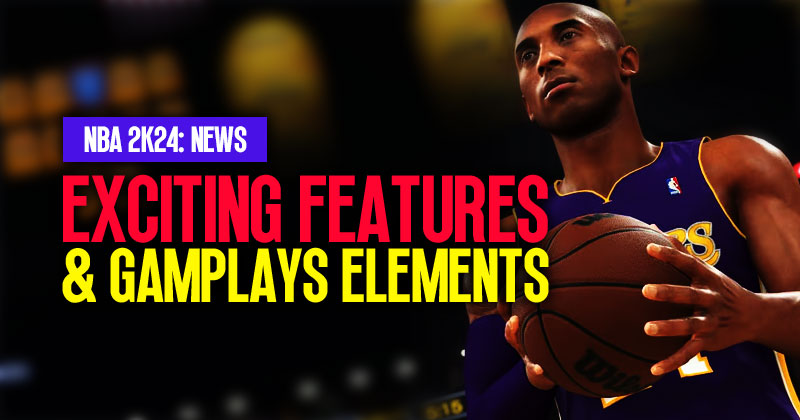 ↖ Next Level Gameplay
NBA 2K24 introduces Next Level gameplay, pushing the boundaries of realism and immersion. The game leverages actual footage from NBA games to deliver unparalleled gameplay experience. Signature crossovers, spin moves, and jump shots from your favorite players are faithfully replicated in the game, creating an authentic and engaging basketball simulation.
↖ Lifelike Visuals
Experience stunning visuals that bring the game closer to reality than ever before. NBA 2K24 features lifelike player models, detailed arenas, and immersive environments that enhance the overall visual appeal. With up-to-date rosters and historic teams, you'll feel like you're part of the NBA and WNBA action.
↖ Revamped Interior Defense
NBA 2K24 introduces revamped interior defense mechanics, allowing players to showcase their defensive skills like never before. With improved controls and strategies, you'll have more control over protecting the paint, contesting shots, and shutting down opponents. Master the art of interior defense and dominate the game on both ends of the court.
↖ Dribble Combo Controls
Take advantage of the enhanced dribble combo controls in NBA 2K24. The game offers a deep arsenal of moves, allowing you to showcase your skills and creativity on the court. With precise controls, you can execute a variety of dribble combinations, breaking ankles and leaving defenders in the dust. Practice and perfect your dribbling techniques to become a formidable offensive force.
↖ Skill-Based Actions and Effectiveness
NBA 2K24 rewards skill and strategy, providing a more satisfying gameplay experience. Your actions on the court will have a direct impact on your effectiveness and success. Utilize your player's strengths, exploit opponents' weaknesses, and make intelligent decisions to outsmart your competition. The game encourages strategic play and rewards players who understand the nuances of basketball.
↖ MyCareer and The Beach
Embark on an exciting journey in MyCareer mode, where you can control your player's legacy. From a generational talent to a Hall of Famer, chase greatness and championships while exploring a stunning tropical backdrop known as The Beach. Customize your player's style and engage in optional side quests and intense street ball competitions for an immersive and personalized experience.
↖ Game Modes and Features
NBA 2K24 offers a range of game modes and features to keep players engaged. Whether you prefer single-player experiences, multiplayer matches, or competitive online play, there's something for everyone. Explore MyTeam mode, take on friends in Play Now, or test your skills in Pro-Am. With a variety of options, NBA 2K24 ensures there's never a dull moment on the virtual court.
Conclusion:
NBA 2K24 delivers a next-level gameplay experience, combining realistic visuals, improved controls, and engaging game modes. With its attention to detail and authenticity, the game brings you closer to the NBA and WNBA action. Whether you're a fan of the sport or a gaming enthusiast, NBA 2K24 is set to provide countless hours of entertainment. Get ready to step onto the court, showcase your skills, and experience the thrill of basketball like never before.
Most Popular Posts
Popular Category Lists