Madden NFL 24 Pre-Order Edition: How to Choose Standard or Deluxe?
If you're a fan of the Madden NFL series and looking to purchase the latest installment, you may be wondering whether to go for the Madden NFL 24 deluxe edition or the standard edition. In this article, we will compare and contrast both versions, highlighting their differences and discussing which edition is best suited for different types of Madden players. Whether you're an avid Madden Ultimate Team enthusiast, a franchise mode devotee, or a casual player, we've got you covered.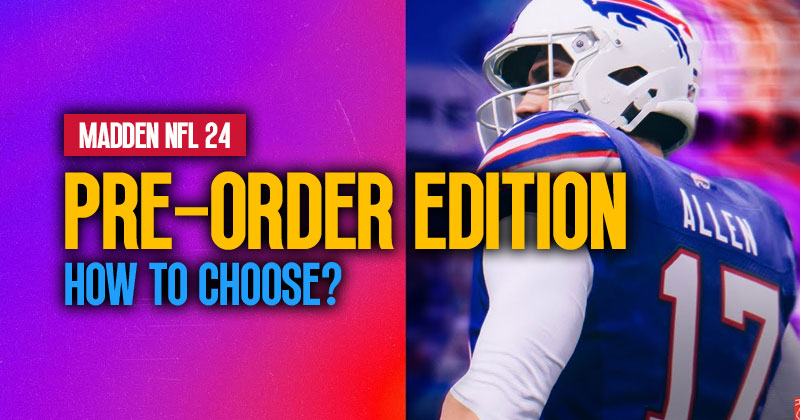 ↖ Price Comparison
The first noticeable difference between the two versions is the price. The standard edition of Madden 24 costs $70, while the deluxe edition is priced at $100. However, there are ways to save money on the game, which we will discuss later in this guide.
↖ Differences Between the Editions
Let's take a closer look at the benefits and differences of each edition:
Standard Edition:
Available for PS5 and PS4.
No dual entitlement: If you upgrade from a PS4 to a PS5 or switch consoles, you will not receive the game for free. You will need to purchase it again.
Includes a Josh Allen Elite player item and a choice of two strategy items for Madden Ultimate Team.
Offers NFL marble Bills gear, which is uniform.
Deluxe Edition:
Available for PS5 and PS4.
Dual entitlement: If you upgrade from a PS4 to a PS5 or stay within the same console family, you will receive Madden 24 for free on your newer console.
Includes an AKA player for Madden Ultimate Team.
It provides three-day early access to the game, allowing you to start playing before the standard edition players.
Offers 4600 Madden points, which are worth approximately $40 and can be used to enhance your Madden Ultimate Team experience.
↖ Choosing the Right Edition for You
Now that we have discussed the differences between the two editions let's explore which version you should consider based on your Madden playing style:
Madden Ultimate Team Players Who Spend Money:
If you typically spend money on Madden points, the deluxe edition is worth considering. The 4600 Madden points alone provide $40 worth of value, making the overall cost of the deluxe edition $60. Additionally, the AKA player, dual entitlement, and early access are appealing bonuses.
No Money Spent Madden Ultimate Team Players:
If you prefer to spend money on something other than Madden points, both editions are viable options. The deluxe edition offers extra perks like the AKA player, early access, and Madden points, which can give you a head start in building your team. However, if the extra $30 doesn't align with your budget, you can opt for the standard edition without missing out on essential features.
Franchise Mode Players:
For those primarily interested in the franchise mode, the standard edition should suffice. There aren't significant benefits in the deluxe edition for franchise players, except for the dual entitlement feature. If you plan to upgrade your console from a PS4 to a PS5, then the deluxe edition becomes more appealing.
Note: Consider the important factor of dual entitlement if you anticipate upgrading your console. Ultimately, your decision should be based on whether the extra features and benefits of the deluxe edition are worth the additional cost to you.
Conclusion:
The choice between the deluxe edition and the standard edition of Madden 24 depends on your Madden playing style and preferences. If you are a hardcore Madden Ultimate Team player who spends money, the deluxe edition provides excellent value—no money spent. Players can opt for either edition based on their budget. Franchise mode players can stick with the standard edition unless they plan to upgrade their console.
Most Popular Posts
Popular Category Lists