FC24 Gameplay Deep Dive Reaction: All You Need to Know
Are you a football enthusiast eagerly waiting for the next big leap in virtual football experiences? Look no further! In this guide, we delve into the exciting FC24 gameplay deep dive, where EA Sports takes us on an extraordinary journey into the future of football gaming. With the introduction of cutting-edge technology, enhanced player play styles, and improved graphics, FC24 promises to deliver a football simulation like never before. Get ready to witness HyperMotion V in action, immerse yourself in the realm of authentic player movements, and discover how FC24 will redefine the way we play and experience the beautiful game.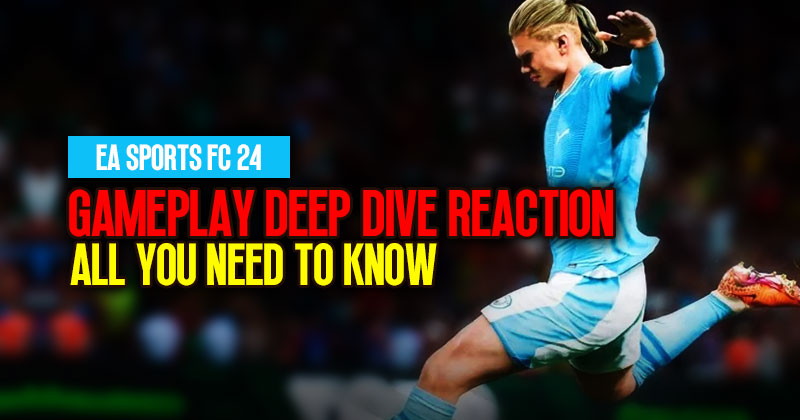 ↖ HyperMotion V: A Game Changer in Gameplay Innovation
The FC24 development team introduces HyperMotion V, a groundbreaking technology that redefines how the game replicates real-world football matches. HyperMotion V stands for "develometric capture technology," which uses volumetric capture data from leagues like the Premier League and the Women's Champions League to bring unparalleled authenticity to player animations.
In the gameplay trailer, we witness impressive recreations of iconic moments, such as goals by players like Harland and Vinicius Jr., demonstrating the magic of HyperMotion V. The new technology captures players' movements more accurately, making the game feel more realistic than ever before.
↖ Enhanced Player Play Styles for Greater Authenticity
FC24 introduces an extensive range of play styles, with 34 new ones in total. These play styles offer unique signature abilities, allowing players to perform actions that suit their real-life counterparts. From finesse shots to acrobatic finishes, the diversity of play styles promises to make players feel more unique and authentic on the pitch.
For instance, players like Jack Grealish and Jude Bellingham showcase their signature abilities with rapid dribbling and an instinctive style of finishing. Furthermore, each play style is powered by real-world data, ensuring that the movements and actions of players align closely with their real-life counterparts.
↖ Improved Tackling and Defensive Mechanics
One of the standout features of FC24 is the improved tackling and defensive mechanics. The development team has put significant effort into making tackling more realistic and rewarding. Players with high tackling stats will now be more successful in dispossessing opponents cleanly, resulting in a more enjoyable defensive experience.
Additionally, goalkeepers' hand animations have been given special attention to make their movements more lifelike and natural. The physics of player bodies and fabric on the kits have also been enhanced, contributing to a more immersive gameplay experience.
↖ Frostbite Upgrades and Enhanced Graphics
The FC24 team has worked on enhancing the game's graphics, creating a more atmospheric and immersive gaming environment. The upgraded Frostbite engine adds depth to the visuals with improved lighting effects, player physics, and pitch details.
The game also showcases improved ball physics and AI, further enhancing the overall realism of the gameplay.
↖ Release Date and Platforms
FC24 is set to release at the end of September, with versions available for PS5, Xbox Series X/S, and PC. However, players on PS4 and Xbox One won't have access to HyperMotion V, which is exclusive to the next-gen platforms and PC.
↖ Final Thoughts
Based on the FC24 gameplay deep dive trailer, it's evident that EA Sports is putting tremendous effort into delivering a more realistic and authentic football gaming experience. The introduction of HyperMotion V and expanded player play styles promise to make FC24 a worthy addition to the FIFA franchise.
As we eagerly await the game's release, players can look forward to an exciting football simulation that captures the essence of real-world matches while providing new and enhanced gameplay features. Stay tuned for more information and updates leading up to the release of FC24!
Most Popular Posts
Popular Category Lists