Madden 24 Wide Receivers: Ratings, Playbook, Training Regimen, and Selection Tips
In the fast-paced and competitive realm of Madden 24, success hinges on your ability to dominate the field and outmaneuver your opponents. As passionate gamers and avid fans of the franchise, we recognize the crucial role that Wide Receivers (WRs) play in turning the tide of any match. This comprehensive guide aims to assist you in uncovering the secrets to maximizing your WRs' performance, taking your Madden 24 gameplay to unprecedented levels.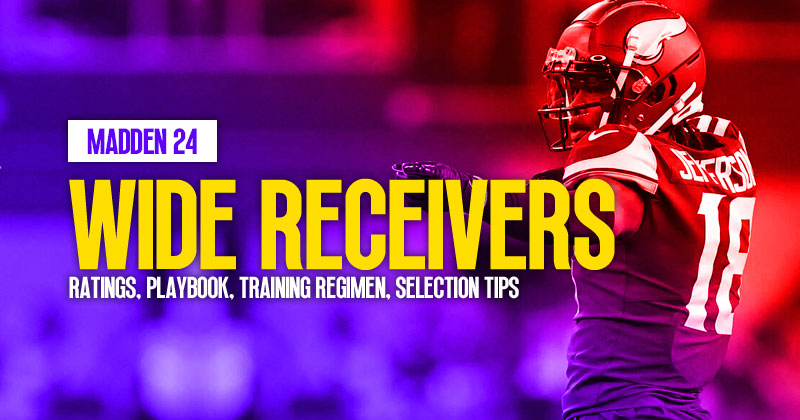 ↖ Vital Role of Wide Receivers (WRs)
In Madden NFL 24, Wide Receivers are the linchpins of any offensive strategy. Possessing speed, agility, and catching prowess, they have the potential to make game-changing plays, leading your team to victory. Understanding their roles and utilizing them effectively is paramount to success.
↖ Selecting the Ideal Wide Receivers (WRs)
In Madden 24, each WR possesses unique attributes, making the selection process crucial. Consider the following factors when choosing your WRs:
Speed: Speed is a critical attribute that gives your WRs an edge over defenders, allowing them to create separation and make explosive plays down the field.
Catching: The catching ability of a WR determines their reliability in snatching the ball from the air. Prioritize WRs with high catching stats for consistent receptions.
Route Running: A WR's route running proficiency significantly impacts their ability to evade defenders and find open spaces—Favour WRs with exceptional route-running skills.
Agility and Acceleration: Agile WRs can swiftly change directions, making them elusive targets for defenders. Combine agility with high acceleration for an advantage off the line of scrimmage.
↖ Madden 24: Top 10 Rated Wide Receivers Released
Rank
Player
Overall Rating
1
Justin Jefferson
99
2
Tyreek Hill
98
3
Davante Adams
97
4
Stefon Diggs
96
5
Cooper Kupp
96
6
Ja'marr Chase
94
7
DeAndre Hopkins
93
8
Terry McLaurin
92
9
AJ. Brown
91
10
Amari Cooper
91
In Madden 24, the players listed above have been assigned overall ratings based on their performances and skills. Justin Jefferson stands out as the first player to receive a 99 overall rating, while Tyreek Hill is close behind with a rating of 98. Despite slightly lower ratings than in previous years, Davante Adams and Stefon Diggs are still regarded as top-tier receivers, with ratings of 97 and 96, respectively.
Cooper Kupp has managed to maintain a rating of 96, despite facing injuries in the previous season, solidifying his place among the league's best. Ja'marr Chase, a young talent, has already earned an impressive rating of 94 and is expected to climb even higher in the ratings as the season progresses.
DeAndre Hopkins, despite moving to the Titans, remains a formidable receiver with a rating of 93. Terry McLaurin, limited by quarterback struggles, has earned a respectable rating of 92, showcasing his talent on the field.
Some debates surround AJ. Brown rating of 91, with arguments for a higher rating due to his exceptional performance last season, potentially placing him among the league's elite receivers. Amari Cooper rounds off the top 10 with a solid rating of 91, demonstrating consistent performance deserving of his spot among the best.
↖ Crafting a Winning Playbook for Your Wide Receivers
A well-crafted playbook forms the foundation of a successful Madden 24 team. Optimize your WRs' performance with these steps:
Assess Your WRs' Strengths: Understand the individual strengths of your WRs and design plays that capitalize on their abilities. Utilize speedy WRs for deep routes and agile WRs for quick slants and screens.
Diversify Route Combinations: Keep your opponents guessing by mixing up route combinations. Employ a blend of short, intermediate, and deep routes to keep the defense off-balance and maximize WR performance.
Incorporate Play-Action: Freeze defenders with play-action passes, creating opportunities for your WRs to get open downfield. Include play-action plays in your game plan for greater success.
Create Formation Variations: Experiment with different formations to confuse the defense. Trips, doubles, and spread formations can create mismatches and open up opportunities for your WRs to shine.
↖ Training Regimen for Elite Wide Receiver Performance
To elevate your WRs' performance to elite levels, a well-rounded training regimen is essential. Implement these tips to help your WRs reach their maximum potential:
Focus on Speed and Agility Drills: Enhance your WRs' agility on the field by conducting regular drills that improve footwork, change of direction, and acceleration.
Improve Catching Techniques: Catching is fundamental for any WR. Practice a wide range of catching techniques, including one-handed grabs and contested catches, to ensure success in any situation.
Film Study and Route Recognition: Encourage your WRs to study game footage to recognize defensive patterns and improve route running. Identifying defensive weaknesses will enable them to exploit openings effectively.
Mental Conditioning: Pay attention to the mental aspect of the game. Train your WRs to remain focused, composed, and confident, even under pressure.
Conclusion
With a firm grasp of the significance of WRs, thoughtful player selection, a winning playbook, and a targeted training regimen, you can unlock the full potential of your Madden NFL team's Wide Receivers. Remember that consistent practice, adaptability, and strategic thinking are the keys to dominating the field and achieving victory in every game. Arm yourself with this comprehensive guide, and get ready to soar to new heights of success in Madden NFL!
Most Popular Posts
Popular Category Lists