Madden 24 Superstar Mode Guide: Gameplay & Exciting Features
Madden NFL 24 Superstar Mode is back and better than ever, offering players an immersive experience that lets them step into the shoes of an NFL superstar. EA has listened to player feedback from previous years and focused on making the core gameplay and progression the highlights of this mode. Let's take a comprehensive look at what Madden 24's Superstar Mode has in store for players.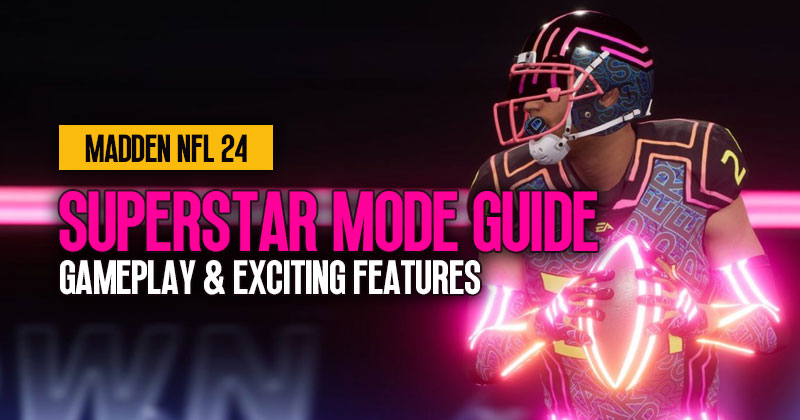 ↖ The NFL Combine Journey
Your path to stardom begins as a rookie entering the NFL draft. Choose your position: quarterback, running back, wide receiver, linebacker, or cornerback.
Mentorship by Coach Prime Deion Sanders guides you through the process.
Experience a modernized version of the playable NFL draft, showcasing your skills in events like the 40-yard dash, bench press, broad jump, and three-cone shuttle.
Your performance in each drill impacts your draft stock, and rewards earned can improve your ratings before the draft.
Starting ratings based on your chosen archetype determine your potential outcomes in each combined drill.
↖ Combine Interview and Draft
After completing the combine, face the Combine Interview, answering timed football-themed trivia questions to enhance your draft position.
The NFL draft position is based on your combined performance and team needs.
Override setting allows you to skip the draft process and choose any team you prefer.
↖ In-Game Player Grading System
Every play counts! Madden 24 introduces an all-new in-game player grading system exclusively for Superstar mode. Receive real-time feedback on your performance as you play, similar to the grading system in NBA 2K.
| | |
| --- | --- |
| Quarterbacks | Evaluate your decision-making and accuracy in throwing to open or covered receivers. |
| Wide Receivers | Make smart calls for the ball when open or covered to influence your grade. |
| Running Backs | Avoid getting tackled for a loss and master faking out opponents. |
| Linebackers | Deliver powerful tackles and avoid being faked out. |
| Defensive Backs | Excel in man coverage and prevent completions for a better grade. |
↖ Superstar Mission System
Engage in a comprehensive quest log with various objectives and rewards.
Pursue game goals, season objectives, career milestones, and off-field surprises.
Performance can lead to becoming a brand ambassador for iconic names like Nike, Jordan, and Adidas.
↖ Social Media Reactions
Your on-field performance and decisions trigger social media reactions.
React to your last game's performance, stats, and more.
Madden Cast, a live-action video podcast, provides unique commentary hosted by NFL legends.
↖ Side Activities and Mini-Games
Participate in side activities like community events, training, and recovery to boost ratings.
Engage in returning mini-games like rushing attack, passing skeleton, and wide receiver DB battle.
↖ Superstar Showdown
Unveil the Superstar Showdown, a fast-paced 3v3 football mode.
Compete with and against other Superstars globally.
Showcase your skills, improvise on the field, and level up your character alongside friends.
↖ Progression and Customization
Each playable position has a unique Avatar and progression path.
Customize both visuals and on-field impact for your Superstar characters.
Introducing the tiered ability system, enhancing abilities based on field actions and stats.
Mix and match abilities of different tiers to create diverse character builds.
↖ Off-Field Style and Celebrations
Embrace customization with custom emotes and celebration animations.
Flaunt your unique style and celebrate victories in your own way.
↖ 5 Best Things About Madden 24
| | |
| --- | --- |
| Improved Franchise Mode | Madden 24 has significantly improved the franchise mode, offering a more engaging and immersive experience. This year's updates include expanded relocation options, updated uniforms, and the ability to relocate as a coach immediately. New commissioner tools allow you to customize your league settings, making trades, regression, and more a breeze. |
| Revamped Superstar Mode | Say goodbye to Face of the Franchise and welcome back the classic Superstar mode. While not a complete return to its roots, Superstar mode now offers an improved experience. You'll enjoy the revamped combine with more drills, fewer forced storylines, and the ability to receive real-time feedback on your player's performance. |
| Cross-Platform Play (Cross Play) | Madden 24 introduces cross-platform play, allowing gamers on different systems to compete against each other. While there are concerns about server issues, you can opt out of cross-play if you prefer to stick within your system's player pool. Crossplay helps expand the player base and offers more challenging matches against users from various platforms. |
| Mini Games and Training | With the return of minicamp and the inclusion of new mini-games, Madden 24 provides engaging ways to improve your players' skills. These mini-games are available both in franchise mode and as standalone activities, adding variety and entertainment to your Madden experience. |
| Enhanced Gameplay Mechanics | Madden 24 has taken strides to improve its gameplay mechanics. Catching the ball and running plays have been refined, resulting in smoother and more realistic animations. Catching in stride has been particularly improved, allowing for more dynamic offensive plays. Run blocking and pathfinding for CPU running backs have also received attention, contributing to a more balanced gameplay experience. |
↖ 5 Worst Things About Madden 24
| | |
| --- | --- |
| Lackluster Presentation | Madden has historically struggled with the presentation, and Madden 24 is no exception. Despite minor improvements in player interactions between plays, the game needs a comprehensive halftime show, updated announcer crew, and branded presentation for prime-time games. |
| Limited Customization Options | Customization options in Madden 24 remain limited. While franchise mode has seen updates, the absence of create-a-team, create-a-play, and create-a-fan features could be much better. The promised additions, like custom equipment and tattoos, have yet to materialize. |
| Restricted Superstar Mode Positions | Although Superstar mode returns, players are still limited to a specific set of positions. The absence of options like kickers, pass rushers, and offensive linemen diminishes the mode's appeal. This limitation needs to be addressed to offer a truly versatile Superstar experience. |
| Neglected MUT Draft Mode | The MUT Draft mode, once beloved by players, has been left unattended for years. This mode's potential for engagement and fun has yet to be explored, unlike similar modes in other sports games. Players are yearning for updates and improvements to revitalize the MUT Draft experience. |
| Delayed Cross-Platform Play for Franchise Mode | While cross-platform play is a positive addition, its absence in franchise mode at launch disappoints players looking forward to more active leagues. The delayed implementation aims to ensure a smooth experience, but the wait may be frustrating for those eager to engage in cross-platform franchise competition. |
Conclusion:
Madden 24's Superstar Mode is a dynamic and immersive experience that lets you Live Your Dream as an NFL superstar. Dive into the NFL Combine, engage in the Superstar Mission System, dominate the field with in-game player grading, and showcase your talents in the Superstar Showdown. With progression, customization, and a focus on gameplay, Madden 24 Superstar Mode delivers an exciting career mode tailored to your aspirations.
Most Popular Posts
Popular Category Lists