Madden 24 Best Blitz & Base Defense: How to quickly stop the opponent's running and passing?
Madden NFL 24 introduces new defensive strategies that can be incredibly effective at shutting down the run and disrupting the passing game. In this article, we'll delve into the strategies, formations, and plays that make up the best blitz and base defense, ensuring your victory by shutting down both run and pass plays. This strategy can turn the tide in your favour, leading to instant sacks, turnovers, and a lockdown defense that frustrates your opponents.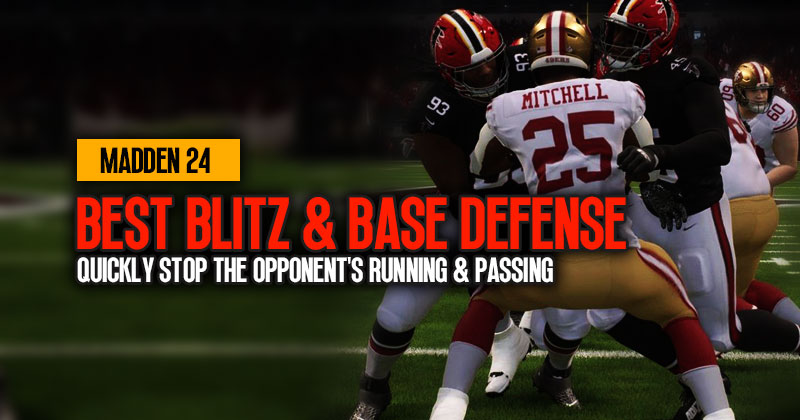 ↖ The Defensive Setup
To unleash the full potential of this devastating defense, follow these key steps:
Formation Choice: Utilize the 3-4 Odd formation for its effective setup.
Player Selection: Choose a team with speed and agility, such as the Philadelphia Eagles, to capitalize on linebacker speed.
Play Selection: Employ three different plays throughout the game: Man Zero Blitz, Cover Four Drop, and Cover Four Quarters.
↖ Coaching Adjustments
Fine-tune your defense with crucial coaching adjustments:
Auto Alignment: Set your defense to Base pre-snap alignment to maintain consistent pre-snap appearances and confuse opponents.
Defensive Playbook: Opt for a playbook that features the plays you plan to use, like the New Orleans Saints or a similar option.
↖ Play Breakdown
Here's a detailed breakdown of each play within this dominant defense:
Man Zero Blitz ("Pinch Buck Zero")
Pre-Snap: Pinch the entire defensive line (RB/R1 + Down on the Left Stick) to close inside run lanes and position safeties in the box.
Coverage Adjustment: Drop back outside cornerbacks while keeping safeties near the line of scrimmage.
Additional Step: Blitz all linebackers (D-Pad Left + Down on the Right Stick) for extra pressure.
Usage: Control the blitzing linebacker, anticipate the snap count, and aim for the guard gap for potential sacks and hurries.
Cover Four Drop
Pre-Snap: Pinch the defensive line as in the Man Zero Blitz.
Coverage Adjustment: Drop all defenders into coverage with a focus on protecting against deep passes.
Usage: Mix up playcalling to keep opponents guessing between zone and blitz plays, creating confusion for the quarterback.
Cover Four Quarters (Optional)
Pre-Snap: Similar setup to Cover Four Drop.
Coverage Adjustment: Drop into coverage to thwart both short and deep passes.
↖ Tips for Success
Here are some additional tips to enhance your effectiveness with this defense:
Variation: Alternate between Man Zero Blitz and Cover Four Drop to maintain unpredictability and force quick pre-snap reads.
User-Controlled Pressure: Utilize the blitzing linebacker to pressure the quarterback, forcing hurried throws or sacks.
Underneath Coverage: Be cautious not to over-blitz, as it can leave you vulnerable to short routes. Use conservative playcalling to bait opponents into throwing into your coverage.
↖ Offensive Strategy
To complement your stellar defense, consider using the Gun Stack Y-Flex offense for balanced and effective offensive plays. Utilize both deep passes and short, high-percentage throws to keep your opponents off-guard.
Remember, practice makes perfect, so get out there and refine your defensive skills to become a true Madden NFL 24 champion!
Conclusion:
By mastering the best blitz and base defense in Madden NFL 24, you'll be poised to shut down opponents' run and pass plays with ease. The combination of effective plays, precise coaching adjustments, and strategic usage will make you a formidable force in the virtual field. Whether you're aiming to dominate the competition or fine-tune your skills, this guide provides the tools you need to achieve victory in every game.
Most Popular Posts
Popular Category Lists