Madden 24: Top 5 Best Offensive Playbooks You Need To Know
In this guide, we unveil the Madden 24 top 5 offensive playbooks that hold the secrets to outsmarting your opponents and achieving gridiron glory. From classic powerhouses like the New England Patriots to dynamic choices like the New York Jets, these playbooks offer an array of formations, plays, and tactics that will keep you steps ahead of your competition. Delve into the nuances of each playbook, explore their strengths and weaknesses, and guide you through the art of execution, strategy, and adaptation.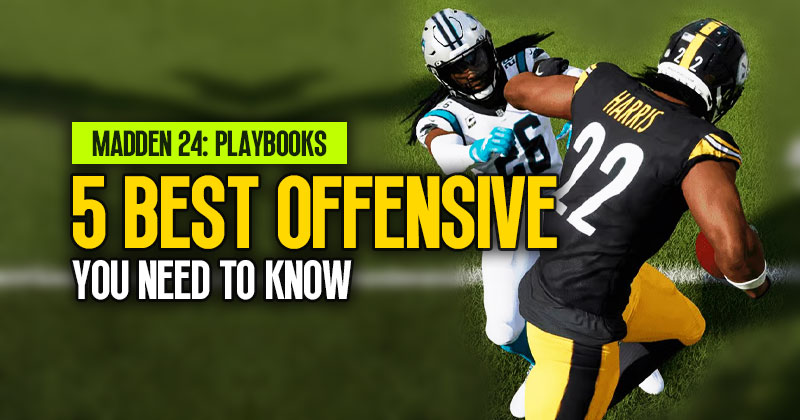 Note: The rankings and analysis provided are based on popular opinion and the playbook's potential for success. Remember, your personal play style and preferences might differ, so feel free to explore the options and find what works best for you.
↖ 5. New England Patriots Offensive Playbook

The Patriots Playbook has stood the test of time and offers some of the best-passing formations in the game. Key formations to watch out for include:
Trips Tight End
Y Off Trips Pats
Bunch
Bunch Strong Offset
Single Back formations (new additions: Bunch X Nasty, Single Back East)
Pros
Cons

Consistency over the years
Strong passing formations like Trips Tight End
Effective bunch formations
New formations add versatility

Limited focus on under-center formations
↖ 4. Eagles and Colts Offensive Playbooks

The identical Eagles and Colts playbooks are perfect for players who love designed quarterback runs and RPOs. Shotgun formations and creativity are the highlights here:
Gun Bunch Offset
Gun Wing Tight
Gun Tight Slots
Gun Bunch Quads
Pros
Cons

Designed QB runs and RPOs
Shotgun formations galore
Effective plays from Gun Bunch Offset and Gun Tight Slots

Lack of fullback formations
Less under center options
↖ 3. Green Bay Packers Offensive Playbook

The Packers playbook provides a balanced approach with a mix of the single back, shotgun, and strong passing formations. Keep an eye on these formations:
Deuce Close
Single Back Wing Flex Close
Gun Bunch Tight End
Gun Y Off Trips
Gun Type Y Off
Pros
Cons

Balanced mix of formations
Strong passing formations in Gun Bunch Tight End and Gun Y Off Trips
Effective under-center formations

Some formations may lack necessary pass plays
↖ 2. Cincinnati Bengals Offensive Playbook

The Bengals playbook is a shotgun-heavy choice with a focus on formations like Gun Tight Off and Tight Slots:
Gun Tight Offset TE

Gun Bunch Offset

Tight Slots

Gun Bunch Quads

Pros
Cons

Shotgun-centric playbook
Strong formations like Gun Tight Offset TE and Gun Bunch Offset
Versatility in playcalling

Limited fullback formations
May require adjustments to suit your play style
↖ 1. New York Jets Offensive Playbook

The cream of the crop, the Jets playbook offers a diverse range of formations and plays, almost like a custom playbook:
Ace Close

Deuce Close

Bunch Tight End

Gun Bunch Tight Offset

Tight Offset TE

Pros
Cons

Versatility and diversity
Wide array of formations to choose from
Strong shotgun formations and plays

Some formations might be missing key plays
↖ Key Features of the Offense
Versatile Run Plays: Learn the most effective run plays that consistently gain yards, even against stout run defenses.
Unstoppable Glitch Routes: Discover glitch routes that exploit defensive weaknesses and consistently lead to big plays.
One-Play Touchdowns: Uncover specific plays that are designed to score against almost every defense in the game.
Flexibility and Adaptation: Understand how to adjust your plays based on the defensive formations and coverages your opponent uses.
↖ Offensive Strategy Breakdown
Play Selection and Audibles:

Utilize the Gun Stack Y Flex offense, available in the New Orleans Saints playbook.
Driveways Wheel: A reliable dink-and-dunk play effective against Cover Zero and Cover One.
Core Plays:
Driveways Wheel: A reliable dink-and-dunk play effective against Cover Zero and Cover One.
Inside Zone: A dependable run play to gain yards against light defensive boxes.
Z Spot: A versatile play that targets Cover Three defenses effectively.
PA Read: A one-play touchdown option against most defenses except Cover Three.
Y Sail: A flexible play that provides both short and deep options against man or zone coverage.
Effective Execution:
Adjust routes and player positions based on the defensive coverage.
Utilize hot routes to exploit openings in the defense.
Master the art of making quick reads and smart decisions under pressure.
↖ Gameplay Walkthrough
Dominating on Defense:
Apply effective defensive schemes to shut down opponents and create turnovers.
Mix up blitzes and coverage strategies to keep your opponent guessing.
Combine pressure and coverage to create disruptive plays and force turnovers.
Attacking with Precision:
Use a balanced mix of run and pass plays to keep the defense off-balance.
Exploit defensive weaknesses by identifying coverage and making the right reads.
Opt for higher-percentage plays on short-yardage situations to maintain possession.
Adjustments and Adaptations:
Recognize defensive adjustments and adapt your play calling accordingly.
Switch between run and pass plays based on the defensive front.
Make pre-snap adjustments to exploit coverage mismatches and open passing lanes.
Exploiting Glitch Routes:
Recognize glitch routes and exploit coverage gaps for explosive plays.
Understand how to create mismatches and confusion in the secondary.
Related: Madden 24 6 Best Defensive Playbooks.
Conclusion:
There you have it, Madden enthusiasts! The top five offensive playbooks in Madden 24 dominate the virtual gridiron. Keep in mind that this list is based on popular opinions and trends, so feel free to explore and experiment to find the playbook that best suits your play style. Remember, practice makes perfect, and mastering your playbook can be the key to success on the field. Game on!
Most Popular Posts
Popular Category Lists