Madden 24 Tips & Tricks: Blitz and Base Defense Strategy Guide
Do you need help to stop the run and pass in Madden NFL 24? Do you want to dominate your opponents with a defense that can shut down even the fastest teams in the game? Look no further! In this guide, we'll break down the fastest, most reliable defense in Madden NFL 24 that will help you stop both the run and pass. Get ready to gain the upper hand with our gameplay tips and tricks.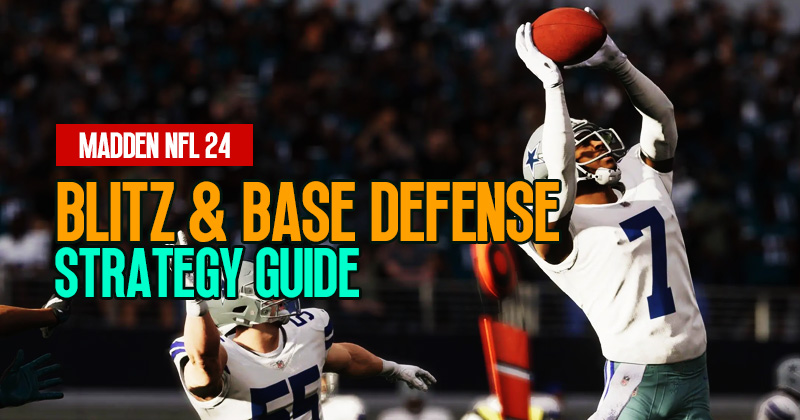 ↖ Introduction
In Madden NFL 24, speed and agility are crucial elements for any successful defense. We'll reveal a powerful defensive strategy that combines the best of blitzing and base defense to halt your opponent's every move. But first, let's take a look at the key elements that make this defense so effective.
↖ Key Features of the New Meta Defense
Speed and Agility: This defense is designed to match the speed of even the fastest offensive players, making it ideal for countering speedy teams like the Miami Dolphins.
Versatility: Our defensive strategy works well against both the run and pass, giving you the flexibility to adapt to your opponent's play style.
Blitzing Success: The blitzes we'll discuss can apply intense pressure on the quarterback, leading to instant sacks and disrupted passing plays.
↖ Big Nickel over G
The foundation of our defense is the Big Nickel over G formation. This formation deploys a combination of safeties and cornerbacks to match the speed of your opponent's offense. Here's a quick breakdown of the defensive setup:
Personnel: We recommend having six defensive backs on the field, including three cornerbacks and three safeties. Keep a fast linebacker, like The Kobe Dean, in the game to assist with run defense.
Auto Alignment: Set your Auto Alignment to Base to ensure consistent pre-snap positioning across various coverages.
↖ Defensive Playbook
Blitz Packages
We'll primarily focus on two blitz packages from the Big Nickel over G formation:
SS Safety Blitz: This blitz sends extra pressure by blitzing the user assigned to the running back. You'll drop back into coverage after the snap, but be prepared to cover the running back if he goes on a pattern.
Linebacker Blitz: This blitz emphasizes coverage. You'll hover over the gap before the snap, and once the play begins, you won't have any coverage responsibility. This allows you to freely disrupt passing plays and cut off routes over the middle.
Additional Adjustments
In obvious passing situations, set your defenders to Guess Pass to make rushers prioritize the quarterback over play-action fakes.
Customize your blitzes based on your opponent's tendencies, whether it's sending extra pressure or focusing on coverage.
↖ In-Game Examples
Let's break down some in-game situations to showcase the effectiveness of this defense.
| Play 1 | Situation | Response |
| --- | --- | --- |
| Speedy Offense | Facing a fast offense like the Miami Dolphins. | Switch to The Big Nickel over G formation to match the speed. |
| Man Coverage | Opponent running man coverage. | Utilize PA Double Post with the motion to exploit mismatches and score a touchdown. |
| Versatility | Opponent changing coverages frequently. | Mix up your coverages to keep your opponent guessing. |
| Critical Third Down | Critical third down inside the red zone. | Execute precise plays to keep the drive alive. |
Conclusion:
With the fastest, most reliable defense in Madden NFL 24, you can shut down both the run and pass, regardless of your opponent's speed. Utilize The Big Nickel over G formation and its blitz packages to gain the upper hand in your games. Remember to adapt your playcalling based on your opponent's tendencies, and you'll see incredible results on the field. Get out there and dominate with this new meta-defense. Good luck, and may your Madden journey be filled with victories!
Most Popular Posts
Popular Category Lists