EAFC 24 4231 Meta Formation Guide: Tactics and Instruction
The 4231 formation, customized with TXS (Tactical Xavi's Style), has emerged as the most META formation to give you those coveted wins. It is currently considered the most meta formation in FIFA 24, along with detailed tactics and instructions to help you master it. In this guide, we will delve into the reasons behind the formation's effectiveness and provide you with step-by-step instructions on how to use it to dominate your opponents.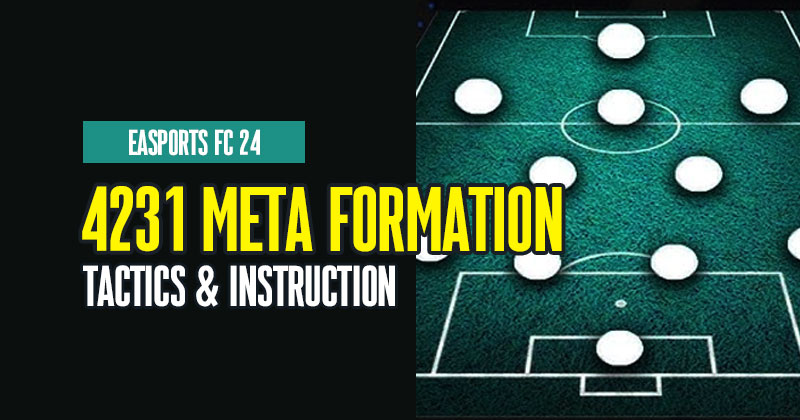 ↖ Why Choose the 4231 Formation?
Let's begin by understanding why the 4231 formation stands out among the rest. Many FIFA players struggle with defending, and the 4231 offers a solution by allowing you to employ two central defensive midfielders (CDMs) while also having a central attacking midfielder (CAM) drop back. This unique setup provides defensive stability that can't be matched by other formations.
For those of you who excel at left-stick dribbling and driven passes into the middle, the 4231 formation can thwart control-sprint strategies and make it challenging for opponents to break through. When you're on the attack, the 4231 deploys five players in the offensive phase, with one of your CDMs joining the attack to create a numerical advantage. This formation not only excels defensively but also offers an impressive attacking force while providing a safety net in case you lose possession.
↖ Tactics
Now, let's dive into the exact tactics and instructions you should use with the 4231 formation:
Defensive Style: Start with the Balanced defensive style. Avoid using anything more aggressive like Press on Heavy Touch or Constant Pressure to prevent getting punished.
Defensive Width: Set the defensive width to 45. This width strikes a balance between compactness and preventing opponents from exploiting gaps in the middle.
Defensive Depth: Keep the depth at 39. Avoid going too high (e.g., 70), as it can affect your team's pressing and lead to positional mistakes.
↖ Buildup Play
Buildup Play: When it comes to buildup play, you have two primary options: Long Ball and Balanced. If you're struggling with creating chances, Long Ball can help your players make forward runs. However, if you prefer a slower, more methodical approach, stick with "Balanced."
Buildup Play Width: Maintain a width of "55" for your buildup play. This setting keeps your wide players positioned effectively without spreading them too thin.
Players in the Box: You can leave this setting at "4" for both corners and free kicks. Adjust this based on your preferences for set pieces.
↖ Player Instructions
Striker (ST): Stay Central, Get in Behind, Stay Forward
Central Attacking Midfielder (CAM): Stay Forward
Left Attacking Midfielder (LAM) and Right Attacking Midfielder (RAM): Balanced, Get into the Box for Cross
Central Defensive Midfielders (CDMs - Both): Cut Passing Lanes, Stay Back While Attacking, Cover Center
Left Back and Right Back (LB & RB): Balanced, Get into the Box for Cross, Overlap
Center Backs (CBs - Both): Balanced
Goalkeeper (GK): Sweeper Keeper
↖ Player Selection and Roles
Select players based on their attributes to maximize the effectiveness of the 4231 formation:
Striker (ST): Ideally, choose a striker with a 5-star weak foot, good pace, and the ability to stay central, get in behind, and stay forward.
Central Attacking Midfielder (CAM): Look for a player who can play as a number 10, with good passing, dribbling, and the ability to stay forward.
Left and Right Attacking Midfielders (LAM & RAM): Opt for pacey and agile wingers who can perform as wide attackers. They should have the ability to cut inside and contribute to the attack.
Central Defensive Midfielders (CDMs): Choose versatile players who excel in both defensive and offensive aspects. They should have good defensive stats, stamina, and work rates that suit your playstyle.
Left Back and Right Back (LB & RB): Prioritize full-backs with speed, dribbling ability, and the stamina to overlap and contribute to the attack.
Center Backs (CBs): Select reliable center-backs with strong defensive stats and the ability to build up play from the back.
Goalkeeper (GK): Use a goalkeeper with Sweeper Keeper instructions to take advantage of their ability to come off the line effectively.
Conclusion:
No like 4222 formation, The 4231 formation, when used with the recommended tactics and instructions, can significantly enhance your gameplay in FIFA 24. Remember that mastering this formation requires practice and adapting to your own playstyle. While the tactics and instructions provided here are highly effective, always be open to adjustments based on your personal preferences and the evolving FIFA 24 meta.
Most Popular Posts
Popular Category Lists