How Can You Make the Most of Most Feared Part 4 in Madden 24 Ultimate Team?
Where the Most Feared Part 4 has just hit the gridiron in Madden 24. Here we'll navigate through the highs and lows of the latest content drop. Discover how to claim your free 89 overall Spirit player and unlock the potential of Terry Tate, the iconic Office Linebacker. We'll delve into the disappointing Jack-O-Lantern pack situation, Unwrap the Mystery Packs and explore the rewards within. With the new Most Feared Part 4 cards, including limited edition stars and champions, we'll help you make informed decisions for your team.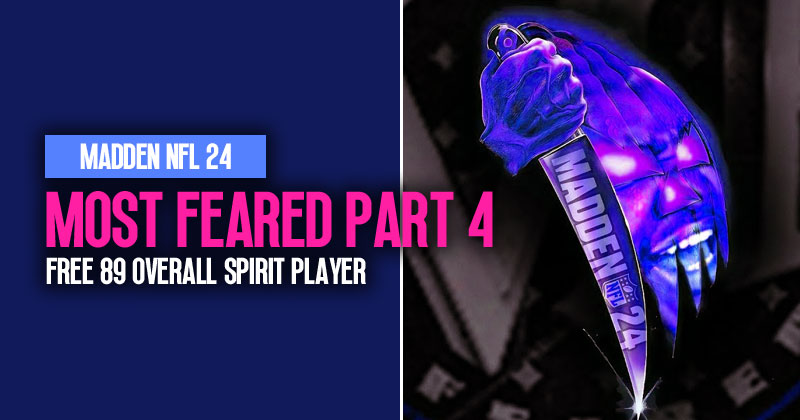 ↖Overview
The final installment of the Most Feared promo has arrived, just in time for Halloween. While Part 3 was impressive, Part 4 brings us some exciting content. We'll take a look at how to earn your free 89 overall Spirit player, but first, let's get to know who that player is.
This time, it's not an NFL player but the iconic Office Linebacker Terry Tate from a memorable commercial. His attributes are impressive, making him a valuable addition to your team. So, let's explore how to upgrade him from an 82 to an 89 overall for free.
Play Through Most Feared Solos:
To get your free 89 overall Spirit player, you need to complete the Most Feared solos.
These solos will reward you with Spirit letters that you can exchange in a set.
Completing all three sequences and earning 120 stars will grant you four upgrade tokens.
Upgrade Terry Tate:
Take these four upgrade tokens and apply them to Terry Tate's card, increasing his overall from 82 to 89.
Terry Tate offers impressive attributes, including 88 speed, 87 block shed, 90 power move, and the ability to get Lurk Artist for just 1 AP.
↖ Jack-O-Lantern Pack Scam
Now, let's address the disappointing Jack-O-Lantern pack situation. EA introduced a promising feature where you could earn Jack-O-Lantern collectibles by spending treats. The idea was to exchange these collectibles for random packs. However, EA implemented this feature poorly, requiring two collectibles to open one pack.
This has left many players with an odd number of collectibles and no clear use for them. Furthermore, the set was supposedly repeatable up to 10 times, even though the maximum number of collectibles that could be earned was 10. This inconsistency reflects a significant failure on EA's part.
↖ Opening Mystery Packs
Despite the Jack-O-Lantern pack disappointment, we can still redeem the collectibles and open Mystery Packs. Each pack contains various rewards. Here's a walkthrough of the process:
Place Collectibles in the Set: Head over to the Sets section and insert your Jack-O-Lantern collectibles to receive Mystery Packs.
Open Mystery Packs: Open your Mystery Packs to reveal the contents.
Rewards: The Mystery Packs contain rewards like Legend Packs, which contribute to your pack counter and reward milestones.
↖ Most Feared Part 4 Cards
Let's take a look at the new cards introduced in Most Feared Part 4. There are four cards in total, including two LTDs and two Most Feared Champions.
Kamara: Kamara is a running back with 91 speed, 90 acceleration, and 85 catch. He is an ideal choice if you prefer a running back who can catch passes. Expect him to receive the Running Back Apprentice chemistry.
Night Train Lane: Night Train Lane excels in man coverage with 92 speed and 92 man coverage. If you primarily run man coverage, this card is perfect for your lineup.
Garrett Wilson (LTD): Garrett Wilson is a wide receiver with 91 speed, and he may impact the prices of other 91-speed receivers like Justin Jefferson, OBJ, and Jamar Chase.
Bradley Chubb (LTD): Bradley Chubb, an outside linebacker, boasts 89 speed, 91 finesse move, and 91 block shed. He's a valuable addition to your defense if you can find him at a reasonable price.
↖ Promotional Pack Offers
EA has introduced new promotional pack offers to accompany Most Feared Part 4. Here's a quick overview:
Stellar Champion Pack ($50): This pack allows you to choose one of two released 90 Most Feared Champions. It also contains three 87 Most Feared players, which can help you complete sets.
Most Feared Pack ($25): This pack features two LTDs in packs and provides 12 83+ Most Feared players. It might be a more budget-friendly option.
Big Bundle ($100): This bundle is expensive and not recommended for most players. Even if you pull an LTD, it's not worth spending $100 on a promo that's nearing its end.
↖ Treat Store
Don't forget to visit the Treat Store to spend your remaining treats. You can still earn treats by participating in Monster Mayhem and Trick-or-Treat events. The primary recommendation is to purchase the 83 Plus Pack for 1,800 treats, as it has the potential to yield valuable cards and LTDs.
Conclusion:

Most Feared Part 4 brings exciting new content to Madden 24 Ultimate Team. Despite the Jack-O-Lantern pack disappointment and questionable decisions by EA, there are plenty of opportunities to enhance your team and enjoy the game. Make smart decisions about your spending and focus on earning treats to open the 83 Plus Pack. Keep an eye out for the upcoming All Madden promo, and remember to save your coins and training for future upgrades. We hope you found this guide helpful, and stay tuned for more Madden 24 content from Popular Stranger. Thanks for watching, and we're out! Peace.
Most Popular Posts
Popular Category Lists