How to Make Gil with outdoor furnishing | FFXIV Patch 6.4?
With the highly anticipated Patch 6.4 coming to Final Fantasy XIV, players are presented with a unique opportunity to amass FFXIV Gil by utilizing the Island Sanctuary exclusive outdoor furnishing feature. This exciting addition allows adventurers to adorn their Island Sanctuary with various outdoor items, offering a potential avenue for substantial profit. In this guide, we will explore the different strategies and tips to maximize your earnings through outdoor furnishing in the upcoming patch.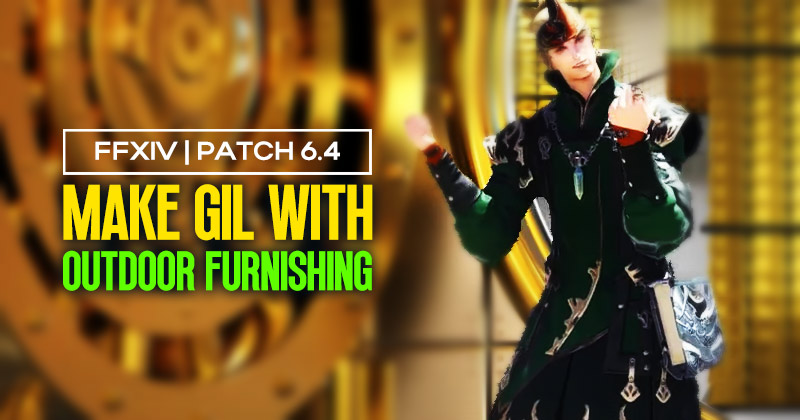 ↖ Placing Items in Hideaway Structures
Before delving into the strategies, it's crucial to understand the initial restrictions associated with the Island Sanctuary's outdoor furnishing. Notably, items with unique functions, such as striking dummies or gardening plots, cannot be placed on the Island Sanctuary. Instead, items must be positioned near the existing structures within the Hideaway. Keep an eye on any new restrictions that may arise as the patch evolves.
↖ Must-Have Outdoor Items
Certain types of outdoor items are poised to have a high demand, as players seek to create visually appealing and functional spaces. Here are some key categories of outdoor items that are likely to be popular:
Outdoor Floorings: Items like Garden gravel, brick paving, and various stepping stones are expected to be in demand due to their decorative and practical uses.
Partition-Like Items: Low Garden Hedges, hedge partitions, stone garden walls, and bamboo fences can help segregate different areas, adding depth to your Island Sanctuary.
Lamp Posts: Illumination is crucial for nighttime activities. Consider investing in lamp posts like the Glade Oasis or Rivera to light up your outdoor spaces.
↖ Crafting and Purchasing Furnishings
Whether you prefer crafting or purchasing, there are several ways to acquire outdoor items for your Island Sanctuary.
Crafting: Many of these items are craftable, and the crafting requirements are not overly demanding. Even lower-level items can be crafted with basic gear, provided you meet the required crafting level. Carpentry and Alchemy are two crafting classes ideal for creating specific outdoor items.
Vendor Purchases: Some items can be purchased from vendors using Gil, scripts, or bicolour gemstones. Keep an eye on vendors on the Island Sanctuary for valuable items like low Garden Hedges, stone garden walls, and gravel, among others.
Master Recipe Books: If you can't find a particular item in your crafting log, it might be locked behind a master recipe book. Acquiring these books will unlock new crafting opportunities.
↖ Gearing Up for the Patch
Even if you're not a dedicated crafter, there are steps you can take to prepare for Patch 6.4 and maximize your Gil-earning potential.
Bicolour Gemstones: Non-crafters can obtain bicolour gemstones by participating in Fates or other in-game activities. These gemstones can be used to purchase valuable outdoor furnishings.
Vendor Items: Some outdoor furnishings are already available from vendors, such as the Lakeland elf tree from the Shadowbringers vendor at Fort Jobb. Stock up on these items as they might become highly sought after.
Island Sanctuary Currencies: Accumulate Island Sanctuary currencies and save them for new items introduced in the patch or for investing in popular items that may see a surge in demand, such as stone garden walls.
Conclusion:
The Island Sanctuary's exclusive venture into outdoor furnishing presents an exciting opportunity to accumulate Gil in Final Fantasy XIV's Patch 6.4. Whether you choose to craft these items or purchase them from vendors, there are numerous avenues to turn a profit. Stay vigilant regarding restrictions and evolving market demands, and be well-prepared for the upcoming patch to ensure your success in the realm of outdoor furnishing and Gil-making. Happy adventuring!
Most Popular Posts
Popular Category Lists