NBA 2K24 MyPlayer Builder: How to Maximize Player the Potential?
As NBA 2K24 approaches, players are eagerly anticipating the release of the MyPlayer Builder, a pivotal element of the game that allows you to create a player tailored to your unique playstyle. The integration of the archetype system with gameplay mechanics is essential for the game's success. In this guide, we will delve into the NBA 2K24 MyPlayer Builder and provide you with key considerations to create a player build that maximizes their potential within the game's mechanics.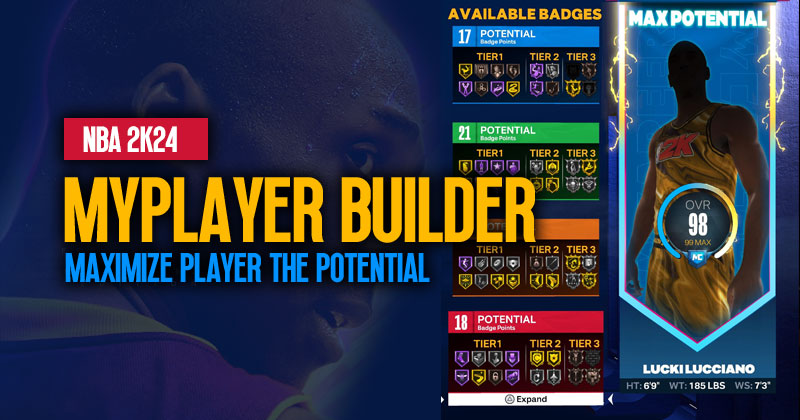 ↖ Build Identity and Name
In previous versions of the game, the build name was a clear reflection of the player's abilities and playstyle. However, recent iterations have lost this connection. To enhance player immersion and understanding, NBA 2K24 should reintroduce build names that effectively communicate a player's strengths and abilities. This clarity will empower players to choose the right build that aligns with their desired playstyle.
↖ Animation Unlocking
To encourage strategic attribute progression, NBA 2K24 should link the unlocking of advanced animations to higher attribute ratings. This dynamic ensures that players must invest in specific attributes to access powerful moves and skills. By doing so, the game adds depth to character progression and fosters thoughtful decision-making when crafting your player.
↖ Diverse Archetypes
The community has been vocal about their desire for more diverse and specialized archetypes. Rather than promoting all-around "do-it-all" builds, NBA 2K24 should emphasize unique strengths and weaknesses for each archetype. This approach encourages players to create distinct builds tailored to their preferred playstyles, enriching the overall gameplay experience.
↖ Gameplay-Build Synergy
The synergy between gameplay mechanics and the MyPlayer Builder is pivotal for NBA 2K24's success. When these elements seamlessly integrate, they create a balanced and rewarding experience for players. A well-crafted player build should feel purposeful and distinct on the court, highlighting the importance of ensuring that gameplay and build choices complement each other.
↖ Meaningful Attributes
Attributes should significantly impact gameplay, driving players' capabilities on the court. It's imperative that attributes like standing dunk have a noticeable effect even at lower levels. Balancing these attributes appropriately ensures that higher attribute ratings truly offer tangible advantages, enhancing strategic decision-making when designing your player.
↖ Double Archetypes
Drawing on the nostalgia of the double archetype system from NBA 2K19, NBA 2K24 could reimagine this system to introduce fresh and compelling options. This revamp would provide players with greater flexibility in shaping their characters, resulting in a wider array of viable playstyles and enhancing the replay value of the game.
↖ Moving Shot Attributes
The reintroduction of moving shot attributes introduces an extra layer of depth to player specialization. By differentiating between shots off the dribble and stationary shooting, players are compelled to make conscious decisions about their playstyle and build choices. This innovation ensures that certain moves and shots remain exclusive to players with specific attribute ratings, further emphasizing build diversity.
↖ Balanced Height Options
To promote diversity and eliminate the prevalence of specific heights dominating the game, NBA 2K24 should strive for balanced attribute distributions across various height options. This approach enables players to make meaningful decisions regarding their player's physical attributes without feeling compelled to select particular heights for optimal performance.
↖ Realistic Options
Balancing realism with engaging gameplay is essential. While realism is desirable, it shouldn't hinder the overall enjoyment of the game. Unrealistic constraints, such as overly restricting shooting percentages or excessively difficult contested shots, can detract from the experience. Finding the right balance ensures players have an immersive and enjoyable time on the court.
↖ Variety and Viable Builds
The presence of numerous viable builds is critical for fostering variety and competitiveness within the game. NBA 2K24 should offer a wide array of viable options, enabling players to encounter diverse builds in gameplay. This variety contributes to more strategic and engaging matches, enhancing the overall quality of the NBA 2K24 experience.
Conclusion:
The NBA 2K24 MyPlayer Builder is a critical component of the game's success. By focusing on building identity, meaningful attributes, gameplay-build synergy, and a wide range of viable options, NBA 2K24 can deliver a rewarding and immersive experience for players. Remember, the synergy between the MyPlayer Builder and gameplay mechanics is crucial for an enjoyable and balanced game.
Most Popular Posts
Popular Category Lists