Madden 24 Quarterback (QB): Ratings, Playbooks, Ideal Traits and Archetypes
Madden 24 delivers an unparalleled football gaming experience with its focus on the league's top quarterback (QB). Whether you prefer precision passing or electrifying scrambles, this game has it all. Dive into specialized playbooks, shape your virtual franchise, and immerse yourself in the excitement of NFL action. With a variety of archetypes and strategic possibilities, Madden 24 keeps you engaged and entertained, ensuring countless hours of thrilling gameplay.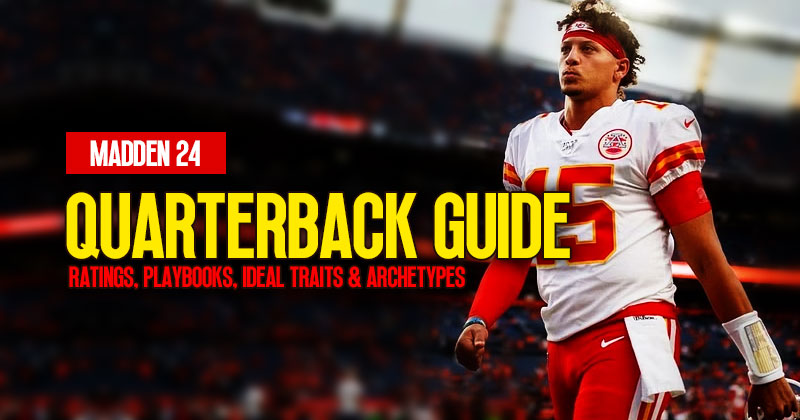 ↖ Top 10 OVR Rating QBs
Here we'll take a closer look at the top 10 quarterbacks based on their Overall (OVR) ratings. These QBs are the stars of the game, and their performances can significantly impact the Madden community's discussions and gameplay choices.
Patrick Mahomes - 99 OVR
As the reigning champion and leader of the Kansas City Chiefs, Patrick Mahomes takes the crown as the best QB in Madden 24. After an impressive season, Mahomes has returned to the prestigious 99 Club, making him a formidable force on the field. Expect Kansas City to be a top contender for another Super Bowl with Mahomes at the helm.
Joe Burrow - 95 OVR
Joe Burrow, affectionately known as "Joe Cool," has risen in the ranks, climbing from a 90 OVR in Madden 24 to an impressive 95 OVR in Madden 24. Despite the Cincinnati Bengals' team performance not matching their previous season, Burrow's individual stats remained stellar. With a promising future ahead, Burrow is poised to continue delivering outstanding numbers in the upcoming season.
Josh Allen - 94 OVR
Gracing the cover of Madden 24, Josh Allen stands tall as the third-best QB in the game. The Buffalo Bills quarterback had an exceptional year, showcasing his dual-threat capabilities. Allen's ability to excel in both running and passing makes him a formidable opponent. The Madden Curse looms, but Allen's talent may prove to be unstoppable.
Lamar Jackson - 91 OVR
Lamar Jackson's talent as both a passer and runner is undeniable. Despite some off-season controversies, he remains committed to leading the Baltimore Ravens. The only concern is his injury history, as staying healthy will be crucial for him to reach his full potential on the field.
Jalen Hurts - 88 OVR
Jalen Hurts emerged as one of the best stories of the previous season, turning the Philadelphia Eagles into an offensive powerhouse. With remarkable displays of skill, including impressive connections with A.J. Brown and DeVonta Smith, Hurts has earned his spot in the top 10. To solidify his position, he'll need another MVP-level performance in the upcoming season.
Justin Herbert - 87 OVR
Justin Herbert's talent as a QB is unquestionable, even if some critics label him a "social media QB." His deep throws are precise and accurate, making him a dangerous threat on the field. However, the Los Angeles Chargers must overcome their playoff struggles to boost Herbert's OVR rating further.
Dak Prescott - 87 OVR
In Dallas, Dak Prescott has demonstrated glimpses of being a top-three QB in the league. However, costly mistakes have held him back. With a new target in Brandin Cooks, Prescott has a chance to shine and lead the Cowboys deep into the playoffs.
Aaron Rodgers - 86 OVR
A significant storyline in Madden 24 is Aaron Rodgers' move from the Green Bay Packers to the New York Jets. Once a 96 OVR QB, Rodgers now faces the challenge of proving his abilities in a new team. The talent is there, but questions surround his performance after a season that hinted at regression.
Kirk Cousins - 84 OVR
Kirk Cousins remains an above-average QB, retaining his spot in the top 10. Supported by wide receiver Justin Jefferson, Cousins has the tools to succeed. However, minimizing mistakes will be crucial for him to maintain his position against potential newcomers like Trevor Lawrence.
Tua Tagovailoa - 83 OVR
Completing the top 10 is Miami's Tua Tagovailoa. Despite injury concerns, Tagovailoa's presence greatly impacts the Dolphins' offense. Staying healthy throughout the season will be essential for him and his Team to thrive.
The top 10 quarterbacks in Madden 24 represent a mix of experienced veterans and rising stars. Patrick Mahomes leads the pack with an impressive 99 OVR rating, but the other QBs are hot on his heels. As you embark on your Madden 24 journey, consider these top-rated quarterbacks and strategize your gameplay accordingly to lead your Team to victory.
↖ Running QBS Best Playbooks
If you enjoy playing with running quarterbacks in Madden 24, choosing the right playbook can significantly impact your creativity and success on the field. To make the most out of your running quarterback's speed and athleticism, consider using the following playbooks that are well-suited for this playstyle:
Playbook
Key Plays
Description
Arizona Cardinals

Lead Read Option (Formation: Pistol, Play: Full Panther)
Power Read (Formation: Shotgun, Play: Spread Y-Flex)
PA Boot (Formation: Ace, Play: Bunch)

The Arizona Cardinals playbook is an excellent choice for utilizing a quarterback like Kyler Murray. It features a variety of Boot and Option plays that take advantage of Murray's exceptional speed (92 Speed) and athleticism. Make sure to focus on the Pistol and Shotgun formations, as they contain most of the Option plays. The Power Read is a unique read option play that sends the quarterback and halfback to the outside, while the Lead Read Option is a more advanced option play designed around the quarterback's movement. The Boot plays in this playbook are especially effective for mobile quarterbacks with strong arms on the run, like Murray.
Philadelphia Eagles

Read Option (Formation: Shotgun, Play: Doubles Offset)
QB Draw (Formation: Shotgun, Play: Empty Base)
PA Boot Slide (Formation: Singleback, Play: Bunch)

The Philadelphia Eagles playbook is historically known for accommodating quarterbacks with great mobility. In Madden 24, with Jalen Hurts as the quarterback (87 Speed), this playbook can be highly effective. The Read Option from the Shotgun formation offers more space to maneuver, and with a fast halfback like Miles Sanders (91 Speed), it puts pressure on the defense. The QB Draw works well out of the Shotgun, opening up the middle for the quarterback to make a run. PA Boot Slide gets Hurts out of the pocket and on the move, allowing him to gain yards and avoid hits.
Buffalo Bills

PA Sprint HB Flat (Formation: I Form, Play: Tight)
Read Option (Formation: Shotgun, Play: Bunch)
Y Lead Read Option (Formation: Shotgun, Play: Y Off Trips Wk)

The Buffalo Bills playbook is well-suited for utilizing a dual-threat quarterback like Josh Allen, who possesses impressive speed (88 Speed) alongside his passing abilities. The PA Sprint HB Flat is a play-action boot that rolls the quarterback to the right, giving the Option to pass or run with the QB. The Read Option is a typical option play that can be effective with Allen's speed. Y Lead Read Option is designed to create space for the quarterback to run, with the three wide receivers pulling the defense away from the middle.
San Francisco 49ers

PA Sprint HB Flat (Formation: I Form, Play: Slot Close)
Read Option (Formation: Pistol, Play: Strong Slot)
Read Option (Formation: Shotgun, Play: Trey Open)

The San Francisco 49ers playbook offers a range of plays that suit a running quarterback like Trey Lance (87 Speed). PA Sprint HB Flat is a popular choice regardless of the formation, as it offers easy, short passes that can benefit an inexperienced quarterback like Lance. Both Read Option plays provide speedy options, with the decision to hand off to halfback Elijah Mitchell (90 Speed) or keep the ball with Lance.
Baltimore Ravens Playbook

Read Option Wk (Formation: Pistol, Play: Bunch)
F Lead Read Option (Formation: Pistol, Play: Weak I Wing)
Lead Read Option (Formation: Pistol, Play: Weak I Slot Open)

The Baltimore Ravens playbook is a perfect fit for quarterbacks like Lamar Jackson, known for their dynamic and elusive playing style. It offers a range of reading option plays in the Pistol and Shotgun formations that highlight Jackson's strengths. The playbook also features several play-action boot plays, keeping the quarterback running and evading defenders. The three featured plays are different option sets that can be devastating when executed correctly, making this playbook ideal for running QB enthusiasts.
Selecting the right playbook that complements your running quarterback's abilities is crucial for success in Madden 24. Each playbook mentioned above has its strengths and key plays that cater to a mobile quarterback playstyle. Experiment with these playbooks, find the plays that work best for your QB and dominate the field with your running prowess.
↖ Identifying the Ideal QB Traits and Archetypes
In Madden 24 Franchise Mode, having a top-tier quarterback is essential for dominating the gridiron. The success of your Team hinges on the skills, traits, and archetypes of your QB. So lets we will delve into the most effective QB traits and archetypes that will help you lead your team to victory and secure a higher ranking in the Madden 24 community. Let's explore the key factors that can give you a competitive edge.
Identifying the Ideal QB Traits
A winning QB needs to possess a variety of essential traits that can make a significant difference in Madden 24 Franchise Mode. Let's take a closer look at the most crucial ones:
Arm Strength - The Cannon Arm: Having a quarterback with a powerful arm is vital for executing deep passes and delivering the ball quickly to receivers. Look for players with high arm strength ratings, as they can launch the ball downfield with precision.
Accuracy - The Precision Thrower: Accurate passes are a quarterback's trademark. Seek players with high accuracy ratings to ensure your throws reach their intended targets consistently, minimizing interceptions and incompletions.
Mobility - The Agile Playmaker: In Madden 24, mobility is key for avoiding sacks and extending plays. QBs with high mobility ratings can evade pressure, scramble, and gain yards on the ground, giving your offense more versatility.
Football IQ - The Genius Mind: Quarterbacks with high football intelligence can read defenses quickly, make smart decisions, and adjust their plays accordingly. Their ability to read coverages and find open receivers is invaluable.
Leadership - The Team Captain: A great QB inspires and motivates the Team to perform at their best. Leadership traits can boost the morale of your players and elevate their overall performance on the field.
Identifying the Ideal QB Archetypes
Madden 24 introduces various QB archetypes that provide distinct playstyles and abilities. Choosing the right archetype can give your Team a strategic advantage. Let's explore the most effective QB archetypes:
Strong Arm - The Bomber: The Strong Arm archetype excels at deep passes and can make jaw-dropping throws across the field. They are a perfect fit for players who love to air out the ball and take shots downfield.
Field General - The Mastermind: Field Generals possess high football IQ and excel at making precise and calculated throws. They thrive in managing the game, reading defenses, and leading their Team to victory.
Scrambler - The Elusive Runner: Scramblers are agile and mobile QBs who can extend plays and gain yards on the run. They excel at escaping pressure and can be a nightmare for opposing defenses.
Improviser - The Creative Genius: Improvisers are unpredictable and can make something out of nothing. They excel at making off-script plays and turning broken plays into successful ones.
Hybrid - The Ultimate Package: Hybrids combine the best attributes of multiple archetypes, making them a versatile and well-rounded option for any playstyle. They can adapt to various situations and keep defenses guessing.
↖ How to Crafting the Perfect QB for Your Franchise in Madden 24?
When building your dream franchise, it's essential to choose a QB with the right traits and archetype that align with your preferred playstyle. Consider the following steps to craft the perfect QB:
Evaluate Team Needs: Analyze your Team's strengths and weaknesses to determine which QB traits can complement your roster.
Scout Talent: Look for young and promising QB prospects in the draft or free agency. Keep an eye on their attributes and potential for growth.
Archetype Synergy: Match your QB's archetype with your offensive scheme to maximize their effectiveness.
Player Development: Invest in player development to enhance your QB's skills and unlock their full potential over time.
Related: Madden 24 TE Ratings, Upgrade, Dominant Playbook Guide!
Conclusion:
In Madden 24, the thrill of commanding top quarterbacks and engaging gameplay options ensures an unforgettable football gaming experience. Get ready to lead your Team to victory and conquer the virtual gridiron like never before!
Most Popular Posts
Popular Category Lists