Madden 24 Running Backs (RB): Ratings, Star Abilities, Tips and Strategies
In the thrilling realm of Madden 24, Running Backs stand at the pinnacle as the ultimate game-changers on the football field. These exceptionally versatile athletes possess the attributes of speed, strength, and agility, capable of altering the course of any game. In this guide, we delve into the top 10 Running Backs with the highest overall ratings, recommend the most effective star abilities to enhance their performance, and provide strategic insights to help you unlock their maximum potential.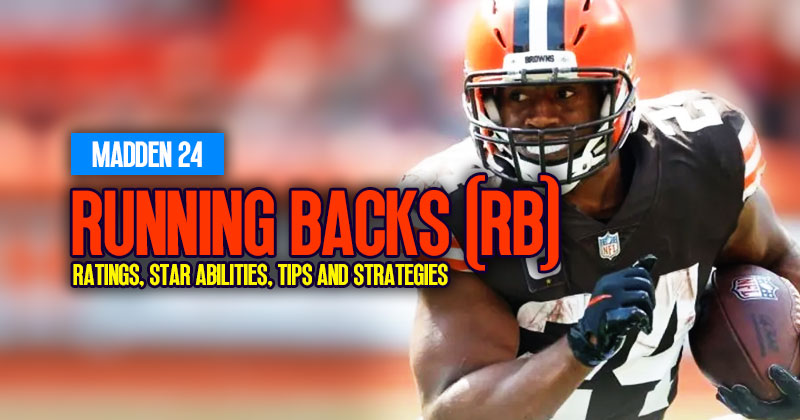 ↖ Importance of Running Backs
Running backs play a pivotal role in any football team's success in Madden 24. They are the workhorses, the elusive runners, and the reliable pass-catchers. With the ability to evade tackles, accelerate through gaps, and change the game's momentum with a single play, these athletes can make all the difference between victory and defeat. In Madden NFL 24, the top-rated running backs possess a combination of speed, agility, strength, and awareness, making them unstoppable forces in the digital world.
↖ Running Backs: Top 10 OVR Ratings
Madden 24 features an impressive lineup of running backs, each with their own unique strengths and skills. Whether you're an avid Madden player or a newcomer looking to build a formidable offense, understanding the top running backs by OVR rating is crucial. Here's a guide to the top 10 running backs in Madden 24 and what makes them exceptional:
| Player | OVR | Description |
| --- | --- | --- |
| Nick Chubb | 97 | Nick Chubb leads the pack with a remarkable 97 OVR rating. His powerful running style and impressive speed made him the driving force behind the Cleveland Browns' offense in the 2022-23 season. Utilize his breakaway speed and elusiveness for explosive plays in the game. |
| Christian McCaffrey | 96 | Christian McCaffrey, rated 96 OVR, shines at the 49ers with versatility in running and passing. Exploit his exceptional catching skills to create mismatches and explosive plays. |
| Josh Jacobs | 95 | Josh Jacobs, the 2022-23 rushing champion, ranks third with a 95 OVR rating. Known for vision, power, and breaking tackles, he's a force in Madden 24, inside or outside the tackles. |
| Derrick Henry | 94 | Derrick Henry, last year's top-rated running back, maintains his potency in Madden 24 with a 94 OVR rating. Utilize his brute strength, stiff arm, and power moves to plow through defenders and gain crucial yardage. |
| Saquon Barkley | 93 | Saquon Barkley, rated 93 OVR, is a dynamic playmaker in Madden 24. His speed, agility, and strength create a dangerous threat on every play. Utilize his juking, spinning, and acceleration to outmaneuver defenders and exploit gaps in the defense. |
| Dalvin Cook | 91 | Unsinged but ranked sixth with a 91 OVR, Dalvin Cook's consistency and versatility shine in Madden 24. Expect greatness, utilize his elusive running and catching skills. |
| Austin Ekeler | 89 | Austin Ekeler, with an 89 OVR rating, excels in both running and passing. Known for his speed and agility, he's a reliable dual-threat back in Madden 24, keeping defenses guessing. |
| Jonathan Taylor | 89 | Jonathan Taylor with an 89 OVR aims to rebound from a performance dip in Madden 24. His strength and breakaway speed make him tough to tackle. Exploit running lanes and his power to break tackles. |
| Tony Pollard | 88 | Tony Pollard, rated 88 OVR, is an emerging star in Madden 24. As the lead running back for the Dallas Cowboys, his quickness and versatility make him a potent offensive weapon. Utilize his agility and catching ability to keep the defense guessing. |
| Aaron Jones | 88 | Green Bay's Aaron Jones, rated 88 OVR, is a versatile and reliable option for rushing and receiving. Use his balanced skills and solid speed to keep the defense off-guard and create big plays. |
When building your Madden 24 team, consider the strengths and playstyles of each of these top-rated running backs to create a balanced and potent offense.
↖ Running Backs: 10 Best Star Abilities
In Madden 24, having a strong running game is crucial for success on the field. To dominate your opponents, you'll need running backs equipped with the right star abilities. These star abilities elevate their performance beyond the norm, making them feared by defenses and invaluable assets for your offense. Here are the 10 best star abilities for running backs and how they can take your game to the next level:
| Ability Name | Description | Players Mentioned |
| --- | --- | --- |
| Closer | Allows activation of Superstar X-Factor in the second half, enhancing rushers' performance in late-game situations. | Jonathan Taylor |
| Freight Train | Enhances a rusher's ability to dominate defenses in the latter part of the game. | Jonathan Taylor |
| Matchup Nightmare | Transforms rushers into dangerous pass-catchers, exploiting mismatches against defenders, making them elusive runners and effective receivers. | Alvin Kamara |
| Backfield Master | Improves route running, adds hot routes, and increases route running and catching ratings against linebackers and linemen, making them versatile in the passing game. | Austin Ekeler, Christian McCaffrey |
| Backlash | Fatigue penalties against tacklers when tackled aggressively by rushers with this ability, turning the tables on defenders. | Not specified |
| Bulldozer | Empowers running backs to excel at bulldozing over defenders with boosted trucking animations, controlling the line of scrimmage. | Joe Mixon |
| Energizer | Restores stamina with each successful skill move, allowing star running backs to stay on the field longer and maintain their impact. | Ezekiel Elliott |
| Bruiser | Enhances stiff arms and trucking moves, making it difficult for defenders to bring down strong rushers. | Derrick Henry |
| Tank | Allows powerful rushers to shrug off hit-stick tackles, gaining crucial yards under intense pressure. | Derrick Henry |
| Goal Line Back | Improves offensive line blocking within five yards of the end zone, making it easier for running backs to score in the red zone. | Not specified |
| Reach For It | Encourages rushers to fight for extra yards instead of going down easily when tackled, helping extend drives and convert crucial third downs. | Not specified |
Choose your star abilities wisely, as they can be the key to dominating the field with your running backs in Madden 24. By equipping your ball carriers with the right skills, you'll keep the defense guessing and maintain offensive momentum throughout the game.
↖ Running Backs: Tips and Strategies
Having one of the top-rated running backs on your Madden NFL 24 team is undoubtedly a game-changer. To harness the full potential of these virtual superstars, here are some key strategies to consider:
Technique/Strategy
Description
Button Combos (Xbox/PlayStation)
360 Cuts
Execute while running to make agile cuts and jukes.
RT (Hold) + LT (Press)
Double-click LT for a double juke.
LT (Double-click)
Juke Glitch
Hurdle and immediately juke for a fast juke animation.
Y (Xbox) / Triangle (PlayStation) + Right Stick (Juke)
Fast Spin
Perform a counterclockwise right stick rotation.
Right Stick (Counterclockwise)
Stop and Go
Stop your player's momentum to create separation.
Release Left Stick
Swerve Running
Move in a zigzag pattern to fake out defenders.
N/A
Strategic Play Calling
Design plays that suit your running back's strengths.
N/A
Balanced Offense
Mix running plays with passing to keep defenses off-balance.
N/A
Proper Player Development
Invest in attributes that complement your running back's style.
N/A
Related: Madden 24 QB Ratings, Playbooks, Ideal Traits and Archetypes!
Conclusion:
The importance of running backs in Madden 24 cannot be overstated. Their unique abilities and star qualities make them vital assets for any successful team. By understanding their strengths, mastering their star abilities, and implementing effective strategies, you can create an unstoppable force on the virtual gridiron. Embrace the challenge, harness their potential, and dominate the game with these remarkable athletes. Get ready to experience the thrill of victory as you lead your team to glory in Madden 24!
Most Popular Posts
Popular Category Lists