ESO Update 40: How to Profit from Jewelry Crafting and Vouchers?
In Elder Scrolls Online, fortunes are made and lost with every patch and update. In this ever-evolving realm of Tamriel, Update 40 is on the horizon, promising significant changes that will reshape the ESO economy. We delve into the intricacies of Update 40's economic landscape, from the overhaul of jewelry crafting to the new opportunities and challenges it brings.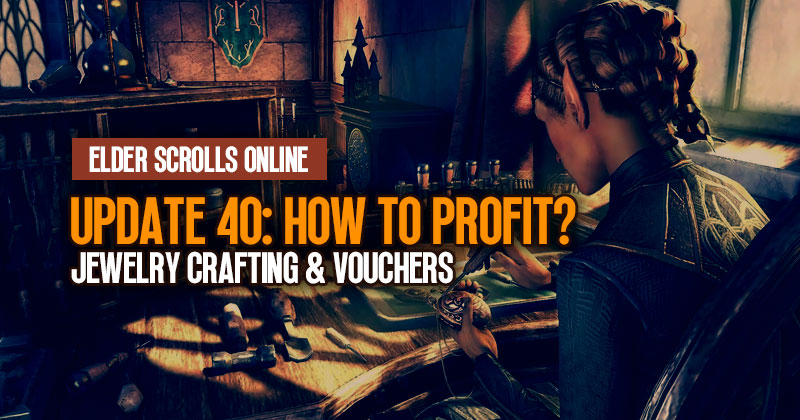 ↖ Jewelry Crafting Changes
Plotting Overhaul: The most significant change in Update 40 is the transformation of jewelry crafting. Plotting requirements for jewelry upgrades have been overhauled. You'll now need at least eight Chromium Platings, down from four, to update your jewelry. Zircon, Iridium, and Turner will also see reduced requirements. Say goodbye to grains; they're going away! All your single Chromium and other grains will be converted into single plottings, and the plottings you have will become 10 plottings each.
Impact on Supply and Demand: This massive change will undoubtedly affect the supply and demand dynamics in the ESO market. As soon as the news broke, players rushed to buy grains, creating an initial spike in grain prices. If you had stocked up on grains, you could have made substantial profits by selling them at higher prices.
Price Fluctuations: The price of Chromium Platings has already fallen from approximately 250,000 gold to around 180,000 gold on some servers. However, predicting the post-patch prices precisely is challenging. Initially, Chromium Platings might sell well for around 25,000 to 35,000 gold each. But in the long term, prices are expected to decrease significantly, potentially reaching levels similar to Alloys or even lower.
↖ What Should You Do Before the Patch?
Sell Grains: If you have any grains in your inventory, now is the time to sell them. Grains are still selling for more than plottings, making them a profitable sale.
Consider Buying and Selling Plottings: Buying plottings at current prices and selling them for a higher price after the patch is a potentially lucrative strategy. However, it's risky, as many players might have the same idea.
Stock Up on Zircon, Iridium, and Turner Plottings: While there might be a surge in demand for these plottings after the patch, their prices are expected to drop quickly. So, don't hold onto them for too long.
↖ Jewelry Masteries and Vouchers
Jewelry Masteries: Update 40 will alter the number of vouchers given by Jewelry Master Ritz. For example, Purple Jewelry Master Ritz will offer significantly fewer vouchers, down to about 70 from the current 200. However, the old Jewelry Master Ritz will remain unchanged, making Blue Jewelry Master Ritz, which cost about 30,000 gold to complete, extremely valuable.
Profit from Blue Master Ritz: Stocking up on Blue Jewelry Master Ritz now and completing them after the patch can be highly profitable due to the expected drop in Iridium Plating prices.
↖ Trade Stones and Crafting Stations
Trade Stones: The surge in Jewelry Master Ritz completion will lead to a high demand for specific trade stones, such as Slaughter Stones, Dawn Prisons, Origambers, and Debellium. Expect their prices to rise significantly.
Master Crafting Stations: The introduction of Master Crafting Stations allows crafters to consolidate attunable crafting stations. These stations cost 1,500 vouchers each and require 77 of each attunable crafting station to operate. These bound stations are expected to be in high demand, particularly ones that give substantial vouchers.
Increased Voucher Demand: With the need for Master Crafting Stations, there will be an increased demand for vouchers. Additionally, the completion of the old Jewelry Master Ritz will flood the market with vouchers in the beginning, potentially causing a temporary drop in voucher prices. However, the long-term trend is likely to see an increase in voucher prices per eso gold ratio.
If you're more of a farmer, remember the Endless Archive, an endless dungeon that offers fantastic rewards, including new blueprints. The initial weeks after the patch are an excellent time to explore this new content and sell the loot you acquire.
Conclusion:
In total, Update 40 is poised to shake up the ESO market. Take advantage of the pre-patch opportunities, invest wisely, and be prepared to adapt to the changing economy. Whether you're a seasoned trader or a newcomer, these strategies can help you thrive in the ever-evolving world of Elder Scrolls Online. If you found this guide helpful, consider subscribing to Richard Skyniso's channel for more wealth-building tips in ESO. Good luck!
Most Popular Posts
Popular Category Lists