NHL 24 Rivals and Squad Battles Rewards: New Huge Changes
NHL 24 Hockey Ultimate Team has recently undergone significant changes, particularly in the Rivals and Squad Battles rewards system. These alterations, initially met with mixed reactions from the community, have spurred EA to make further refinements. This guide is crafted to demystify these updates, offering players a clearer perspective on what to anticipate.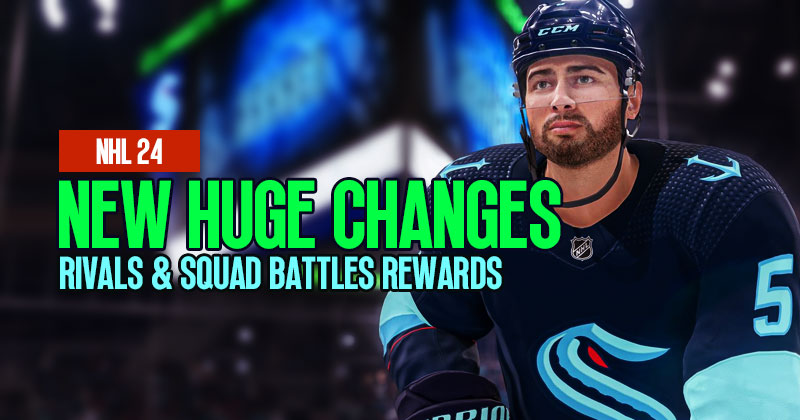 ↖ Overview of Changes
Recently, EA introduced a series of modifications to the Rivals and Squad Battles rewards. The initial changes weren't well-received, prompting EA to make further revisions. The community's feedback has played a pivotal role in these improvements, showing the importance of player voices.
↖ New Reward Structure
Rivals:
Immediate adjustments to the ongoing Rivals rewards.
Option two (untradeable pack) rewards will revert to last year's original rewards.
Option one (tradable rewards) will reintroduce top value packs for each tier and division.
Lesser value packs will be replaced with collectibles that can be used to purchase the same pack or be saved for future rewards.
Squad Battles:
Immediate adjustments to the ongoing Squad Battle rewards.
Similar to Rivals, lesser value packs in each reward tier will be swapped with equivalent collectibles.
Adjustments have been made to certain Squad Battle sets, further increasing the value of collectibles.
↖ Hot Rush Updates
Issues have arisen from objectives not properly triggering in Hot Rush. EA is committed to resolving these concerns and has temporarily suspended problematic objectives. Despite these challenges, players can still earn substantial rewards through the revamped system.
↖ Event and Power-Up Collectibles
EA has introduced a HUT Headliner collectible to the PowerUp collectible set.
There are additional sets for exchanging higher overall players for HUT Headliner and PowerUp Collectibles.
Players can now use multiple 85 or higher overall players for PowerUp Collectibles and player packs. This change enhances the value of cards rated between 83 to 85.
↖ Viewing Changes
The changes can be accessed in-game, with players now able to trade in certain collectibles and players for PowerUp Collectibles. For instance, in Rivals, Platinum finishers in division 2 can expect lucrative rewards like the jumbo Elite player pack. It's essential to keep an eye on updates to stay informed about the available rewards.
↖ Final Thoughts
The frequent changes to the rewards system in NHL 24 HUT have understandably caused confusion among players. However, with this guide and the official post from Clappy (link in the description), we hope the latest system is clearer. Players can now strategize better, choosing between untradeable rewards reminiscent of last year or opting for the new collectible-focused approach.
Most Popular Posts
Popular Category Lists